Performance evaluation is an essential pillar in an employee's career. It is important that as a manager you know how to deliver criticism and appreciation, all in the same review. There are moments where if not handled properly a wide communication gap forms between what you want to say and what you end up conveying to your employees. To avoid this, it is important to understand the finer points of performance evaluation.
A good performance review is one that ensures you cover all the aspects of an employee's performance thus far and subsequently also provides a roadmap for the future.
1 What Is An Employee Evaluation?
An employee evaluation is the periodic assessment of an employee's performance carried out by their supervisors. Also called a performance review, this assessment helps supervisors better understand their employees to identify their strengths and areas where they might require a little more help.
This is also an opportunity for the employee and their supervisor to come together to set goals and offer feedback for the future. These evaluations are generally carried out on an annual basis.
2 9 Performance Evaluation Examples for Enhanced Productivity
2.1 Creativity at Work
It is essential to foster creativity in the workspace as it is one of the most important qualities that help kill the drudgery that is often associated with a 9-5 job. Creativity at work can help simplify processes, and come up with the best solutions irrespective of the situation they are in. Some performance review phrases that you can use are given below.
Positive Phrases:
"Comes up with original solutions to common problems."
"Is constantly striving to come up with improvements for the problems they see."
"Expert at coming up with new concepts and encourages team members to do the same."
Need for Improvement Phrases:
"Is unwilling to try new ideas."
"Lack of creativity often hampers productivity."
"Is overly reliant on existing structures and does not try out new ideas. "
2.2 Communication With Teams
Having the ability to communicate effectively with colleagues, seniors, and clients is an essential requisite of multiple jobs. Communication plays a major role in ensuring that the right information is being passed along the organization which is essential for the smooth functioning and productivity among the employees.
Positive Phrases:
"Effectively communicates with supervisors, clients, and co-workers."
"Is adept at both oral and written communication."
"Handles communications with both internal as well as external parties with ease."
Need for Improvement Phrases:
"Lacks the skill to communicate effectively with team members."
"Finds it tough to communicate ideas clearly with peers, supervisors and clients."
"Is not proficient in either written or oral communication."
2.3 Ability To Collaborate
Collaboration is a key skill that is required by employees in a workspace. No work in an organization happens in a vacuum, making this an essential performance evaluation parameter to consider.
Positive Phrases:
"Works well within a team environment to execute tasks."
"Engages with the entire team and helps finish tasks well before the deadline."
"Formed a good relationship with all team members."
Need for Improvement Phrases:
"Needs additional support to work well with others."
"Does not offer professional support to coworkers."
"Often overreacts to real or perceived criticisms."
2.4 Attitude Towards Other Employees
Attitude refers to how you manage differences with other people in the workspace. This is an important factor to consider while completing a performance review, as attitude toward other employees is an important factor in indicating how a person will handle conflict in the workspace.
Positive Phrases:
"Helps other team members without being asked."
"Ensures and cultivates good relationships with peers."
"Shares positive thoughts and helps others have a positive outlook about their jobs as well"
Need for Improvement Phrases:
"Displays Inconsistency during the decision-making process which adversely affects the team's workflow."
"Often misinterprets information received and works on rash judgment."
"Constantly deflects responsibility and places blame onto other people."
2.5 Seeking Excellence At Work
It is important that employees strive for excellence in their work and contribute to the company's larger goals. There are two factors that are taken into account in this case: one is productivity and the other, the alignment with the goals of the company.
Positive Phrases:
"[Name] is a positive addition to the workspace and constantly shines through with their work.
"Works keeping in mind the performance targets and productivity."
"Displays strong time management and good organizational skills."
Need for Improvement Phrases:
"Does not accept or implement change in any situation."
"Needs to be reminded and encouraged to meet project schedules."
"Often lets low-priority tasks slide."
2.6 Ability to Work Under Pressure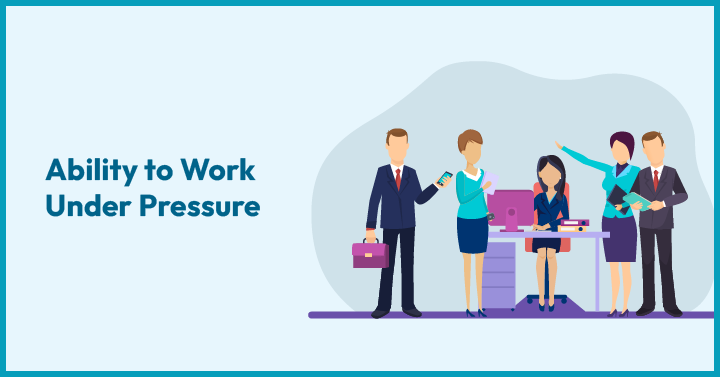 As much as a company wants to ensure that there is a streamlined process in place for work, there are moments where some amount of pressure builds up. At this moment it is important that employees push through and deliver.
Positive Phrases:
"Is flexible and makes adjustments to their schedule to be available"
"Is quick to adapt to change and execute work"
"Sizes up situations well and makes appropriate amendments to plans."
Need for Improvement Phrases:
"Reliability and dependability are not their strongest suits."
" Is unable to work under pressure."
"Often needs help to figure out an action plan in case of added workload."
2.7 Deliver Timely Work and Attendance
Punctuality is an important factor to consider especially since it is a domino effect when one person lags in one area, it shows up in the other areas as well. While writing a performance review it is important to highlight what the status thus far has been and what you feel should be the next steps.
Positive Phrases:
"Delivers consistently without compromising on the details."
"Prioritizes and effectively delivers the assigned work."
" Always shows up on time for all official engagements."
Need for Improvement Phrases:
"Lacks a sense of urgency and therefore ends up missing deadlines."
"Is not always available to get the work done on time."
"Unable to gauge their own timelines."
2.8 Ability to Lead
Leadership is an important trait to cultivate in your employees. An employee who displays good leadership skills needs to be appreciated to ensure they can get better at being accountable and taking on more responsibility.
Positive Phrases:
"Helps maintain a culture of knowledge sharing and transparency across all levels of the organization."
"Always treats people fairly and respectfully irrespective of their position."
"Is constantly striving to promote a learning culture amongst the employees."
Need for Improvement Phrases:
"Loses their cool with new hires and is unable to guide them properly."
"Creates communication gaps during knowledge transfers which lead to inconsistent work by juniors."
"Fails to delegate tasks causing bottlenecks in submissions."
2.9 Trustworthiness
Trustworthy is a broad term which consists of other traits like accountability and quality of work as well. These are all traits that have a direct impact on the work being done. This makes this an essential part of performance evaluation examples.
Positive Phrases:
"Is regarded as one of the most trustworthy team members"
"Has portrayed exemplary behavior across all aspects of work."
"Has an incredible work ethic and is considered credible by all who work with her."
Need for Improvement Phrases:
"Is unresponsive to employee complaints."
"Tends to play favorites while assigning work."
"Behavior towards colleagues is biased and judgment is often colored based on interpersonal relationships."
3 How Do You Write An Overall Performance Summary?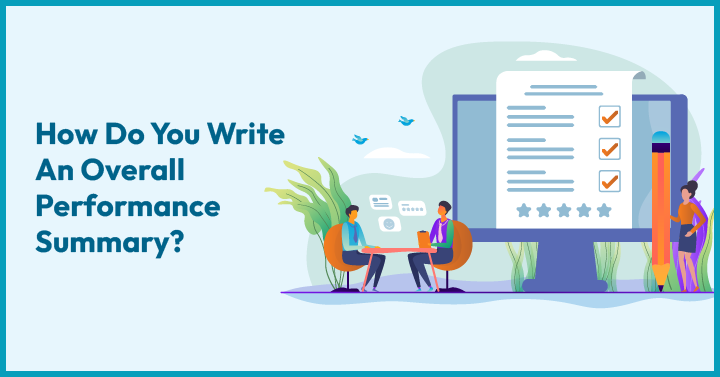 An overall performance summary is designed to show your employees exactly where they lack and where they excel so that they can improve. Negative or positive feedback is something that every employee wants.
Now that you have had a look at performance evaluation examples, it is important to understand how to incorporate them into a performance review effectively.
There are six important components of an overall performance summary;
3.1 Performance analysis
The first part of any performance evaluation is a section that explains exactly how a person has lived up to or failed as per the company standards
Employee Name
has exceeded expectations this year in her role as an
Employees Role
. They took the lead on the
Project Name
.
Need To Improve Example
Employee Name
displays passion in their role as an
Employees Role
, their performance in *
Project Name
* left some room for improvement.
3.2 Descriptive Phrases
To ensure that your employee performance review truly makes a change you need to use descriptive language. The more specific this part the better it will be for an employee to understand and work better.
Positive Example
Employee Name
utilized
Skills/Traits
when *
List Specific Tasks*.
Need To Improve Example
They lack *
Skill/Trait*
to follow through on the *
Task*
.
3.3 Strengths & Weaknesses
Evaluations need to consist of both strengths and weaknesses. You need to use the precise phases positive or negative whichever the case to clearly outline the situation for your employee.
Positive Example
Employee Name
works well *
Situation*
and *
Result*
.
Need To Improve Example
Unfortunately,
Employee Name
often fails to meet *
Expectations*
and *
Results*
.
3.4 Employee Potential
This is the step at which you create a roadmap by giving them a goal and specific direction to grow in.
Positive Example
Employee Name
has been working and we would like to see them
*Goal*.
Need To Improve Example
Hopefully in the coming year we will see *Employee Name* growing and *T
raits/skill they should develop
*.
3.5 Constructive Feedback
It is important to keep the tone of your feedback constant and consistent. Even if it is negative, ensure you tell them exactly where they went wrong and how they can improve.
3.6 Goals
Always ensure you give employees goals of how they can improve in the long run with SMART goals. This makes them motivated to do better.
An overall performance summary is also a great example of why words matter. Consider the two performance evaluations examples below;
Example 1; "We have seen a 13% decline in sales over the past month. What do you think we need to do to ensure it does not happen again? "
Example 2: "You are terrible at your job and do not pay attention. Find a way to increase sales ASAP."
Which is more effective? The first one right? Even though this is a slightly extreme example it is important to note that it is the words that matter during an overall performance summary.
4 Performance Review Summary Example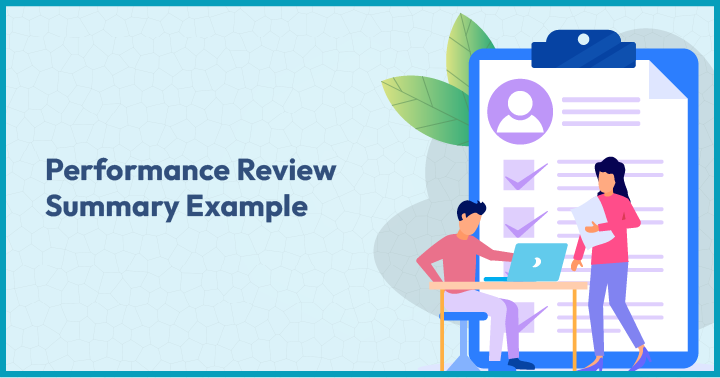 When you are writing your performance report you can use this template as a starting point;
[Employee's name] was working on [ name of project/task] and was responsible for [task executed]. They showed/displayed [skill/trait], and successfully delivered [quantifiable results] in the [time period]
5 Why Do Organizations Need to Evaluate Employees?
Organizations need to evaluate employees as crucial decisions like pay raises, bonuses, and promotions are carried out on the basis of it. It is also an essential part of an employee's lifecycle as a performance evaluation helps them gauge the areas where they are doing well and the ones where they need to work a little more.
When done right, employee evaluation helps the organization as a whole in improving job satisfaction and retention, increasing the performance of the employees, improving communication between employees, and improving the company culture as well.
6 How Do You Describe Good Work Performance?
Good work performance is described with the help of specific examples that support your observation. All performance reviews should explain in detail your reasoning as that gives the employees an opportunity to look back and identify where things were done well or to help improve future situations.
When it comes to successfully delivering a performance review, you need to remember that your default tone needs to remain positive. Avoid phrases like "you'll never be able to" or "you can't improve" instead replace them with "you need to work on …." or "you have been lagging in certain areas, is there anything we can help you with?"
7 FAQs
What are three typical areas that employers consider in performance evaluations? Typical areas that employers consider during performance evaluations are teamwork, dependability, support, leadership and punctuality.
How do you evaluate employee performance? You evaluate employee performance with the help of the work carried out on various projects along with other skills that they display in the workspace.