Performance management tools provide a useful framework for continuously assessing and improving a workforce's productivity. Through appraisals, engagement surveys, and OKRs (objectives and key results), companies can identify and reward strong employees, while also understanding any weaknesses that exist.
While some software businesses are built solely around performance management tools, others include the solution as part of broader human capital management systems. We have compiled some of the best performance management tools that your organization can capitalize on and boost organizational growth.
It's also important to also explore other tools designed to optimize workplace dynamics. If you want to learn more about this topic, our article on performance management tools and real-time feedback tools offers valuable insights to aid in the continuous growth of your organization
1 Best Performance Management Tools: An Overview
2 Comparison Criteria for Performance Management Tools
2.1 User interface
This is the medium through which you and other members of staff interact with the software, so you'll want the user interface to be clear and intuitive.
2.2 Usability
Ideally, staff should be able to learn to use performance management software after minimal time spent reading user guides and communicating with tech support.
2.3 Features
Review templates, learning and development, and analytics are all common features of performance management tools, to varying levels of sophistication.
3 What Are the Key Elements of Performance Management?
3.1 Planning and expectation setting
Identifying clear goals and explaining how they will be assessed is often the first step in a performance management journey.
3.2 Monitoring
Different tools will have different monitoring capabilities to track how employees are progressing with their objectives.
3.3 Development and improvement
Learning and development is key to maintaining continuous improvement in employee performance.
3.4 Feedback
Having the means to provide regular feedback ensures team leaders and their staff are all on the same page.
3.5 Rewards and compensation
Incentives can be a useful way to bolster performance management, and several platforms incorporate rewards and compensation into their package.
4 Performance Management Tools List
4.1 Trakstar – Best for a complete talent development solution
Trakstar offers a suite of tools around talent development, from the applicant tracking to workforce analytics.
Its performance management module, named simply Perform, features customizable, automated reminders for regular appraisals, an interface with the means to specify SMART goals and OKRs, and a dedicated space for real-time feedback. Since performance management isn't just about assessing an employee's abilities, Trakstar also allows HR teams to send out engagement surveys to assess job satisfaction and ways company culture could be improved. Learning management can also be accessed through the platform for training purposes.
Prices are available on request.
4.2 15Five – Best for tracking team performance
Founded in 2011, 15Five aims to start teams off with performance management techniques in 15 minutes.
Its holistic approach provides a 360-degree view of individual performance for both managers and employees, with an easy-to-use rating system and competency assessments that enable an objective view of a person's strongest and weakest skills. 15Five's so-called 'calibrations' track changes to performance and are designed to help guide pay and promotion discussions.
Prices start from $4 per user per month, including surveys, assessments, and enterprise-grade security.
4.3 Oracle HCM – Best for customizable configuration
Oracle's human capital management (HCM) system includes HR resources, talent management, payroll, and workforce management.
The computer software maker's performance management module is designed to do everything from informal, ongoing feedback to more structured semi-annual or annual reviews, depending on the processes in place at your company. You can also decide whether to make appraisals more qualitative or more quantitative, with the results fed into embedded analytical software that can produce configurable graphs.
Prices are available on request.
4.4 Primalogik – Best for a clean user interface
Product simplicity, customer centricity and transparency are the core beliefs at web-based system Primalogik.
Feedback from peers, managers, direct reports and subordinates create a 360-degree view of performance, with both instant tools and longer-term performance appraisals adding depth to the overall picture. The goals and OKRs interface is clear, user-friendly and can be easily incorporated into digital review forms as part of assessments.
Prices are based on the number of users, with a minimum of $159 per user per month, rising to $499 per month for 100 users.
4.5 Leapsome – Best for complete performance, engagement and learning
Leapsome has a broad offering of performance, engagement, and learning solutions.
Goal setting, review process setup, engagement surveys, meeting organization, and personalized learning content are all attractive aspects of the tool, which come with compensation and promotion management. There's also a knowledge hub, blog, podcast, and newsletter available to promote more comprehensive usage of Leapsome's capabilities.
Prices start from $8 per user per month, rising in accordance with whether the core platform is accessorized with performing, align, engage, learn and reward modules.
4.6 Inspire – Best for developing team leaders
Based on the four key areas of OKR management, continuous performance management, leadership development, and feedback and recognition, Inspire approaches its mission from the perspective of team leaders.
Its simple interface tracks objectives and facilitates one-to-one check-ins alongside the ability to initiate more formal assessments and surveys (multiple templates are supplied). Timelines and automated reminders add another way to maintain visibility of goals. Tried and tested integrations are available for Workday, ADP, Slack, Microsoft 365 and Google Suite, among others.
Prices are available on request based on two options: Essentials and Essentials Plus.
4.7 IBM Talent Management – Best for creating HR strategies to address skill gaps
IBM's Talent Management platform includes learning and development aspects common to performance management tools in HR.
In addition to talent acquisition, the solution aims to help HR identify skills gaps in an organization and then formulate a strategy to plug any capability deficits using AI-enable methodologies. This is backed up by a personalized learning module that gives staff the tools to achieve their career goals.
Prices are available on request.
4.8 UKG Pro – Best for improving manager-employee collaboration on performance
The result of the merger of UltiPro with Kronos Incorporated, UKG (Ultimate Kronos Group) vends an array of HR, payroll, and workforce management.
Its HCM combines such performance management apparatus as 360-degree feedback, collaborative feedback and engagement analysis. The Pro Learning module, meanwhile, facilitates the development of talent through convenient learning that is mobile optimized. Managers can take advantage of natural language processing and AI to dig deeper into employee feedback for actionable insights, while employees can improve communication with managers through collaborative, conversational appraisal tools.
Prices are available on request.
4.9 HRSoft – Best for linking performance management and a rewards system
Compensation management software rewards communication and performance management form the crux of HRSoft's offering.
On the performance management side, PERFORMview enables goal alignment and feedback conversations between managers and employees via a configurable user interface. Based on maximum visibility, the platform encourages public discussion around goals and objectives, with the option to tie bonuses and rewards to achievements.The platform is low code and can be readily integrated with the HCMs from ADP and UKG.
Prices are available on request.
4.10 PeopleFluent – Best for flexible module selection
PeopleFluent can help you with talent acquisition, performance, compensation and learning – either as individual modules or as part of a complete package.
The company's performance management solution provides visibility on goals and the ability to give continuous one-on-one feedback. Leaders and staff can monitor measurement and define accountability together, with flexible evaluation workflows to fit with the company culture. PeopleFluent Learning allows you to create materials and assets to aid with staff development, with an analytics engine to aid the evaluation of program success
Prices are available on request.
4.11 Kallidus – Best for an intuitive user interface for managers
A robust collection of application tracking systems, human resources information systems, learning management systems and talent management make up the solutions from Kallidus.
Its performance management features ongoing progress tracking that enables real-time updates on OKRs and reduces time spent on laborious form filling. The interface makes it simple for managers to track each team member's performance and review 360-degree feedback, while also handily summarizing learning and development history without the need to navigate to a different program.
Prices are available on request.
4.12  Monday.com – Best for combining project management with performance management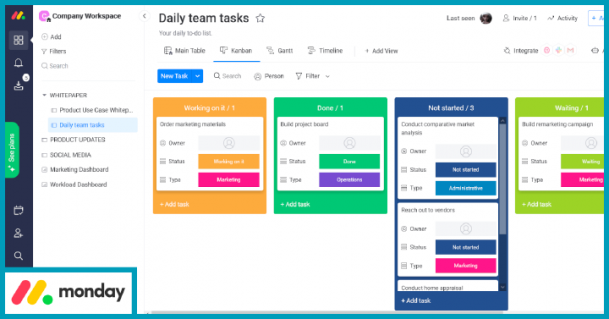 While Monday is principally known as a piece of project management software, it also has some simple elements of performance management functionality.
For example, Monday's task monitoring functionality can be used to track OKRs, while its in-built communication system can be utilized for real-time feedback. It's also possible to compare performance against goals using charts and graphs with Monday's reporting features.
Prices start from $10 per user per month for the Basic package.
4.13 Synergita – Best for simplicity and usability
Owned by IT service management company Aspire Systems, Synergita breaks its performance management into three main modules: Perform, Engage and OKR.
The simple interface can be used to set goals, configure rewards, digest 360-degree feedback and encourage peer discussion on performance. More broadly, businesses can find out how staff feels about specific aspects of the company culture through a customizable, mobile-optimized, easy-to-use rating system.
Prices start from $4 for the Perform module and $2 for the Engage module, while the starter OKR module is free.
4.14 eloomi – Best for clear employee performance overviews
Danish company eloomi combines learning management with performance management, offering a mixture of talent development and appraisals.
The people dashboard provides an overview of all employees' goals and objectives, providing managers with the ability to initiate a discussion or coaching session with an individual at the click of the mouse. Additionally, templates are available to help guide this process. This is complemented by a learning platform that has a library of content as well as the capability to allow you to author your own, company-specific courses for skills development.
Prices are based upon which modules are desired and available on request.
4.15 Namely – Best for mid-sized companies
Founded in 2012, Namely covers the breadth of HR challenges for mid-sized businesses, from payroll and benefits to time and attendance.
Performance management may not be Namely's principal concern, but the company still offers goal tracking, goal alignment, performance reviews and 360 feedback as part of its talent solution. Assessment cycles can be automated for ease of use and the appraisal forms custom configured according to unique requirements.
Prices are available on request, with the basic package including all of Namely performance management features.
4.16 PerformYard – Best for an affordable but comprehensive solution
Backed by investment funds, PerformYard aims to help employees achieve their potential and employers get more out of human capital.
The performance review cycle is facilitated with tools to track the progress of appraisals and send out automation of notifications to relevant parties. Managers and peers can contribute to 360-degree reviews of employees, with basic data visualizations on individual and team performance included as part of the package.
Goal progress can be assessed and important objectives prioritized, while continuous feedback tools ensure communication and collaboration continues in between major milestones and annual reviews.
Prices start at $4 per user per month and include all the core performance management features.
4.17 Ascender – Best for simplifying performance management administration
Owned by HR software provider Ceridian, Ascender specializes in payroll and HCM solutions.
One-on-one feedback sessions, simplified goal alignment plus ease of administration are all features of its performance management offering, with the option to integrate it with the Learning Management System for upskilling opportunities. The simplicity of the manager-employee notes system makes it easier to identify issues earlier, giving managers increased visibility of their team and when they need help. Additionally, checklists aid managers in giving good feedback and formulating OKRs.
Prices are available on request.
5 FAQs
What are some free performance management tools?
Good performance management tools free to use are fairly uncommon, though you can get trials of popular services like Leapsome to test out functionality and get an idea of what your company might require.
How do performance management tools work?
Performance management tools work by improving employee productivity while simultaneously encouraging dialog between managers and their team to improve engagement with the company culture.