If you are on the hunt for some unique and virtual Father's Day ideas to make Father's day memorable, you need to bring your A-game. Remember that all your Dad really cares about is spending quality time with you, whether it's virtual or otherwise. With that knowledge, you can bring love and fun to anything you choose to do together.
But how can you make it a special day when you're not with your Dad in person? To help you out, we've put together the 14 best virtual Father's Day ideas to try this year!
It's not just dads who need a little appreciation! Take a look at our ideas for a virtual Mother's Day here. There are also a ton of annual occasions you can celebrate digitally, too, including Earth Day, April Fool's Day, Women's Day, birthday parties, and other seasonal holidays.
1. How Do You Celebrate Father's Day Remotely?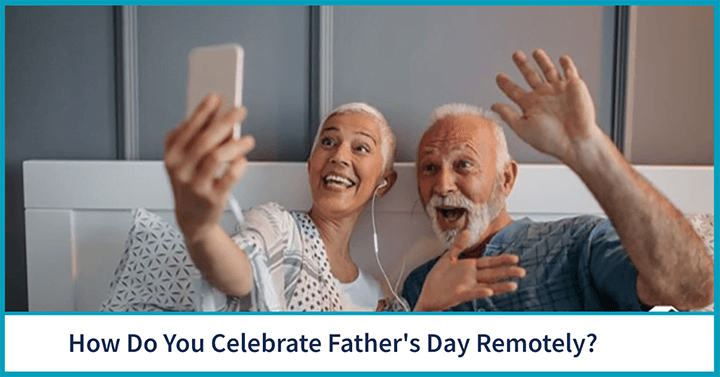 Some cool Father's day ideas to celebrate remotely are to choose activities that you like to do together, such as:
Streaming a Netflix party together
A picture or video collage over a Zoom call
An online game night
Virtual liquor tasting
There are so many options out there, you just need to choose which one suits you and your Dad.
2. 14 Virtual Father's Day Ideas To Celebrate Together
2.1 Stream A Movie Together On Netflix Or Amazon Prime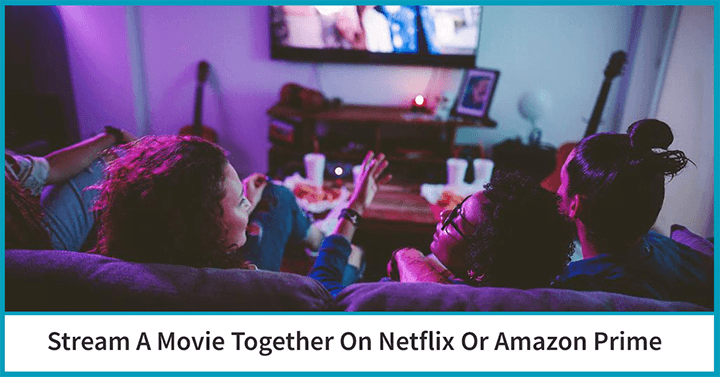 Ok, so some Dads aren't all that great with technology, but a watch party is an amazing way to spend time together without being in the same room or even state. First of all, select the streaming platform you and your Dad prefer. 
If you go for Netflix, you can choose to use their Watch Party App or just try to hit the play button together at the same time while you Facetime! It is also one of the best virtual Father's Day ideas for students as it can be done under an affordable budget.
2.2 Organize A Virtual Liquor Tasting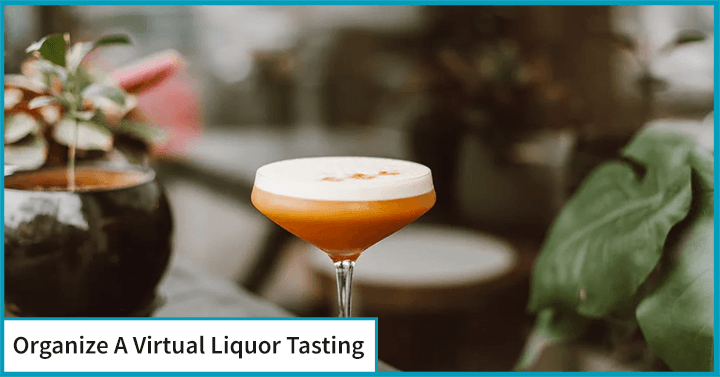 With just a little planning, you can join your Dad in a virtual liquor taste session. Mail him some of his favorite drinks and grab some for yourself at the same time.
Make sure you send them ahead of time so your Dad has them on the big day, and then sit back and enjoy a tasting together over Zoom or Facetime. Maybe tune in his favorite 90s music to add some fun! 
2.3 Digitize Old Family Pics And Videos
Looking back at your family's memories together is one of the best virtual father's day ideas you could try. Just imagine the teary-eyed moments you can get from all your baby photos!
Since you're apart, take some time to digitize your memories. Do it ahead of time in secret or you can do it together while Dad is on a video call to watch along. The nostalgic moments and conversations will be the highlight for him! It is also one of the best virtual Father's Day ideas for students as it can be done under an affordable budget.
2.4 Have A Game Night
What is the best gift for fathers on Father's day? It's healthy competition! Go head to head with your Dad in a virtual game night. Because nothing says I love you like a 5 hour game of Monopoly.
Even better, if your Dad is into Poker, you can easily play against him online. 
2.5 Take Him On A Virtual Tour Trip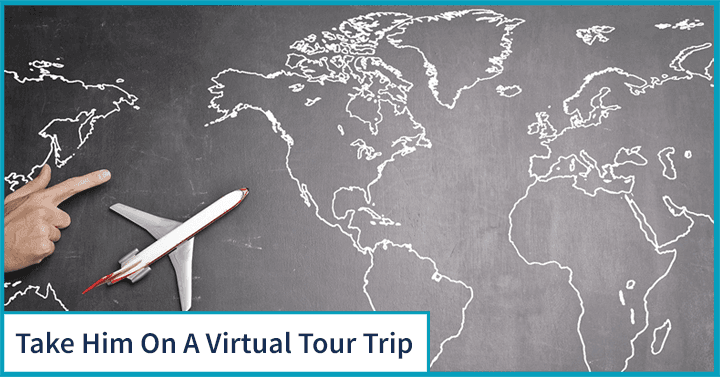 Virtual tours soared in popularity since the pandemic. One good thing that came from that difficult period was Amazon Explore, a virtual tour service. Easily pick your destination and take a tour around tourist hotspots from the comfort of your couch.
When live streamed with a personal guide, these tours are super interactive and informative. So, give the perfect experience to your travel enthusiast and create a travel bucket list while you are at it! 
2.6 Throw Him A Virtual Surprise Party
With platforms like Zoom it's easy to organize a virtual surprise party. Let your Dad know you'll be video calling him on Father's Day. Little will he know, the call will be joined by other family members and friends too!
Be careful, though if you want longer or bigger video calls, you might need to invest in Zoom premium or use a different platform like Skype. To add some glam to this eve, you could also splurge and send a decorator to your Dad's house ahead of time!
2.7 Take The Airbnb Virtual Tour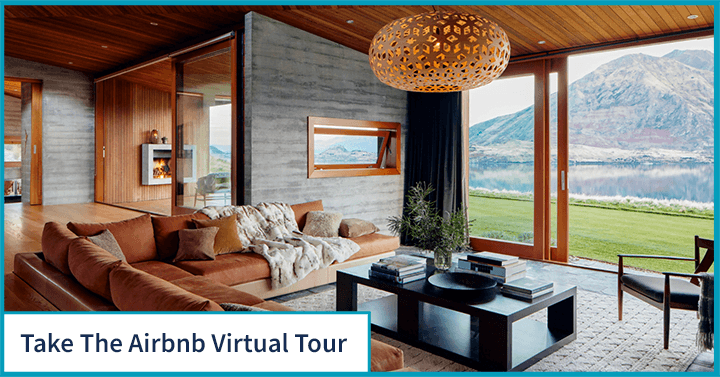 Airbnb has boomed recently, quickly becoming the hub for accommodation and experience booking. What you might not have known is that you can now take virtual tours with Airbnb. 
Book an experience through the app and enjoy a virtual cooking class or historical site tour right with your Dad! 
2.8 Cook A Virtual Dinner Together
Got a Dad who thinks he's a Michelin star chef? 
Well, you can set up a virtual dinner together in two ways. Either get your Dad to enjoy a can of beer and make him feel special while you 'cook for him' on video. Or make it more like a cook-along show and follow a recipe together in real-time. 
2.9 Place An Order For His Favorite Products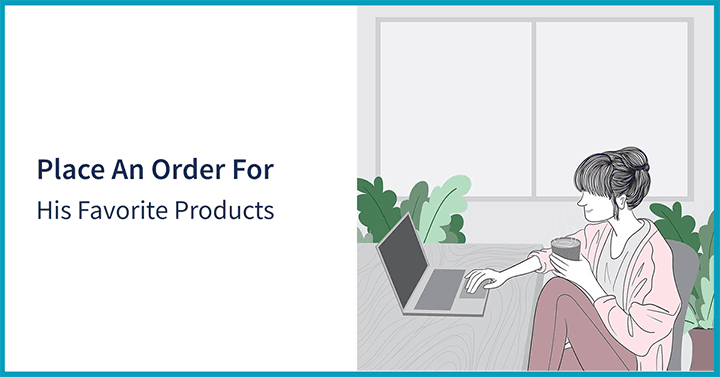 What are the sneakiest Father's Day surprise ideas? Go for something that he would never expect but will put a huge smile on his face. A sure-fire way to do this is to order your Dad's favorite products online and get them delivered directly at his doorstep.
Be on a video call to capture the reaction when he sees his Amazon wish list for real! 
2.10 Make Him A Personalized Playlist Of His Favorite Songs
Who does not love a well-curated playlist? Take our word for it, nothing will show your love quite like a personalized playlist. This will go down as one of the best ever virtual father's day ideas for you Dad. You can send your curated playlist to him via multiple ways! .
Using Spotfiy or Youtube, create and share a playlist easily with your Dad - or if you have the tech, burn him a CD and mail it!
2.11 Send A Heartfelt Letter Or A Card
What do Dads love to tell us as kids? 'Keep it simple'. Well, he's not wrong. A simple letter or card posted to your Dad can mean a lot to him. You can add some long lost memories that speak for how much you miss him, and add a personal touch.
2.12 Attend A Virtual Musical Concert Together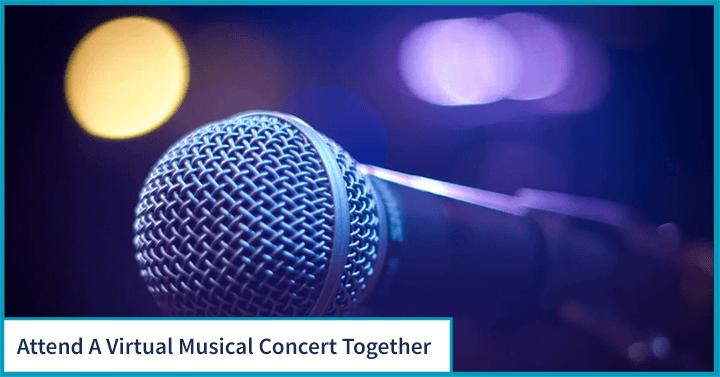 Does your Dad have a favorite band he can't stop talking about? You can join a live streaming concert straight from your laptop or phone.  Watch them live from sites like Song Kick. 
You can both join from separate devices or just listen through a video call while your Dad takes a virtual front row seat. This can be organized as one of those Father's day Zoom party ideas as well, wherein you can be on a Zoom call with your father and attend the virtual musical concert together.
2.13 Go On A Virtual Hike
If you're searching for virtual Father's Day ideas for your outdoorsy Dad, then look no further. A virtual hike is the best bet - and it won't cost a penny. There are hundreds of 4K virtual hike videos on Youtube. Organize one of those Father's Day Zoom party ideas and get on a call with him for the virtual hike!
Pick a difficult hike around the Grand Canyon or a trek through the Norwegian hills. No travel expenses, no blisters, just great fun with your Dad.
2.14 Set Up A Virtual Fitness Or Meditation Session
Online fitness and workout classes are a great bonding opportunity if you want to get your Dad active and healthy. What a great kick start to your fitness journey together! 
You can choose from a wide range of classes; everything from yoga and pilates to spin class and kickboxing. Keep it suited to your Dad's mobility level and get that sweat on. 
3. FAQs
3.1 What Are Some Fun Virtual Father's Day Activities?
Choose some fun activities that your Dad wouldn't see coming, something like the virtual liquor tasting or Zoom surprise party as fun virtual Father's Day ideas. You can celebrate how great your Dad is from anywhere across the world, just remember to show your Dad how to use Facetime first.
3.2 How Do You Celebrate Father's Day In Quarantine?
Father's Day in quarantine would be a worst-case scenario, but in this pandemic era you just can't predict what will happen. If you find yourself separated from your Dad over this holiday, get online!
Use tools like Zoom, Microsoft Meet, Facetime, and Facebook Messenger video call to talk to each other face to face. As long as you have that, you can still celebrate. 
3.3 What Are The Best Virtual Father's Day Ideas For Students?
As a student it might not be so easy to get home for Father's Day. In that case, plan something cool and virtual instead. You'll need to do a bit of planning beforehand if you want to pull off. Try something like a virtual concert, team up for virtual game night or order his favorite products for him from Amazon.