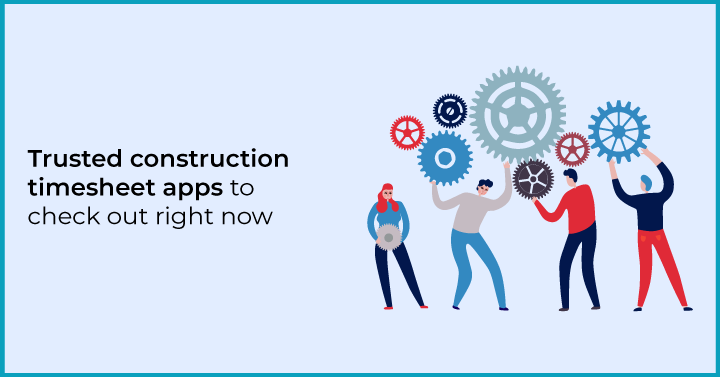 Ever looked at a towering structure as you passed by, wondering how long it took to get that way? In construction, time is money (literally). Many factors dictate the timeliness of delivering large-scale construction. These include labor, equipment, skills, experience and a deep understanding of priorities. This is the reason project managers, engineers and structural detailers turn to construction timesheet apps.
Construction timesheet apps simplify movement tracking and help you reconcile time entries of both offsite and onsite workers. Instead of staying back late and going through attendance records, you can scan daily check-ins and check-outs from the comfort of your device. Further, you can filter down to the person's role, location and hours.
In this article, I'll be reviewing mobile timesheet apps that have emerged over the last decade, with refinements that ensure that the project clock is within sight.
What is a construction timesheet?
Once a project kicks off, every hour counts. More importantly, you should know how time and labor was spent. A construction timesheet can be either manual or digitized, and is a way for employers to record logs of their workers and track the amount of time a worker spends on a job, either by hours or by the entire duration. The idea originates from time books in the late 1800s when people kept books of their hours, which were maintained by clerks or timekeepers.
A construction timesheet is also crucial for fair pay and calculations of cost estimates. It verifies that the worker has put in the hours mandated in their contract and that the details are captured according to their role, availability, project hours and location. It helps reduce overheads by tracking the resources allocated to a project. Using timesheet data, you can prevent overtime hours by finding free resources and releasing them into a task to speed it up.
Why do we still need construction timesheets?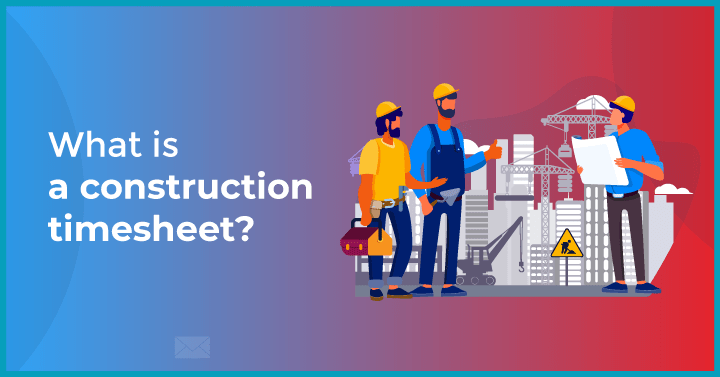 Construction timesheets are required to log efforts against original time and cost estimates. It makes sure every worker is where they need to be, doing what needs doing. Construction time tracking software with built-in timesheets generates time reports that display a historical record of time spent on activities. This information is useful in predicting the employees' bandwidth for future construction projects.  Construction timesheets also speed up payouts to subcontractors and contingent workers whose full-time equivalent can be brought to a unified scale of measurement.
What are the Best Construction Timesheet Apps for your Business?
Deloitte's 2021 report on engineering and construction states that technologies such as building information management (BIM) can help enhance real-time project visibility, which includes visibility into employee time. Here's a pricing table of the tools we've explored;
App
Pricing plans per user per month
1. Clockshark
$3   Basic
$6   Standard
$8   Pro
2. Tsheets 
Free for 1 admin
$10  Elite
$8  Premium
3. Hubstaff
Free for 1 user
$7 Basic
$10 Premium
$20 Enterprise
4. Plangrid
$49 Nailgun
$69 Dozer
$139 Crane
5. Bridgit
Price on Request
6. Exaktime
$6 Billed Annually
7. Timekeeper
$4
8. Rakenapp 
$12 Basic
$30  Pro
$37  Performance
9. Clockify
Free
10. ezClocker
Free for one user.
Basic $10 for up to 15 employees.
Standard $25 for up to 30 employees.
Premium $50 for up to 100 employees. 
11. My Hours
Free For individuals or teams just getting started with time tracking
Pro $6 For freelancers and teams actively managing their time.
1. Clockshark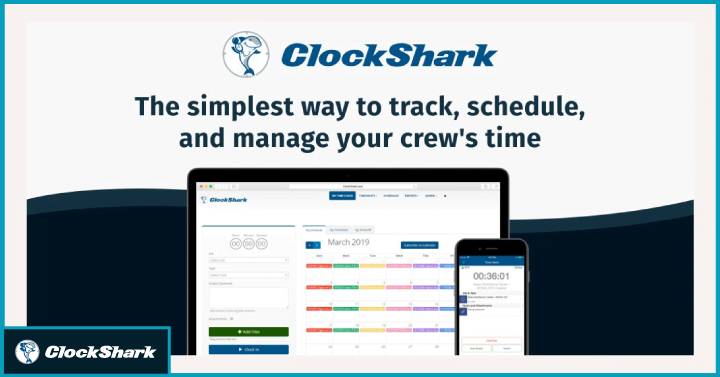 About
Clockshark is a construction time tracking software to simplify construction payroll. Based in the US, Clockshark's founder, Cliff Mitchell, developed it based on his professional experience on-site. Since its launch in 2013, Clockshark has been in over 25 countries and has helped companies around the globe log 150,000+ hours. Clients include Puroclean, Sunpower and Sunbelt rentals.
Salient timesheeting features
Primary features include task summaries, timesheet reports, pay reports, and PTO reports. It is a mobile time tracking software that you can switch to from paper timesheets. On a web dashboard, you'll know where your employees are on the map and geo-locate them. You can schedule workers by job site and know who is working now or will be available later.
Why it is worth checking out
Clockshark is built specifically for construction and field services companies. It is developed based on the understanding of the pain points construction managers experience trying to reconcile time and billing entries. What's more, the other accounting and payroll processing apps it integrates with ensure you're computing employee time information with precision. Their customer support is quite responsive.
2. Tsheets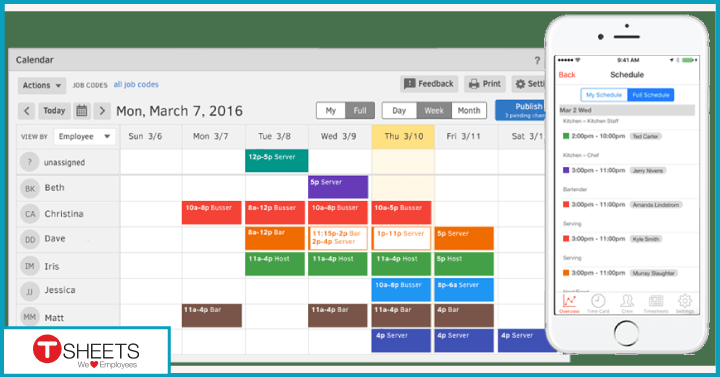 About
Tsheets is one of the digital construction timesheet apps that increases visibility over payroll, time and expense entries and profits. Founded in 2006, Tsheets was created by business owner Matt Rissell, owing to his struggle to track his employees' time.  Now part of the Intuit family since 2018, Tsheets' client list includes Enabled consulting and to Point Bookkeeping.
Salient timesheeting features
The features within Tsheets are categorized by timesheets and scheduling. Under timesheets, you get time cards, time clocks, GPS time trackers, project tracking, who is working, approvals and alerts. Under scheduling, there is a job and shift scheduling.
Why it is worth checking out
My favorite features when exploring were the time cards and programmable alerts. The alerts include overtime hours, which help you improve your budgeting and job costing. Having the best time card app for construction employees could help with payroll management. I also liked that everything is mobile-friendly, meaning that you can look over and approve timesheets on the go. There's a time clock kiosk with facial recognition to alert you of the time a worker clocks in and to confirm that he or she is who they or she say they are.
3. Hubstaff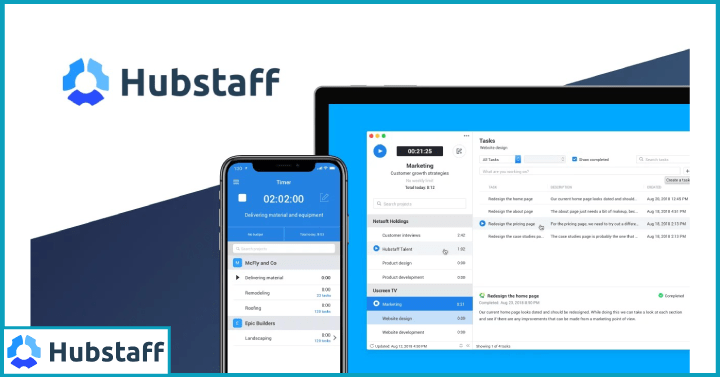 About
Hubstaff is no stranger to the curious world of time tracking. And it does so while being run by a 100% remote team! Hubstaff was founded in 2012 and had over 60 remote employees. Dorms, Keller Williams, and ENC construction are part of the 34,000+ customers around the globe.
Salient timesheeting features
Primary features include time tracking and field service management with plugins for Asana, Trello, Quickbooks and JIRA. Hubstaff. Under field services, you get geofencing to track worker movements within specified location-based times. Other features include quicker invoicing and billing, employee shift management, reporting, time tracking, online and mobile timesheets, project budgeting and productivity measurements.
Why it is worth checking out
Hubstaff is one of the more comprehensive construction timesheet apps in the market today. The dashboard lets you check in on workers. What I liked best about it was the time clock desktop that helps you track employee time on-site or on the road in real-time. Besides this, you can put your mind at ease regarding payments by reviewing hours clocked in and sending out approvals. If you're on the lookout for a tool to keep teams on track, Hubstaff has you covered!
4. Plangrid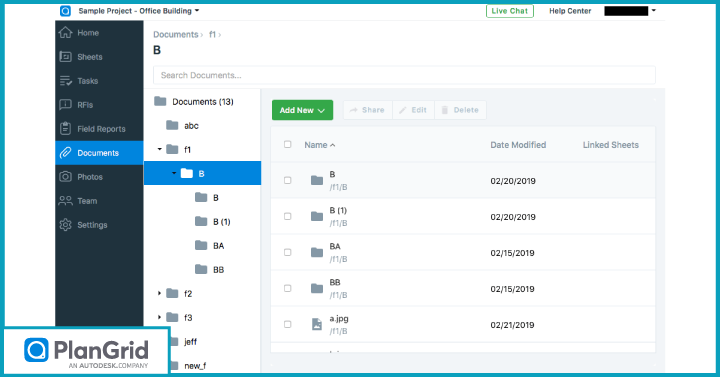 About
Plangrid is an autodesk company that was launched in 2012. Its construction cloud is reported to be easy to use, field-centric and fast. Plangrid is used in 1,00,000 projects worldwide and has clients such as Precision Walls, Dant Clayton and Jerram Falkus group.
Salient timesheeting features
Plangrid features smart drawing, property modeling in 2-D and 3-D and field reports. But its best features are punch lists, automatic submittal logs, workflows, and sheet compares. While punch lists help you resolve issues by the timestamp logged, the comparison module lets you track revisions made to existing prints.
Why it is worth checking out
Plangrid is a construction time-tracking software that helps you manage project budgeting by keeping track of timestamps and logs. It also records and stores prints and drawings, along with changes by when it was made, and by whom.
5. Bridgit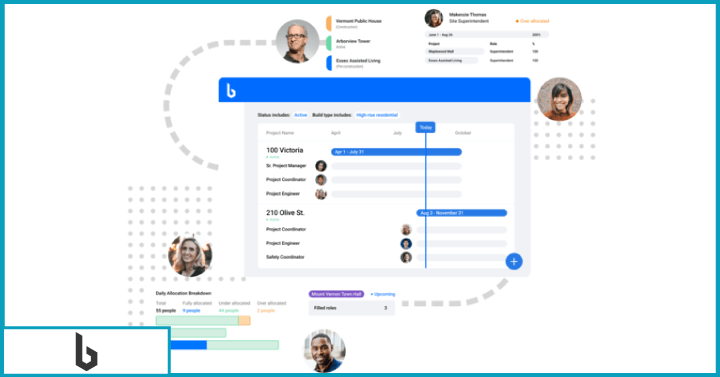 About
Bridgit is the best timesheet app for construction firms, founded in 2014 by Lauren Lake and Mallorie Brodie. It comprises a punch list and time inspection management system, later followed by a resource management software called Bridgit Bench. Bridgit is based in Canada and has a customer base that includes the likes of James McHugh Construction, Harper General Contractors and Andersen Construction.
Salient timesheeting features
Bridgit bench is a resource planner, and the Bridgit field lets you record punch for Quality Assurance/Compliance tasks. The latter is its time entry module, which generates live task updates and automates communication internally. The punch lists let you detect defects and fix issues in time so that the project can be delivered on time and under budget.
Why it is worth checking out
Bridgit reduces planning and execution costs by helping you look into issues before they snowball. Any pending or undone work is programmed as alerts to notify concerned teams to take action. Customers report saving an average of 10 hours per week.
6. Exaktime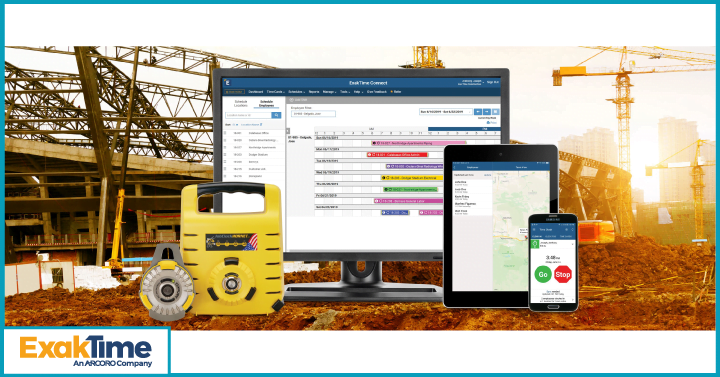 About
Exaktime is a time clock app that is part of Arcoro's product offering. It is two decades old and is based in California, USA. Exaktime is the best time card app for construction workers that resolves the issues of inaccurately entered manual timecards. They have 7500 customers all over the world, which include Latite Roofing, Southwest construction services and sunenergy1.
Salient timesheeting features
Exaktime's features include a time clock, payroll syncing, reporting and rugged time clocks. I particularly liked exploring the rugged time clock, which is wireless and weatherproof. It records and sends worker hours and activities to the cloud. The time clock app contains health screening, GPS tracking, compliance sign-off, scheduling, employee identity verification and crew and job site tracking.
Why it is worth checking out
The mobile punch-in clock lets you track each worker's login and logout sessions. It uses biometric facial detection to ensure workers on site aren't proxy-ing for their fellow coworkers. With Exaktime compatible on the web and on mobile devices, you can manage your workforce, save on unplanned and increased overtime, and secure your wireless device and cloud information. Also, no more paper time cards!
7. Timekeeper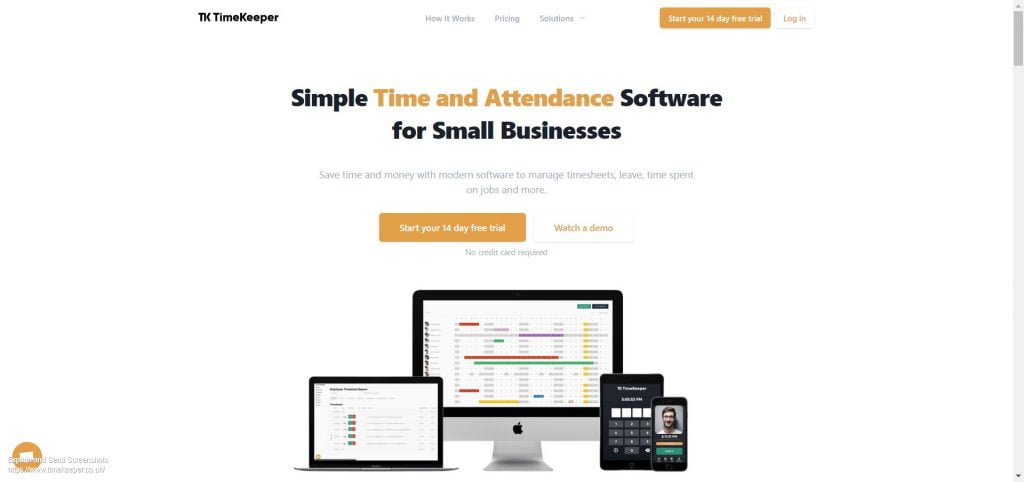 About
Timekeeper is the best construction timesheet app that helps managers reconcile timesheets and time spent on site and on leaves. It's based in Belfast, Ireland, with Glackin Electrics as one of its clients.
Salient timesheeting features
Besides GPS tracking, the timekeeper's primary features for construction include facial recognition clocking to prevent buddy-logging. The TimeKeeper Kiosk, which is Android and iOS compatible, is a portal timeclock for construction. It lets multiple workers on one site log in through a single tablet that can be mounted onto walls.  The mobile version tracks location by GPS for individual workers, so you know they are where they say they are!
Why it is worth checking out
Knowing who is where at all working hours helps you ensure that work is progressing as planned. Timekeeper's features are in common with the rest of the construction timesheet apps reviewed here, but what makes it stand out is that workers can take pictures and add notes and signatures to a job for real-time approval and sign-offs. It also has a remote hub to record attendance and time for distributed workers.
8.Rakenapp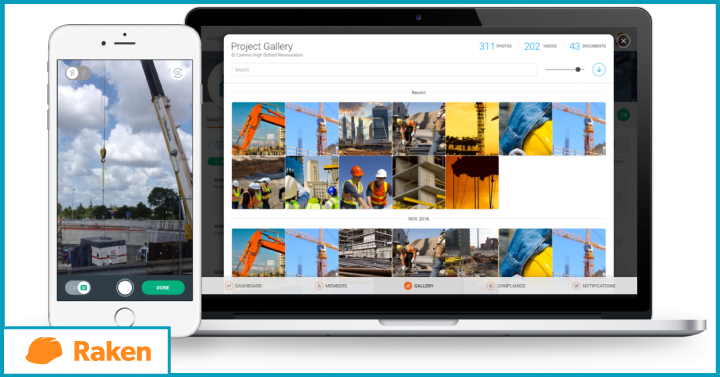 About
Rakenapp is a construction project management software with timesheeting capabilities. It is based in the US and came into being in 2014. Five years ago, they had 1000 clients, which has now broadened to 4000+ speciality contractors using Raken's field management solution to connect the field to the office. Clients include Level10 construction, Outlier and RHSI construction and engineering project management.
Salient timesheeting features
This construction time tracking software's primary features include timecards, synced payroll, cost codes and daily reporting. Their production tracking and timecard modules are built to help delegate hours and schedule the crew for work. You can enter and edit hours to predict labor costs. You can even document equipment usage by hours and days to track costs across the project.
Why it is worth checking out
What I liked about Raken is that documentation is more structured, giving the required access to managers and field crew. Your team can record material quantities and bulk-upload their hours. You can create a margin for rolled-over hours and export time reports before payroll is processed to ensure time entered is in accordance with labor and expenses.
9. Clockify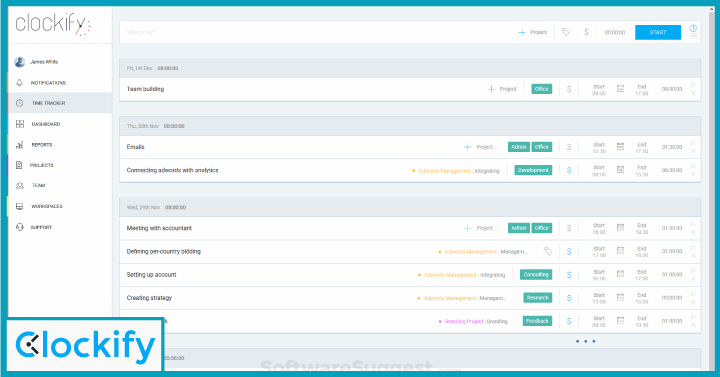 About
Clockify is a free construction project management software with timesheeting capabilities.. It was launched in 2017 with the intent to make time tracking accessible to all. Clockify has an impressive user pool of 2 million, with companies like IBM and American Express.
Salient timesheeting features: 
One of Clockify's newest features is the Calendar view, which generates an overview of your day to help you understand your work patterns. Other features include team activity, bulk editing, project tracked versus estimated time, project hourly rates and custom fields. The team activity option sees everyone else's timers at work.
Why it is worth checking out 
What I liked about Clockify's Calendar function is that you can go back and re-enter time that you spent on work that you forgot to clock in. it's also multi-platform compliant and works on Windows, Mac, mobile and web versions.
10. ezClocker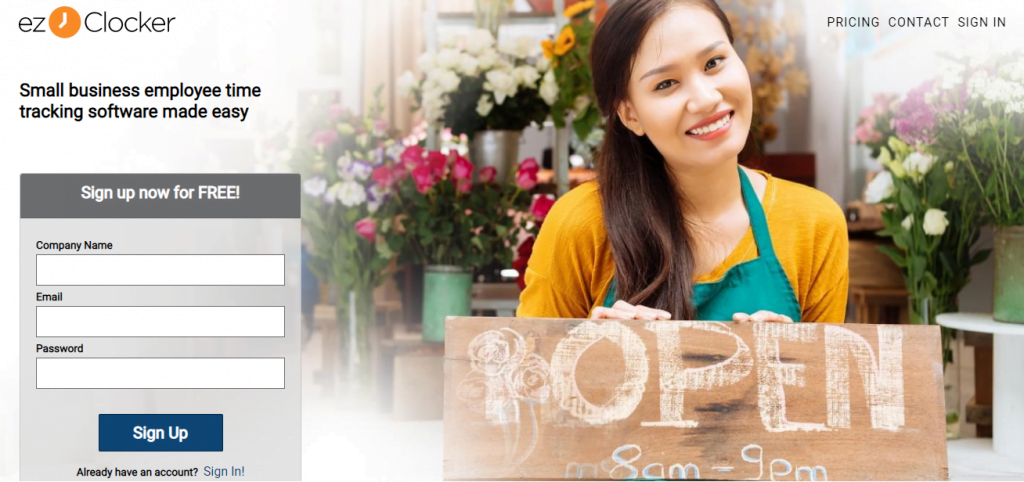 About
ezClocker is a simple-to-use construction time clock and scheduling software. Ideal for construction companies with crew members who work at different job sites. Each employee can use their own phone to clock in/out, and a GPS location is captured so the employer can verify the worker is at the correct location. 
Salient timesheeting features
ezClocker features include time tracking and scheduling. Under time tracking, you get mobile time clocks, GPS verification when an employee clocks in/out, manual time entry, job assignments, and overtime. The scheduling feature includes scheduling employees, assigning them locations, notes, and notifications when employees have a new shift.
Why it is worth checking out
One of the reasons ezClocker is highly rated is because of its simple design, which even a non-tech person can figure out quickly. If you have field employees who are not comfortable with technology and you don't have time to train them, then ezClocker will be a good fit for you. It's also very affordable, you pay a flat monthly fee of $10 for 15 employees. 
11. My Hours Software
About
My Hours is the perfect project time tracking software for those who love a simple and efficient time-tracker and a project manager. Launched back in 2002, this 2-decades-old software is the best timesheet app for construction that allows businesses to handle profitable projects from start to finish efficiently. My Hours is a product of Spica, a company headquartered in Ljubljana. According to customers, My Hours easily comes first regarding user experience and price performance.
Salient timesheeting features
Apart from being simple and easy-to-use time-tracking software, offering both timesheets and a real-time tracker, My Hours has a rich set of features. You can use it to manage unlimited projects, tasks, clients, and team members. It is efficient for both small and large teams to organize projects, track employees' time, analyze reports and create invoices all in one place.
Why it is worth checking out
My Hours has an excellent user experience and is one of the best support teams on the market that will jump in to help you navigate the platform with ease at any time. The app is available on the Web, iOS, and Android; it also has custom hourly rates and billable settings. At $6 per month for each user, My Hours has the best price performance on the market.
What is the best timesheet app?
I would rank the best construction timesheet apps as Raken, Clockshark and Timekeeper.
Of these, Raken and Clockshark are specifically built for construction engineering and field services, making them tools of the trade that will streamline time reporting and help construction timelines stay on course.
From a pricing perspective, Clockshark's plans are more affordable, especially if you're looking to trial the best construction timesheet app and are just transitioning from paper entries. But if free and basic does the job, go for Clockify.
Got a different opinion? Let me know in the comments below!