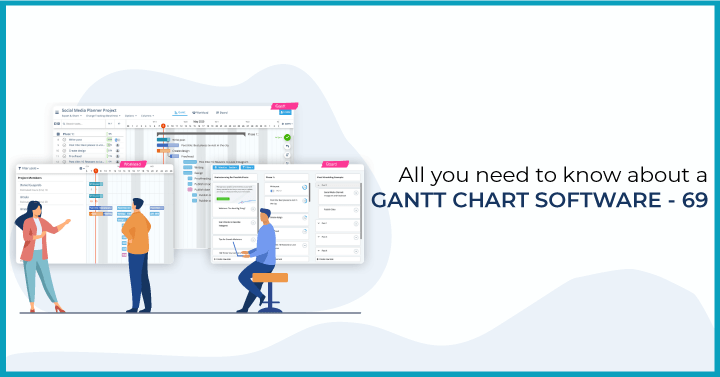 How do you ensure the efficient management of projects while remote working? This was the first thing that hit me the day we resorted to remote work. As a remote project manager, I knew I needed a robust tool inventory to automate tasks, schedule resources for projects, effective collaboration, and every other vital process to ensure the project's success. While looking for these tools, I came across Instagantt, a Gantt chart software, and covered most of the aspects I was looking for. The comprehensive analysis of this tool inspired me to write an extensive Instagantt review.
If you are looking for the best Gantt chart software for your business, we have an exhaustive list.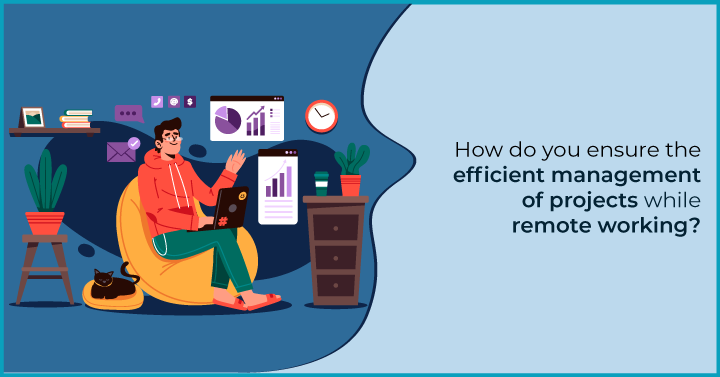 It lets you create intuitive Gantt charts, schedules for your teams, collaborate with your team members, and enables you to manage projects smoothly. It primarily works as an Asana integration. However, it can also be used as a standalone app if it serves your purpose.
To ensure that I am selecting the right tool for my team, I tried every feature that Instagantt has to offer. I perused them in detail to see how it will benefit me in managing distributed teams, supervising the project's progress remotely, and lead to the project's success. This article entails Instagantt's features, their functionalities, and benefits from a remote manager's perspective.
However, before we begin this in-depth analysis, let us first understand
1. What is a Gantt Chart Software?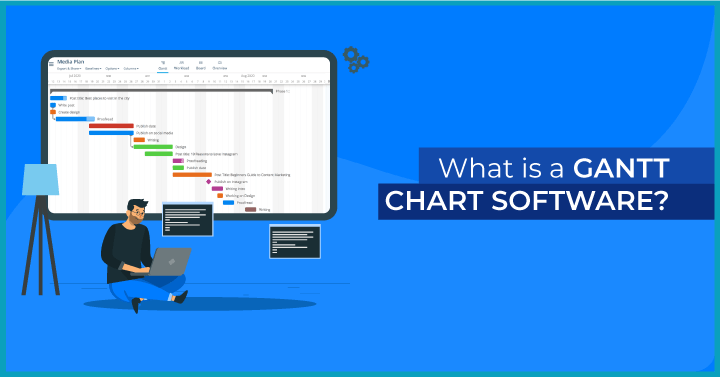 A Gantt chart Software primarily provides flexible mechanisms to users to link task dependencies. It allows users to create customized Gantt charts and plan, schedule, and manage projects at ease. What's more? You can collaborate with team members and stakeholders to discuss the project plan.
Instagantt is one such Gantt Chart Software amongst other strong Gantt chart software like Ganttpro, Smartsheet, Teamgantt, and more that simplifies the process of project management. So let's now delve into it to learn more:
2. What is Instagantt?
Founded in May 2013, Instagantt is the brainchild of Daniel Guajardo Kushner and is headquartered in Chile, South America. Being a tech entrepreneur, he takes a keen interest in building products that can significantly impact a smaller niche.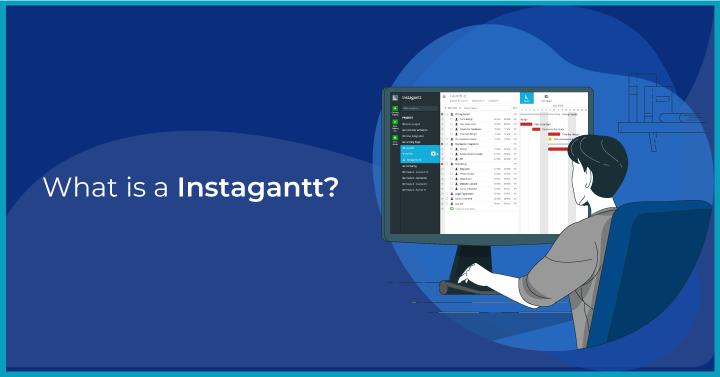 Instagantt, being one of those tools, has changed project management for a lot of project managers. Initially, it was just available as an Asana integration to provide the Gantt chart view, however, non-Avaza users can benefit from its standalone application.
With salient features like intuitive dashboards and reporting, Instagantt lets you make smart and strategic decisions while controlling the project budgets. It also facilitates seamless collaboration and helps you keep the team members on the same page.
Here, I will be covering the following features to understand the tool better:
Drag and drop
Task management
Workload management
Board and the kanban view
Dashboard and reporting
Collaboration
Before we give a headstart to the in-depth analysis, let's see how Instagantt compares against other tools and users' views about the tool.
3. Instagantt vs. Asana
Although Instagantt started out as an Asana integration it has come a long way since then. Instagantt is a Gantt Chart Software designed to help you manage project plans. It lets you add tasks, set dependencies, search for previous tasks, and know what your teams are upto. Asana is a task management tool that teams can use to manage workloads. Its capabilities aren't specific to pure project management. Unlike Asana, which offers 100+ more integrations, Instagantt doesn't support any other integration.
Instagantt features baselining which lets you track changes made to the schedule according to who made them, and when. Additionally, you can drag and drop dependencies and use the workload management feature to see what everyone is working on. The Asana Premium features multiple timelines which schedules out work across multiple projects and lets you see where you have time to accommodate new projects. It also lets you organize tasks using Boards, which defines the stage work is currently at. Both Instagantt and Asana have a project overview which sets the stage for work and lets managers share resources. The total package is Asana with an Instagantt integration, which gives you the best of project and work management.
3.1 Instagantt Review and Rating
Instagantt has a robust rating of 4.5/5 and 4.8/5 on Capterra and G2 with over 45 and 12 reviews. Users had a great experience with simplicity, flexibility, and ease of using features that contributed to the strong ratings.
However, users expect more integrations in the standalone version and expect a batch of dates on tasks to prioritize better. This would reduce the hassle and make the tool more user-friendly.
Although the tool will need more users and reviewers for a more precise score and result, overall, Instagantt is considered to be an intuitive tool for efficient task and project management.
It's time to unravel the salient features of Instagantt and read a detailed Instagantt review:
4. Instagantt Feature Review
4.1 Instagantt Review: Drag and Drop
The drag and drop feature of instagantt is an effortless way to create task dependencies and modify the schedules at ease. One can also do vertical movements of tasks to change assignees and schedule them.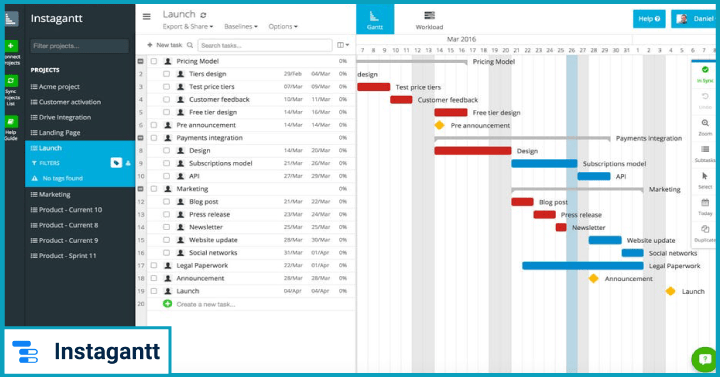 This functionality makes the organization and management of tasks quick and straightforward. You just make one change and it's propagated all across the Gantt chart.
How does it benefit the manager and team
Managers can schedule and allocate project tasks to the resources by merely moving the tasks across the chart and reschedule them in case of any ad hoc requirements.
The team members can view these changes in real-time on a unified platform. This avoids any discrepancies and keeps the project plan in one place. This was extremely beneficial for me as I didn't have to get on calls to update any change. If you are an Asana-user, then the changes will reflect in Asana projects as well.
Instagantt vs. Smartsheet
On comparing Instagantt's drag and drop functionality with Smartsheet's feature, it offers the same benefits to the users of effortless scheduling and mobilizing bookings in case of ad hoc demands.
How does it compete with other tools?
Compared with JIRA, Wrike, Mavenlink, and Asana, all other tools have the drag and drop feature in their toolkits.
Its' convenience, and what could go better?
I found this function smooth and easy, I could make the changes in no time, so I like it. It's a time-saver.
4.2 Instagantt Review: Task Management
The task management feature of Instagantt is a full package that enables you to create tasks, sub-tasks, describe them, allocate them to the employees, estimate the hours and costs, compare them with the actuals, and state risks if any.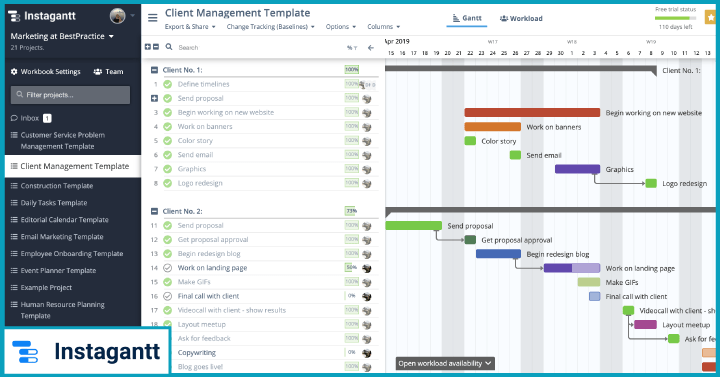 A manager's work is made easy with the array of benefits you get from one feature. It helps you break down the tasks into simpler tasks to reach your ultimate goal.
How does it benefit the manager and team
I love this feature. It made project planning and scheduling a whole lot easier for me. For remote teams, the primary requirement is centralized visibility and real-time information. So when we were dispersed across global boundaries, we could keep each other updated without having to call.
The task management feature allows you to control your tasks, easily split them, and collaborate with the team members.
How does it compete with other tools?
The competitor tools like JIRA, Mavenlink, and Wrike have a task management feature. Instagantt has one exception- it's user-friendly, and the color-codes make it easier to understand.
Its convenience, and what could go better?
I like the convenience of the tree structure. It helped me organize and plan better. However, they could add a timer against each task as present in Avaza to log the actual hours spent on each one.
4.3 Instagantt Review: Workload Management
A manager has to ensure that his/her employees are not suffering through burnout. It will eventually lead to lowered productivity and disengagement of employees. The workload management feature helps the managers take care of this.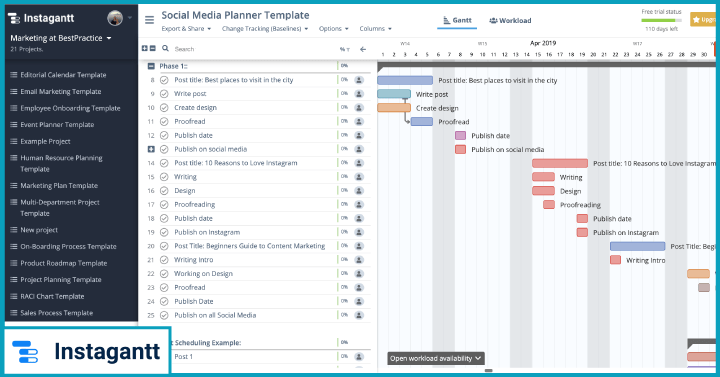 You can view the number of tasks assigned against every employee and ensure that they are not over or under-utilized. It lets you distribute the work evenly across the team or enterprise.
How does it benefit the manager and team
While we were working in our brick and mortar offices, it was easy to keep a tab on everyone's schedules and ensure that no one is overworked. This changed when we started teleworking. However, I still had to make sure none of my team members was overloaded with work. I could do it without a hitch using this feature.
The team can view their schedules and work accordingly, and managers can prevent employee burnout using workload management. Not just that, they can also mobilize the tasks using simple drag and drop.
Instagantt vs. Smartsheet
Smartsheet offers different templates to facilitate managers seamlessly track their resources' schedules and ensure optimum distribution of workloads. As opposed to this, Instagantt has a special designated feature that offers more functions under one umbrella for effective capacity management.
How does it compare with other tools?
As opposed to JIRA, Instagantt has capacity monitoring, i.e., managers can easily view the work allocation. This feature helps them to fill the demand gaps seamlessly and in time.
Its convenience, and what could go better?
The simple view of the workload against each resource makes it easier to use than any other tool. I think the feature comprises everything a manager needs to supervise work distribution.
4.4 Instagantt Review: Board and the Kanban View
The board is the best tool to ideate and sketch the rough outline before drawing the fair one on charts. The kanban view groups your projects by statuses or by section, or you can categorize them in any way you please.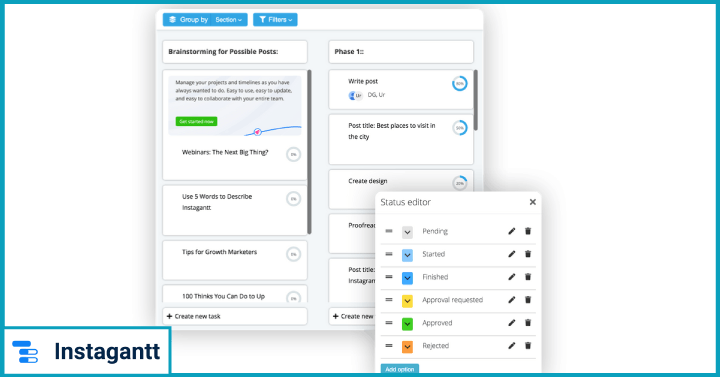 The status board lets you monitor the project's progress. These visualizations help you bifurcate and view the project plans better.
How does it benefit the manager and team
During team discussions and meetings, the channelized views of projects on the kanban made it easier for us to prioritize further tasks and assign work accordingly. Not just that, the board worked as a digital whiteboard where we could just dump ideas and plan them for execution. It fills the gap of whiteboards in our conference rooms!
These views keep the team updated on the project's progress and helps the manager take corrective action ahead of time if there are any delays.
Instagantt vs. Smartsheet
Instagantt and Smartsheet both offer online Kanban boards that help managers and their teams create project plans, draw out ideas, and more.
How does it compare with other tools?
Instagantt is at par with its boards and kanban view, unlike teamgantt, a potential competitor.
Its convenience, and what could go better?
The categorized view of projects makes it easier for team members to view the project's progress and plan accordingly. It has everything I was looking for.
4.5 Instagantt Review: Dashboard and Reporting
Dashboard and reporting, one of the most beneficial features of Instagantt, lets you compare your actual progress with the estimated evolution curve. This gives you factual data of the project's attributes and strengthens your decision making.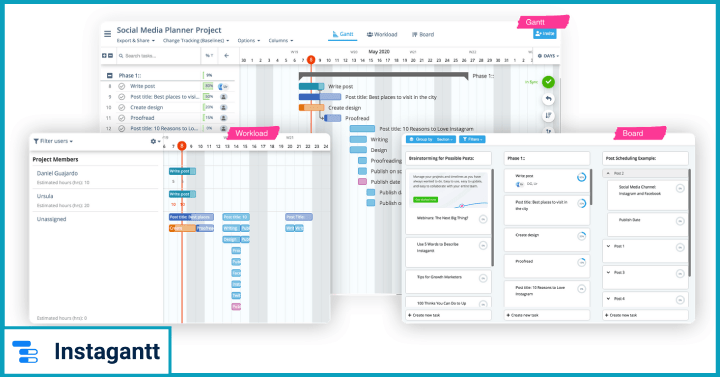 The intuitive reports are vital to give you insights into important project aspects and avoid budget overruns or delays.
How does it benefit the manager and team
These reports helped us a great deal when we had budget overruns or delays. We could do the damage control well in time and steer through the project's success. The graphical representations helped me monitor every aspect without missing any important detail. All this while I was working remotely.
And the best part is, the dashboards and reports are generated automatically, we need not feed information manually. We could also track every change that we made using the baseline feature.
Instagantt vs. Smartsheet
Instagantt's baseline feature is unique and is absent in Smartsheet. However, there is one additional benefit that Smartsheet offers. Users can export these intuitive reports to teams or stakeholders in pdf, doc, or any other format.
How does it compare with other tools?
The baseline feature of Instagantt stands out from other competitors like JIRA. It's like cloud storage of every change that we make to the schedules or tasks or assignments.
Its convenience, and what could go better?
The insightful reports help us stay in-line with the project's estimated schedules and void any delays or discrepancies. However, the addition of what-if reports would add that missing piece to the puzzle.
4.6 Instagantt Review: Collaboration
The collaboration feature lets the team members and managers comment, assign, split, accept, and reject tasks to collaborate effectively. Not just that, you can send public links, export documents, or PDFs to work with external stakeholders.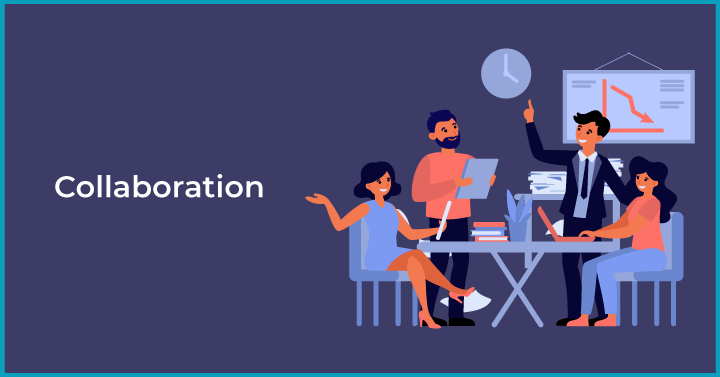 Collaboration makes it easier for team members to share ideas, progress, and seek help from team members when needed.
How does it benefit the manager and team
While managing the remote team, collaboration kept us together and aligned us with our goals. When we were developing a program, the testers knew when to begin the task as they could collaborate and with the developers in real-time.
Collaboration also helped me share some critical training modules with the entire team or specific team members to help them scale up their game and enhance their proficiency.
Instagantt vs. Smartsheet
Instagantt and Smartsheet both have smooth collaboration tools to facilitate teams to share their progress and stay in sync to ensure the project's success.
How does it compare with other tools?
Other tools like Trello, Microsoft projects have an advanced collaboration tool, unlike Instagantt, which is limited to task assignments and alerts. Perhaps, they could upgrade the feature.
Its convenience, and what could go better?
In my opinion, effective communication holds as much importance as effective collaboration. I would like to see an upgraded version of the collaboration feature with a chat and call function.
5. Final Verdict
Instagantt has covered all aspects that play a pivotal role in making a full-fledged, detailed project plan. However, more integrations with advanced project management software like Avaza or G-suite or Microsoft teams would make it even more useful and enhance its usability.
Overall, I loved exploring all the features, Task management being my favorite. The visualization effects with color-codes made it easy for us to understand the plans.
It's quite affordable with 5$ per user per month if you buy the team subscription and 7$ per month for individual users. We bought the team version, and it was a fair investment.
6. Conclusion
Remote project management is an integral part of attaining the project's success. Only when a manager can manage the projects intelligently, can he assure his/her way to success. Equipping the right tool was necessary to ensure none of the project attributes are overlooked, or it could cost us a great deal. Instagantt eliminated all the hassles and streamlined the project planning and scheduling process for the team and me.
Even though every feature had its benefits and proved useful, I would like to see more integrations with Instagantt. One can only avail of its full benefits with Asana integration. If it could add more such combinations to the list, the tool would be more beneficial for the managers.
I am looking forward to more such integrations and ungraded features in Instagantt. Stay tuned to see what is next on Instagantt's list!