Chinese New Year is the most important festivity in the Chinese calendar. In recent years, it has also become a popular occasion for people all around the world to celebrate with traditional foods, crafts and games.
Even if your company is transitioning to more hybrid working, acknowledging the event virtually is a prime opportunity to showcase an inclusive, diverse work culture. Discover some of the many ways you can mark the occasion with these virtual Chinese New Year ideas.
Looking for ways to celebrate other annual holidays? We've got articles on how to host virtual parties for Thanksgiving, Halloween, Independence Day, and Diwali, as well as more general digital party ideas.
1 How Do You Celebrate Chinese New Year Virtually?
As more and more businesses make the move to remote working, having the IT capability to celebrate an occasion with your team digitally has become essential. Most virtual Chinese New Year ideas can be arranged through common video conferencing platforms. These remote meetups can also be set up with real-world items delivered straight to your staff's home offices when the celebrations call for activities such as wine tasting, cocktail classes or virtual potlucks.
2 How to Host a Virtual Chinese New Year Celebration?
2.1 Choose an Online Platform
For most company events, standard free versions of services like Google Meet, Zoom or Microsoft Teams will be sufficient. Bear in mind there are different limits on the number of people that can take part and the length of time your meeting can last. For example, Zoom's complimentary option limits sessions to 40 minutes, while most services cap participants at 100. Based on the kind of celebration you are having, choose one that caters to your needs on team size, collaborative features and session duration.
2.2 Make a Guest List and Send Invite
For most virtual Chinese New Year ideas, you will probably want to keep the invitee list to your immediate team, in order to facilitate better communication and socialization. It might also be worth considering creating breakout rooms within your overall digital event. This way, you can arrange both larger and smaller group activities.
2.3 Prepare Different Fun Games and Activities
Variety is the spice of life. Line up a couple of different types of things for your team to do. This way, you can try and ensure there's something for everyone, as well as providing a broader Chinese New Year experience. This need not just be limited to the regular trivia games, there are plenty of creative virtual games to try out like Bingo, murder mysteries and more.
2.4 Pick Out Some Traditional Chinese Dance
If you've ever been to your local Chinatown on Chinese New Year, you'll have seen the traditional Lion Dance wending its way through the streets. You can learn some simple steps through online tutorials – lion head costume optional!
3 15 Virtual Chinese New Year Ideas and Activities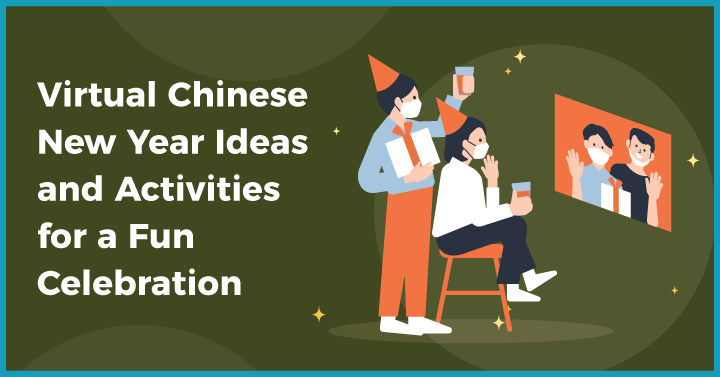 3.1 Prepare Songs for a Music Bingo
Kicking things off with some music bingo is a good way to break the ice. You can keep it in theme by preparing songs that have one of the 12 Chinese zodiac animals in their title or artist name. Think Hound Dog by Elvis Presley or Brass Monkey by the Beastie Boys.
3.2 Hold an Origami-Making Competition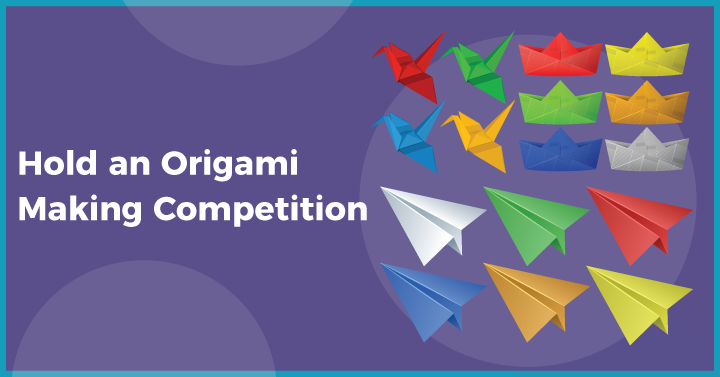 Chinese origami (known as zhezhi) has been practiced for hundreds of years. Host a class that teaches your team to make classic shapes like cranes and lanterns, or organize a competition to see whose paper-folding skills are cutting edge and whose are 'tearable'.
3.3 Set up a Dress Code (Red Preferably)
Red symbolizes good luck and happiness in Chinese culture, which is why it's often worn during important occasions such as weddings. Encourage your colleagues to wear some form of vermilion clothing to set the appropriate celebratory tone.
3.4 Involve Your Employee's Families to Make It More Interactive
Chinese New Year is usually the time of year when families reconnect after long periods of time. Bring that same spirit to your company's virtual Chinese New Year ideas by arranging activities that your staff's family can participate in, too.
3.5 Cocktail Mixology Class
Just as with the solar New Year, it's common to partake in a drink or two to herald Chinese New Year. Cocktail mixology classes are generally a popular team-building activity, but you can give it a twist by including the national spirit of China, baijiu. You can arrange for all the necessary items to be delivered to your team's home offices and help them get started.
3.6 Take a Virtual Tour to China
Dive a bit deeper into the history, culture and monuments of China with a virtual tour. Soar past the towering columns of Zhangjiajie, which inspired the movie Avatar, or enter the storied halls of the Forbidden City. Online tours can be entertaining, educational and much more affordable than flying everybody out!
3.7 Set up a Talent Show
Almost everyone has a talent, from magic tricks to playing musical instruments. Set up a digital talent show and encourage your colleagues to show off their unique skills. For some inspiration, they can crib from the annual CCTV New Year's Gala, which mixes comedy with dance, singing and even some gymnastics.
3.8 Arrange a Virtual Tea Tasting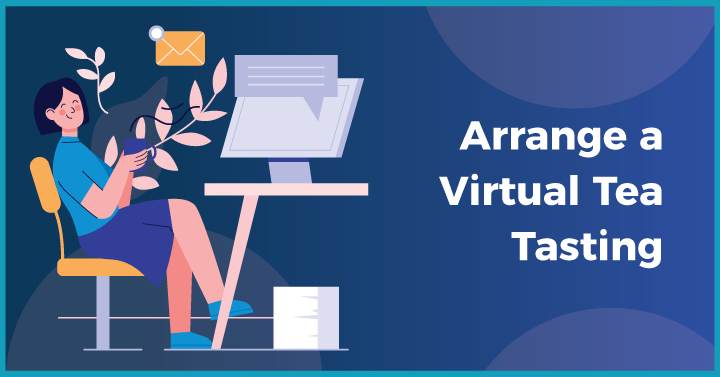 Legend has it that tea was invented in China when leaves from a tree blew into the emperor's cup of hot water. Hire an expert to lead a virtual tea tasting that delves into the history and proper preparation of a variety of brews, from black and green teas, to white and yellow ones.
3.9 Play Online Word Puzzle
Use Zoom's annotation tools to collaborate with your team on a word puzzle. There are several options themed around Chinese New Year available online for free, or you can create your own to really get the gray cells firing.
3.10 Play Online Mahjong with Your Teammates
Most people think of mahjong as a pair-matching game, but real mahjong as the Chinese play it is more akin to card games like rummy. Sites like Mahjong4Friends allow you to create a private room where your team can learn the rules and compete together. Just bear in mind that mahjong is a game for four people, so you'll have to divide up larger groups accordingly.
3.11 Create a Digital Selfie Booth
It's not uncommon to find selfie booths with a mixture of props at company events in China. One virtual Chinese New Year idea could be to recreate the experience with a digital selfie booth that can be embedded into your company intranet.
3.12 Launch an Online Fashion Show
You might not be able to host an in-person evening of glamor, but you can hold an online fashion show. Think Mandarin collars, Tang suits and accessories like Chinese fans, if you can get your hands on one of those styles. Encourage employees to show off their glitziest outfits (preferably with a splash of red) as a fun way to get people expressing their personal sense of style.
3.13 Eat Together
How do the Chinese celebrate New Year's at work? By eating together! Embrace remote working by mimicking the experience online. To add a little Chinese flavor, have traditional celebratory foods like dumplings and sweet rice balls delivered to your employees' homes.
3.14 Share Your Favorite Memory of Lunar New Year
Asking each member of staff to share their favorite memory of Lunar New Year is a great icebreaker. Remember that these virtual Chinese New Year ideas are designed to foster camaraderie and team spirit in teams that may be spread across different locations. Relating celebratory memories is a personal way to bring people together.
3.15 Tell Stories about the Nian Beast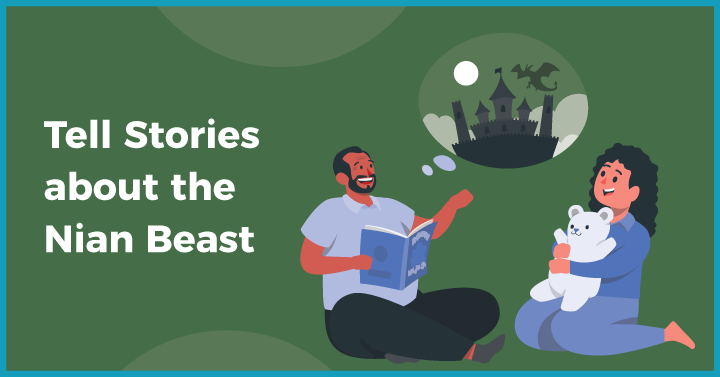 Imbue your celebrations with some culture: relate stories from Chinese mythology. One of the most popular tales during the New Year period is that of the nian beast. Legend has it that it terrorized villagers during the last day of the year, until the townsfolk came up with a plan to scare it away by letting off loud firecrackers and beating the gongs – a ritual that continues to this day.
4 FAQS
When Is Chinese New Year Celebrated?
Chinese New Year takes place according to the lunisolar calendar, which is why the date changes every year. It always falls between January 21 and February 20, however, on the first day of the new moon.
How Long Is Chinese New Year?
In China, the first important day of the festivities takes place on Chinese New Year's Eve. There are then two weeks of celebrations, concluding with the Lantern Festival on the 15th day after New Year.