Virtual games for Independence Day are a fun annual way to bring your staff together. It can also be a useful way to promote a sense of camaraderie and team spirit in companies where a greater percentage of people are now working from home at least part of the week. 
It's never been easier to take your 4th of July games online, with options to suit wordsmiths, creatives, trivia buffs and musical talents.
Looking for ways to celebrate other annual holidays? We've got articles on how to host virtual parties for Thanksgiving, Halloween, St. Patrick's Day, Independence Day, Diwali, Mother's Day, and Father's Day. For more general ways to enhance team dynamics, take a peek at our posts on organizing virtual team gratitude activities, company anniversaries, and staff birthday celebrations. If virtual games are what pique your interest, we've also assembled explainers for how to play on Google Meet and Zoom, as well as a guide to leading a games session for large groups.
1. How Do You Celebrate the 4th of July Virtually?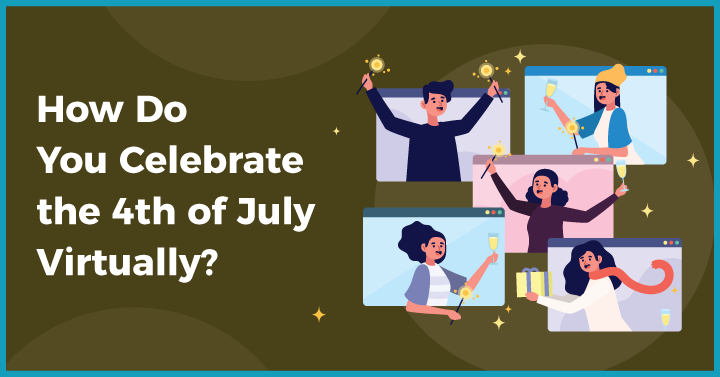 Celebrating with virtual games for Independence Day can be as simple as setting up a group chat on a free video communication platform, such as Zoom, Microsoft Teams or Google Meet. In the wake of the pandemic, these kinds of digital meetups have become an increasingly common way to socialize both on a professional and a personal level, with more people opting to work from home on a hybrid or permanent basis. 
2. Virtual Games for the 4th of July
2.1 Independence Day Party with Hooray Teams 

You can even get a hosted event for your 4th of July party. To throw a remote 4th of July event on Hooray Teams, simply fill out the contact form, and the team will organize a themed virtual event with the option to send 4th July gift bags to the team! The entire event is thrown by them, and all you need to do is show up and enjoy!
2.2 Independence Day Bingo
Stars and stripes, fireworks, barbecues – get in the patriotic spirit with a bingo game featuring things that are commonly associated with the 4th of July. You can make your own custom version or save some time by downloading a predesigned version. Staff can print them out at home or keep things environmentally friendly by sticking to a digital bingo card.
2.2 Jigsaw Puzzle 
Virtual jigsaw puzzles provide an unlimited source of gentle entertainment. Sites like Jigsaw Explorer have a group feature so you can see one another's moves in real time from your own computer. They also allow you to upload your own images to make into jigsaws, so that you can theme the online game on Independence Day.
2.3 July 4th Word Search
Word searches are one of the easiest virtual games for Independence Day to organize. You can have your team compete to see who can finish their word search fastest or get everyone participate together using tools like Zoom's annotation feature.
2.4 Jumble Words
Another linguistic challenge, see who can unscramble Independence Day anagrams in the fastest time. Make up your own or draw inspiration from existing ones online. Lend a competitive edge to your Independence Day games by offering up a prize to the employee who finishes first.
2.5 4th of July Trivia Questions
How much do your colleagues actually know about American Independence Day and its history? Find out by asking such questions as where the first celebration was held or which US president was born on the 4th of July. Divide staff into teams to facilitate a greater element of social fun.
2.6 Guess the Capital of the US States
Independence Day online activities for office parties don't come more American than naming US state capitals. There are several different ways you can approach this topic, from simply seeing who can name the most US state capitals in a minute to asking quiz questions that have state capitals as answers.
2.7 Virtual Tours of Museums and Parks
Unique ways to celebrate independence day include taking a digitally enabled guide through American landmarks like Mount Rushmore, Yellowstone National Park and the Grand Canyon. Marvel with colleagues at the majesty of the Statue of Liberty or learn about the historical importance of the Liberty Bell.
2.8 Scavenger Hunt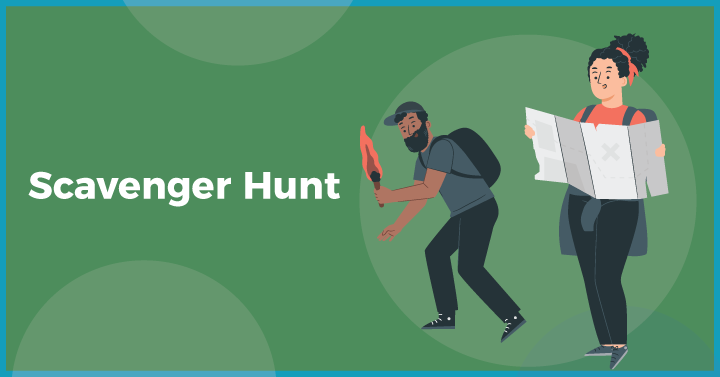 Virtual scavenger hunts have become the bread and butter of team-building activities over the past few years. Explain the rules, clarify the points system and separate staff into teams, before unleashing them on your custom list of scavenger hunt items. Some ideas include asking employees to find red, white and blue items in their homes, or to take a picture with an American flag.
2.9 Music Competition with Patriotic Songs
Get staff to show off their instrumental talents with a virtual music talent show. Bring the Independence Day motif to the fore by suggesting everyone selects an American-themed composition, from classics like national anthem The Star-Spangled Banner and Sousa's Stars and Stripes Forever march, to more modern hits like Miley Cyrus' Party in the USA. 
2.10 Group Karaoke
Not all virtual games for Independence Day need to be explicitly 4th of July themed. Just getting your staff together digitally for an entertaining activity like group karaoke is a great way to promote teamwork and create a feeling of unity in remote coworkers. Sites like KaraFun and Smule offer a platform where individuals can perform for their office mates from a catalog of thousands of songs.
2.11 Online Patriotic Movie Party
Watch a schmaltzy American classic with the entire team. There are loads of good options out there, from Forrest Gump and Air Force One, to Jaws (partly set on a 4th of July weekend) and, of course, Roland Emmerich's Independence Day itself. Plus, you can chat about the movie without disrupting the viewing experience using browser extensions like Teleparty. 
2.12 Online Hot Dog Eating Competition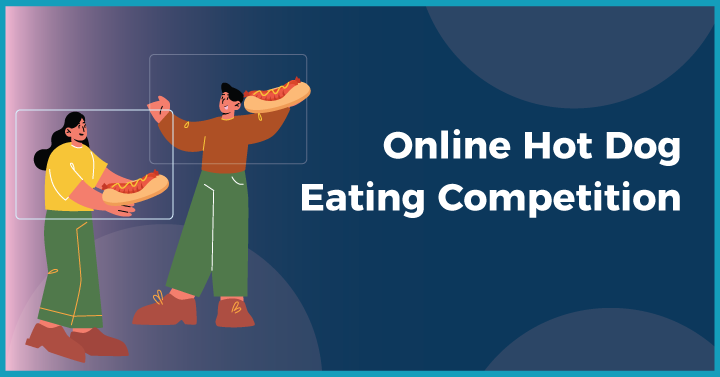 Hot dog eating contests have played a part in the fun activities for Independence Day in office settings for a long time. Take the competition online by encouraging your staff to post their attempts on social media or hold a live event for those that want to showcase their sausage-swallowing skills in real time. If you want, you can also organize for hot dogs to be delivered to your staff's homes to facilitate the contest.
2.13 Virtual Mixology
Cocktail publication Liquor has 22 drink recipes it recommends to fuel your virtual games for Independence Day, including the cayenne-pepper-spiced Firecracker and a classic Lynchburg Lemonade. Prepare and send the ingredients and recipe sheet yourself or have a mixology company take charge of all the necessary arrangements.
2.14 4th of July This or That
One of the simplest virtual games for Independence Day, This or That involves offering staff a choice between two things and asking them to choose their preferred option. For example, red or blue, hot dog or burger, baseball or basketball. As part of a wider program of activities, This or That is a relaxed way to kick off the proceedings. 
2.15 Independence Day Icebreaker Questions
Another good icebreaker is to ask people questions about their favorite Independence Day memories, what they most like to do to celebrate Independence Day or what they consider their absolutely essential Independence Day dish. Once people are comfortably chatting, you can bring out the games and competitions.
2.16 State Flag Guessing Game
One of the virtual games for Independence Day that favors visually-minded individuals on your team. Instead of asking staff to name state capitals, see how many state flags they can recognize. Split people into teams and watch the discussions commence over whether it's North Carolina or South Carolina that features a palmetto tree on its ensign.
2.17 Enjoy Fireworks Together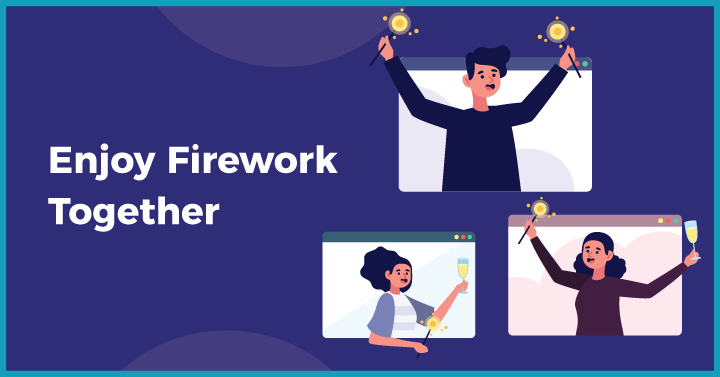 Gawp with colleagues over the live television broadcasts of annual firework shows from the comfort of your own home. It might not be quite the same as experiencing the colors and sounds live, but it does mean you won't have to fight for a space amidst the crowds!
2.18 Remote Happy Hours
Treat your staff to a round or two by sending them a bottle of bourbon or a six pack of beer to celebrate the 4th of July. Set up a conference call so you can all toast American independence together while catching up on one another's latest news.
2.19 Uncle Sam Hat Competition
Ask each of your staff to make their very own Uncle Sam hat from scratch, then have them present their efforts in a live conference call. Take a team photo of everybody in their unique headwear and include it on the company's social media or newsletter as a sign of patriotic pride.
2.20 Chalk Drawings
Another way to get colleagues showing off their creative side is with chalk drawings, which can be created beforehand and then shared online. Alternatively, organize artistic battles with free websites like Draw Battle, pitching your staff against one another in humorous sketching challenges.
3. FAQs
How Do People Celebrate 4th of July at Work?
Some companies host barbecues and firework shows for their employees, while others keep things simpler with an afterwork happy hour or by encouraging a 4th of July themed dress code. It really depends on the budget and the kind of company culture you want to present as to how extensive your office festivities are. 
What Games Can You Play for 4th of July?
Many virtual games for Independence Day take inspiration from real-world celebrations. These include hot dog eating contests, trivia competitions and creative activities like making your very own Uncle Sam hat.