My favorite part about working on the weekends. Kidding aside, a long break from work is just what everyone needs to recharge, especially when you're logged in to work all day from home and need time for yourself. Virtual holiday party ideas take inspiration from the holiday's significance, such as New Year's, Christmas, Hanukkah, Diwali, or Eid.
Some are in remembrance or commemorate victorious occasions such as Cinco de Mayo and the Thai Lantern festival. Virtual holiday party ideas recreate the ambiance of in-office celebrations on video conference platforms.
Everyone deserves to party together, no matter how senior they are. So, here are a few exciting ideas to try out for your next virtual holiday party!
1. What is a Virtual Holiday Party?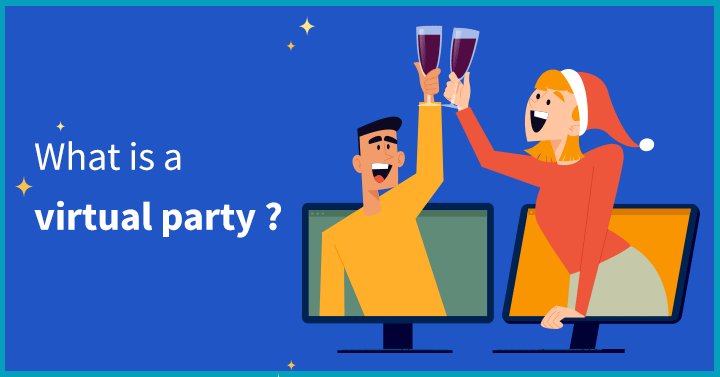 A virtual holiday party is an online celebration of a particular holiday or events of cultural and historic significance. The bigger the organization, the more people you'll add to the guest list. Virtual parties differ from offline parties in that you're doing this on a distributed platform for a network of remote employees rather than at a physical location. In other words, you don't have to rent out a venue to accommodate large numbers.
What really sets the mood is following a theme and having everyone dress up to add to the festivities! You can also play a short reel or a Youtube video that explains more about the occasion.
A holiday party for virtual offices lets party-goers mingle one last time before the holidays begin. You'll do everything you would at an actual party, from taking part in games and team-building activities to laughing at a coworker's wisecracks and loading your plate up with finger food. The only difference is that everyone isn't in the same room when it's happening. Instead, you're facetiming on camera through Zoom, MS Teams, or any other messaging platform!
There are compelling reasons to try out a few virtual holiday party ideas, which include
Recounting the most recent achievements.
Toasting to a department or unit reaching critical milestones.
Recognizing and appreciating the top-performers.
Departmental teams getting reacquainted and catching up with one another.
Having fun contesting in trivia games, talent shows and much more!
Starting your holiday in high spirits!
2. How to Start Planning a Virtual Holiday Party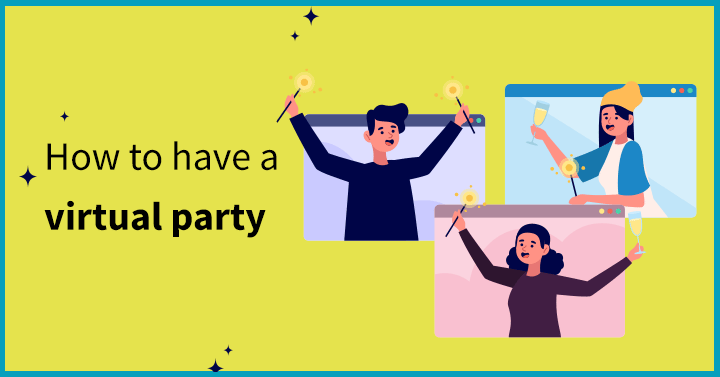 2.1. Finalize the number of participants
A great party is a full house! The planning starts with picking a time that works for everyone. Taking concurrence from all attendees lets you plan the rest of the things out, such as the quantity of food and beverages you'll need to arrange for, or any subscriptions to online games, if applicable. It would be ideal if everyone can stay the entire time, but do prepare for people excusing themselves early if they wish to.
2.2. Set some housekeeping rules
As more guests join in, there's bound to be abrupt disconnections, echoes, dropouts, or lags. And the worst of these minor annoyances are people speaking over each other. Set housekeeping rules about when to have your camera on or off and muting and unmuting. If everyone follows this, they'll be able to truly enjoy the party experience. Choose a platform that features breakout rooms so that the host can break the group size up. Everyone can interact more freely without noise and chaos.
2.3. Block the calendar
Calendar the event using apps like Calendly, and make sure RSVPs go out to all. Sending the mail on high alert can ensure people view the invite and respond in time.
2.4. Prepare and send out invites
If you've got graphic designers on board, have them design the invitations. You can also use templates from websites like GreetingsIsland and Canva to finalize the design. Make sure to mention the time and provide the meeting link in the invite. The marketing team can come up with the invitation's content and make it as creative as they like. Encouraging members to take an active role in the planning makes them feel more involved. Also, they're unlikely to forget when it's happening when they're at the center of party planning!
2.5. Sponsor food and beverages
Once you have your headcount, you can budget your food and drinks accordingly. Take into consideration the time deliveries will take, especially if people are in a different country. You can create a poll to see which snack options everyone's voting for. Close the poll once all the votes are in. If the logistics prove challenging, you can create an expense account instead and set a drawing limit per employee for party hampers or snacks. Alternatively, set a budget under which everyone gets their favorite food themselves and narrow it down to the top 5 or 10 that most parties have. The list includes crisps, microwaveable popcorn, cupcakes, fruit bars, punch, hot dogs, mini quiches, and sandwiches!
3. Virtual holiday Party Ideas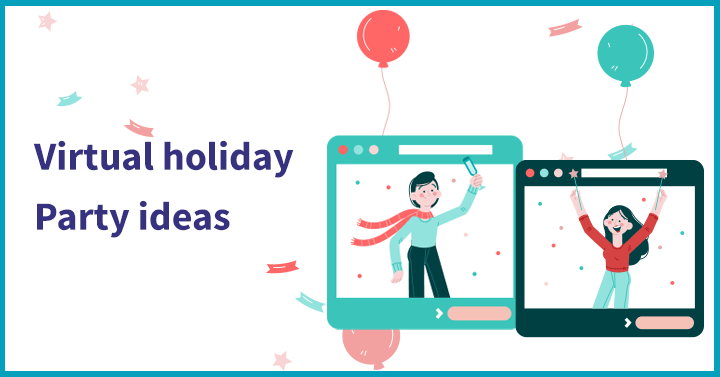 3.1. Santa competition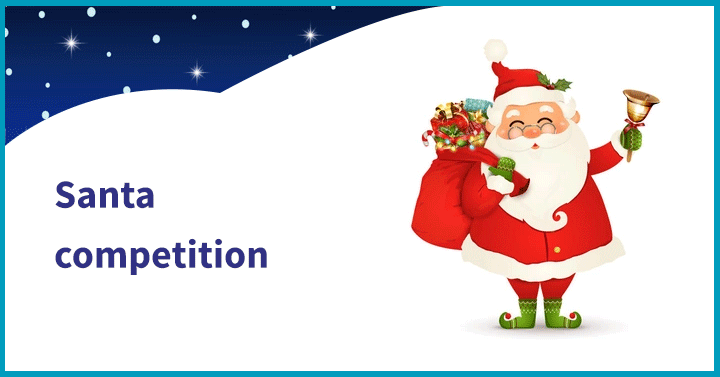 One of the best virtual holiday party ideas before the long Christmas break is to have a Santa costume contest! You can even award extra points for the unique twist people make to their outfits, such as sporting string lights, or using props such as fake reindeer, a sack of gifts slung over their shoulder, and a sleigh. The person who manages to reproduce the best Ho Ho Hos in their elaborate outfit wins a virtual Christmas stocking.
There's another guessing game to play, which I like to call Guess the Grinch. Here's how you play it;
Privately message a minimum of 3 to 5 guests to ask if they'd like to play as the game's subject, aka the Grinch plotting to steal Christmas.
Once the cosplayers are finalized, create a secret group chat for discussions and picture sharing.
They can decide amongst themselves who gets to be the Grinch. While everyone dresses up as Santa, the person selected to be the Grinch has to mask their identity underneath their Santa costume. For example, they can paint their hands green instead of their face, or wear a different set of fake glasses.
You can create clues in poetry, limerick song form to waylay the guessers.
Have everyone turn their camera on once they're ready to start guessing.
The person who guesses it right on the first try gets a candy cane. If you guess wrong, you get a virtual lump of coal (sorry!).
3.2. Cultural representation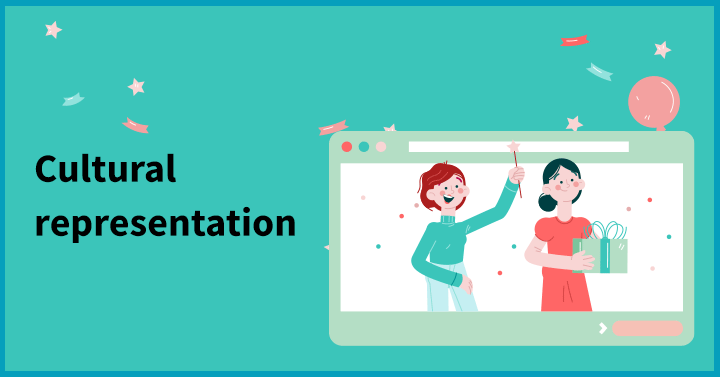 If your office is fairly multicultural, there are bound to be minor festivals native to a particular region that a team member or two celebrate privately. Find out when that is, and schedule the party prep accordingly. You can enlist the member's help to create a short presentation on its history, influence, and way of celebrating. Let them take charge, such as deciding on a dance recital or performing a song, story voiceover, or skit. Such virtual holiday party ideas make the teammates proud of their heritage and allow the others to learn something new about their colleagues!
3.3. Fairytale roundtable
This virtual holiday party lets family members take part too. Working parents can bring their young kids onto the call, and take turns to read fairytales out loud. They can form an acting cast with other attendees enacting certain scenes. For example, if the story is about Little Red Riding Hood, one parent can act as the Big Bad Wolf while other colleagues play supporting characters such as Little Red's grandma. Bringing the fairytale to life will make the party interesting for adults and kids alike!
3.4. Light lamps or lanterns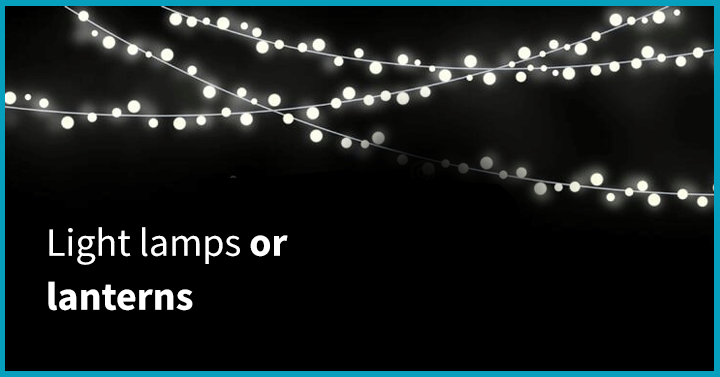 Diwali is the Indian festival of lights celebrated usually in November. It signifies good triumphing over evil, or light over darkness. People celebrate it as a fresh start and decorate their doorstep with clay lamps and floral arrangements. They wear their finest clothes, pay household visits, burst fireworks, and exchange sweets and savories with everyone they know.
Everyone should wear their finest ethnic suits and dresses while munching on delectable sweetmeats, known as mithai. You can arrange to have a mithai box sent to everyone which will contain a selection of milk and ghee-based sweets. Given that it's a festival displaying lamps, move the party towards the end of the day so that the lamps can be lit and shown on camera for everyone to appreciate the arrangement!
3.5. Decor contest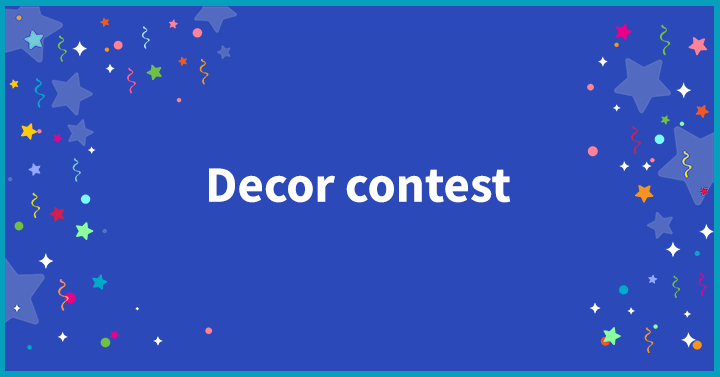 Create a party decor challenge where everyone can set about decorating their work desk and room. You can create a theme based on the nearest holiday. For example, a Halloween theme if it's October 31st. The decor has to match the theme chosen. The host can judge the best decor and screenshot it to go up on the group chat. You can also create a memory book featuring snapshots from all your virtual holiday parties. It's a great keepsake for remote employees!
3.6. Silent night movie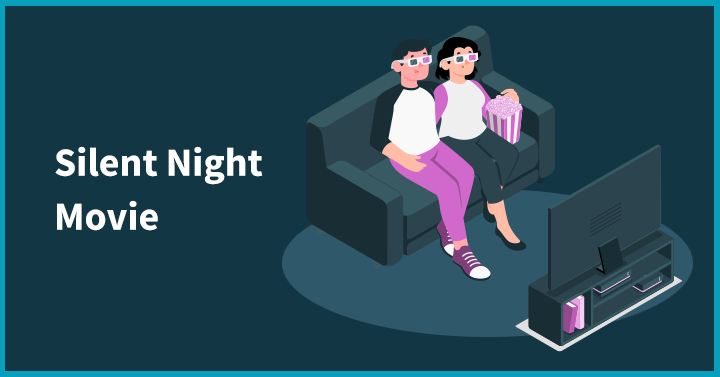 Have an online movie night where you'll screen share a horror or thriller for the guests to watch. You can do this via Zoom, Skype, or Gaze. It syncs the video feed and lets everyone watch at the same time. Through Gaze, you can create and send an invitation link to the rest of the team and play the movie once everyone's in. It'll be hilarious if you manage to capture people's reactions to the scary bits!
3.7. Cheese and Wine pairing
Have a BYO (Bring Your Own) cheese and wine pairing. Everyone gets to purchase wines from a list created before the party and suggest food that goes well with them. Guests who wish to make toasts can let the host know beforehand so that there's enough time to fit everyone's speech. This is a great idea to compliment coworkers and give virtual recognition to employees for their performance and contribution over the past year.
3.8. Holiday Gallery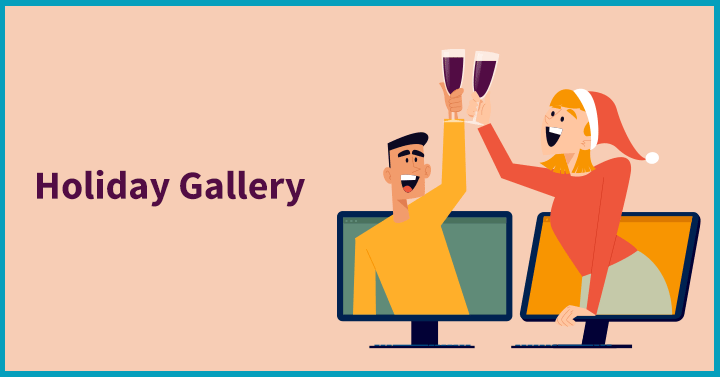 Have fun creating works of art to go up on your company's very first holiday gallery! This can be showcased in future meetings, or even set as a background in line with team spirit. Set a time limit and a theme or subject everyone should work on. It can be a representation of what the holiday means to them. Give a 30-second warning and start a countdown before everyone steps back from their work and holds it up in front of the camera for the group to see. This is a great photo op so make sure you get it on record!
3.9. Gratitude Quest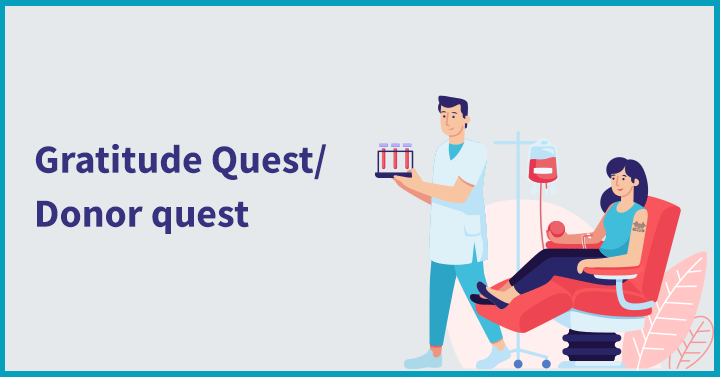 Team Building offers a Kindness Quest which lasts for about 1.5 hours for team sizes between 9 to 300+ guests. It's a hosted Zoom event that will take your group through a series of activities to build a community within your company. You can answer trivia questions or take part in a virtual scavenger hunt to collect items to donate to a specific nonprofit organization.
If you wish to start small, just form a circle where everyone talks about something or someone at work that they are thankful for, and do a gift exchange and unboxing between colleagues and managers. The pairs have to get their teammate a present based on how well they know each other and later talk about why they chose that item in particular.
3.10. Girgaian Sweetbox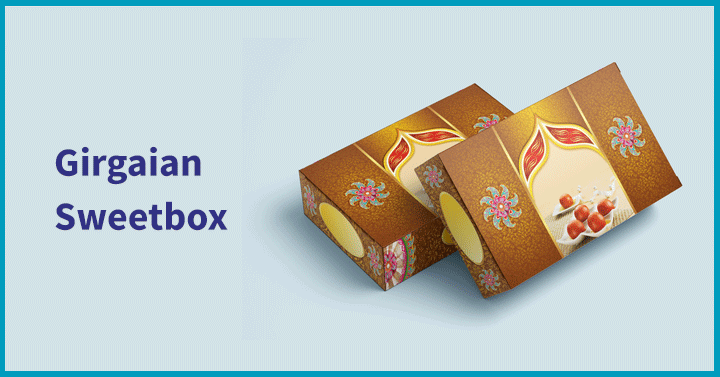 Girgaian sweet boxes are great virtual holiday party ideas for your Middle Eastern coworkers. And they will definitely love you for remembering! Girgaian, also spelled as Qirquain or Gargee'an, is a tradition observed in Arab countries after Ramadan ends. It is similar to Halloween, where children dress up in traditional Arab headdresses and go door to door singing folk songs and holding out their baskets for sweets. Unlike Halloween, there's no horror involved. If someone owns musical instruments such as the Oud or Doumbek (Darbuka) or has a playlist for Arabic music, it can help set the mood and help everyone to appreciate a richly different culture!
4. Virtual Holiday Party Games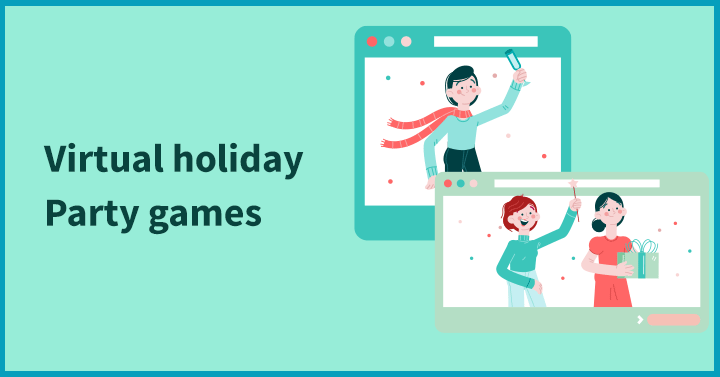 4.1. Gift unboxing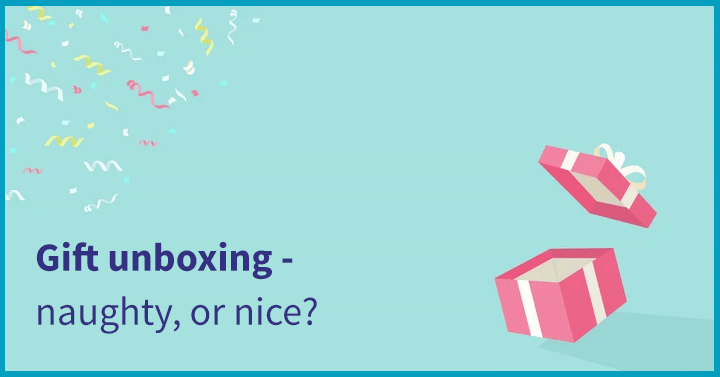 Did you make it to Santa's Naughty or Nice list this year? Do a secret Santa exchange and sort names at random to make sure everyone on the team gets to give an item to someone. Surprise everyone by ordering a Caroo box using Snacknation's online form!
4.2. Virtual holiday bingo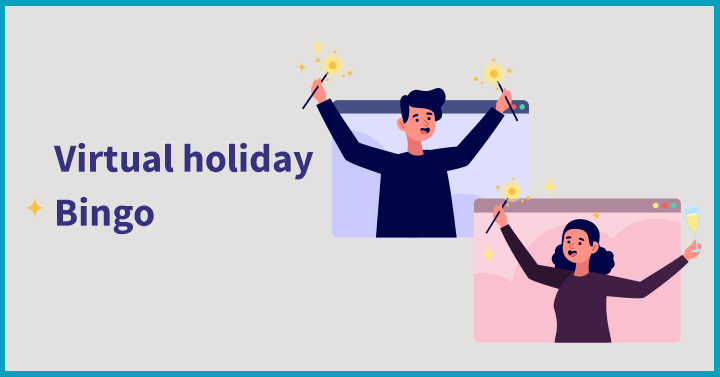 Create a virtual bingo for the holidays using card formats from Bingo Baker or Bingo Maker. You can enter the word of the subject you're looking for and the website generates relevant templates which you can download, print, and share as a link. People have to cross off the items they find until they have a winner!
4.3. The Statue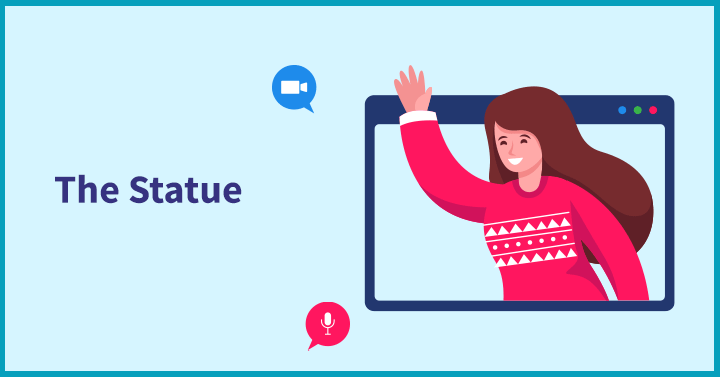 Ever struggled to keep a deadpan expression while someone actively tries to get you to crack? The Statue game can be played in turns with the video on. Whoever smiles first loses, while whoever manages to remain a statue until everyone's out wins!
4.4. Never  have I ever-The holiday edition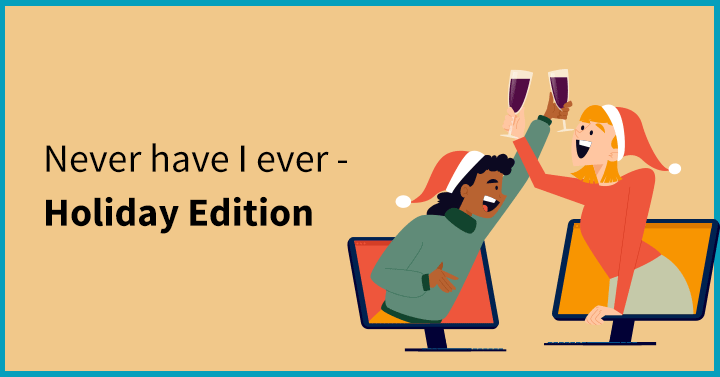 Never have I ever.. Called my teacher mom? Thrown up after a ride? Binned the broccoli on my dinner plate? Get interesting and funny responses to this classic game with the holiday twist. You can choose from over 140 questions here, or create your own. If you're like me and just caught up with season 2 of Devi Vishwakumar's drama on Netflix, you can have a Never Have I ever episode discussion too!
4.5. Who is most likely to?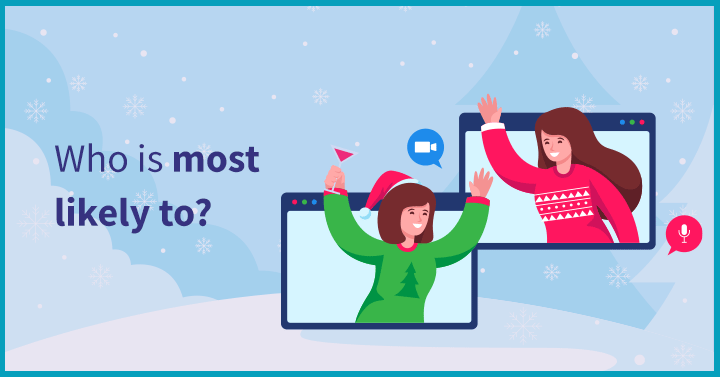 Host a lighthearted trivia night on who is most likely to do something. For example, which coworker is most likely to forget to unmute themselves when speaking? Or, who is most likely to own a vintage car or motorcycle? You can hold a polling contest to see who is voting on an answer and matching it to their coworker. Whoever gets most of the questions right can be declared the game's champion!
5. Relatable Virtual holiday party memes
5.1. The Meeteaters
When HR announces a virtual holiday party, you'll probably think, Finally! a meeting we can truly look forward to! Steve Carell's memes are undoubtedly the best at conveying Office jokes, and I'm not saying this just because I happen to love the Office!
5.2. The Pajama Party
You may miss your office desk and coworkers, but you have now worked remotely for so long, you've forgotten where your dry-cleaned formal wear is in the closet. Isn't it a relief to be attending a party more informal? Let's get those comfy jammies in!
5.3. Before, and After
Everyone's on their best behavior at the beginning of the holiday party. But when there's an open bar with happy hour cocktails, there's definitely going to be a before, and after version of either yourself or someone, you know!
5.4. The Dancing Queen/ King
You know how your boss can be about deadlines, but how would you react if they showed off their best moves on the dance floor? Here's a remote work meme capturing what happens when your prim and proper manager becomes the life of the party!
6. FAQs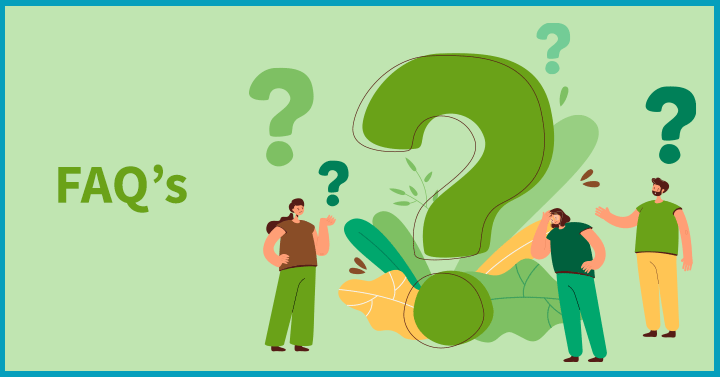 6.1. how to host a virtual party on zoom?
Host a virtual party on Zoom by
Using the Zoom app or browser version and creating meeting links to share with the attendees.
Set a theme to make the background more interactive.
Test out the breakout rooms feature and send guests to individual chat rooms so that they can connect on topics in smaller groups.
Use the whiteboard and screen sharing features when playing games like Pictionary.
Take screenshots of the fun to make a collage of candid moments!
Ask your attendees for post-meeting feedback for their experience at the party!
6.2. What counts as virtual holiday party food?
A mix of sweet and savory options that are filling and popular count as party food. You can always fall back on a large order of burgers or slices of pizza, accompanied by shakes, fries, cupcakes, and popcorn. And water! Always make sure there are sufficient drinks to go around.
6.3. What is the virtual holiday party agenda when everyone is remote?
The M.O of any virtual holiday party is that everyone is able to experience hilarity and entertainment no matter where they are physical. It is important to keep it inclusive and regular so that everyone has a break from the monotony of routine. It's a good reason to stay in touch with people you rarely get to interact with when work doesn't intersect. The more involved remote workers feel, the better engaged they are at work. After all, happy people are productive employees and lead more fulfilling lives!