Infographics are a primary content property in the world of digital marketing. They are visual representations of fact, figures and trivia, arranged in a format that's both readable and engaging. The operative word being 'engaging'. Now that most of us have had a taste of telecommuting, there are mixed opinions out there. Some are advocating to make it permanent officially, and others are raring to go back to office and reclaim their desk and favorite coffee mug. And then there are those in between who want there to be a balance between reporting to work in-person and opting to work from anywhere for a few days or weeks in a year. Whatever you prefer, it's safe to say that the future of work is remote, and is transforming the way we approach things previously taken for granted; such as communication, strategy, delivery and accountability. Managing remote teams has proved to be a learning experience for managers. They have learned to lead teams whose members they may or may not meet in person down the line. Remote work practices have equipped managers with the interpersonal skills, leadership vision and thinking abilities to remotely oversee progress, receive and give work updates and course-correct risks before they escalate. Here are some infographics about managing a remote team that you'll love going through!
How to successfully manage a remote team
The key to managing a remote team lies in facilitating productive meetings that bridge the distance between coworkers. Besides making social cues available virtually via conferencing tools, remote teams should be able to provide progress updates and remain accountable. And this is possible when everyone feels included and involved in conversations, decisions and actions.
A) Managing a Remote Team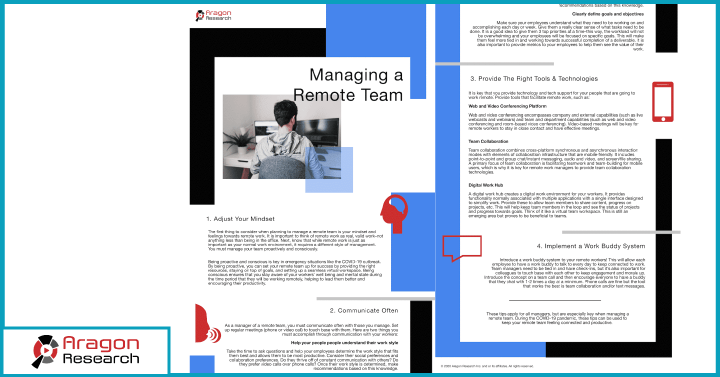 1. Creator of the infographic: Aragon Research 2. Infographic link: https://aragonresearch.com/infographic-managing-a-remote-team/ 3. Takeaway This infographic on managing a remote workforce best practices offers tips to remote managers to establish connected, productive teams. The key points are to
Adjusting the mindset
Communicating often
Provide the right tools
Implementing a work buddy system
4. What we liked about it: the buddy system can work great, whether you go for traditional pair ups or reverse mentoring, where a younger person mentors an experienced executive. It helps people break out of molds and converse freely on both work and non-work related topics. 5. What could have been added: standardizing communication is on every list about remote team management. However, it would add weight to making communication something to look forward to, with a point on team-building exercises and the importance of organizing virtual retreats and breakout sessions.
B) 7 tips for Managing remote teams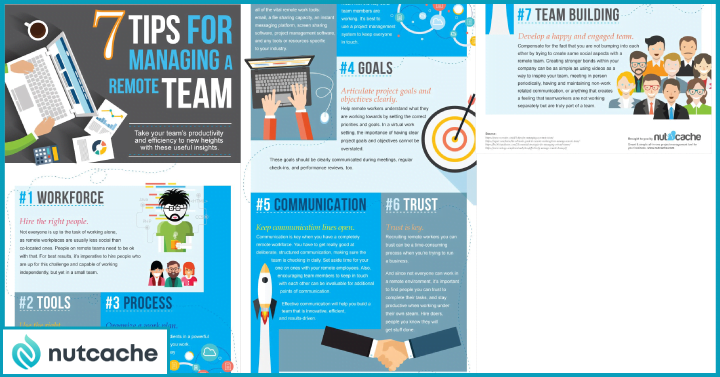 1.Creator of the infographic: Nutcache 2. Link: https://www.nutcache.com/blog/7-crucial-tips-for-managing-a-remote-team/ 3.Takeaway This visual arrangement of 7 tips to manage remote teams is just the quick reference every remote manager needs. It talks about
Hiring the right people
Using the right remote work tools
Organizing a work plan
Articulating project goals clearly.
Keeping lines of communication open
Building trust
Developing a happy, engaged team.
4. What we liked about it: the infographic emphasizes on weaving people, processes and tools into the heart of company policies. Absorbing the right talent into your firm helps you support ethics while taking your company to new heights. What's more, they align better with your mission and understand the importance of working as a team. 5. What could have been added: this compilation ticked all the right boxes..
C) 10 Ways To Successfully Manage A Team Whilst Working Remotely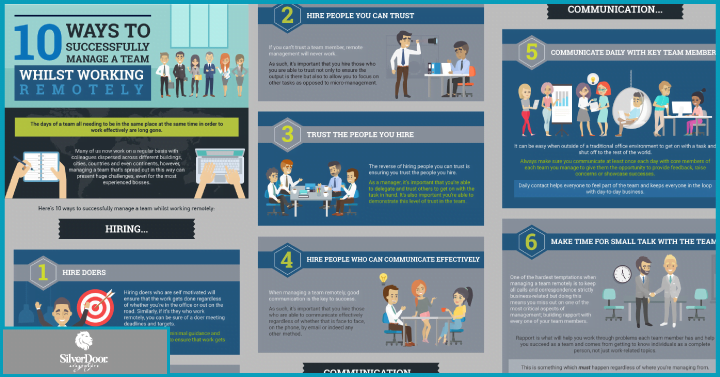 1. Creator of the infographic : Silverdoor, UK 2. Link: https://www.silverdoorapartments.com/blog/how-to-successfully-manage-a-remote-team/ 3. Takeaway This infographics about managing a remote team focuses on how to keep everyone visible, available and accountable without the need to have them all in the same room. It includes points for hiring, communication and technology such as
Hiring doers, hiring people you trust, trusting the people who are hired, and effective communicators.
Getting people habituated to daily communication
Making time for small talk and recreating office banter virtually.
Setting times for availability outside of scheduled hours for one on one talk.
Using the right project management tool to track activities and duration.
Video conferencing
4. What we liked about it: the points echo Zapier's sentiment on getting hiring right. This step is pivotal when the only interaction you have before onboarding a hire is via video. Asking the right questions determines the fit. Engaging your employees through daily stand ups and check ins helps them feel connected to work and reduces incidents of work fatigue and burnout. 5. What could have been added: More on getting everybody to use remote work tools that keep work visible, and enable conversation workflows to be separated to cleave through easily!
D) Everything you need to manage a virtual team.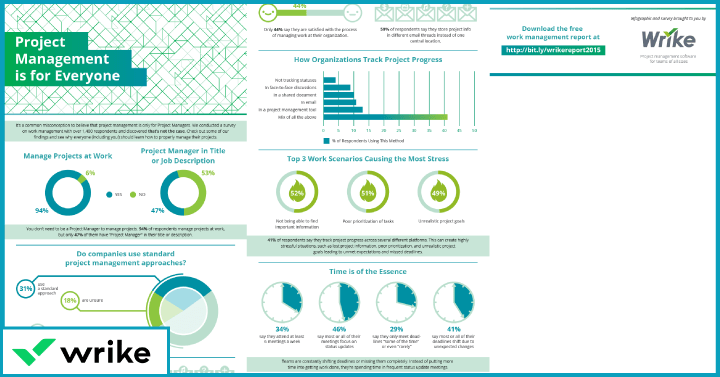 1. Creator of the infographic: Wrike 2. Link: https://www.wrike.com/blog/everything-you-need-to-successfully-manage-a-virtual-team-checklist/ 3. Takeaway This virtual team management checklist contains tips to align remote teams. It includes
Processes: standardized onboarding, operations document, communication guidebook and contact information for remote workers.
Regularizing meetings and reviews.
Holding face-to-face time
Timezone sensitivity
Getting hiring right
Tools for screen recording, sharing and capturing, video and instant messaging, collaboration, project management and file sharing.
Cultivating the right mindset to be inclusive, welcoming and supportive.
Giving recognition
Encouraging flex-work hours
4. What we liked about it: The part about encouraging workers to view cultural differences as a different perspective rather than a setback. This presentation focuses on plugging in availability with timezone apps so that no distributed team ends up staying up early or back late just to round off discussions. 5. What could have been added: Wrike has hit it out of the park. It's as real as it gets, There's a line that says running a remote team is harder than running a collocated team, but not impossible
E) Effective Remote working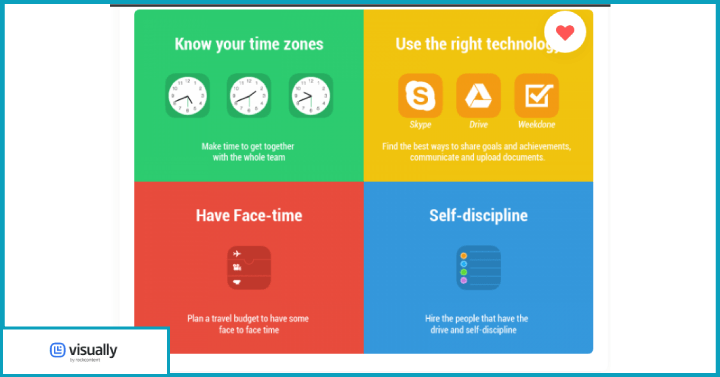 Creator of the infographic: Visual.ly Link: https://visual.ly/community/Infographics/business/effective-remote-working Takeaway This short and simple infographic is laid out like a SWOT analysis chart, with 4 key points:
Know your timezones
Use the right technology
Have facetime
Self-discipline
4. What we liked about it: This infographics about managing a remote team is a snapshot of the crucial elements behind effective leadership, and that is to know what everyone is upto without having to micromanage. It's about facilitating purpose-driven discussions virtually that involve relevant members of a team and enable everyone to have a say in decisions impacting their work. 5. What could have been added: The infographics about managing a remote team could be expanded further with points on engaging employees. It can elaborate on relationship building, virtual socializing, training and mentoring.
F) Managing Remote Teams: Could these fictional bosses do it?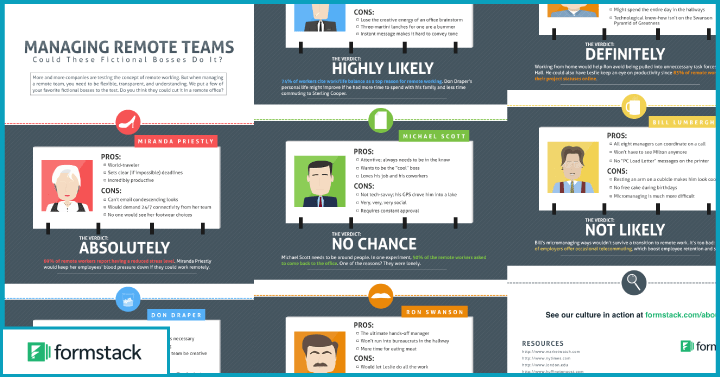 1. Creator of the infographic: Formstack 2. Link: https://www.formstack.com/resources/blog-infographic-managing-remote-teams-fictional-bosses 3. Takeaway Movies have a knack to make us see ourselves in the lead roles. I've watched movies where I'd tell myself I'd do that scene differently if I was in it. similarly, the fictional bosses listed in these movies are people whose way of working is something we can relate to, from experience, observation, or both! This infographic lists the pros and cons of bosses such as Miranda Priestly (The Devil Wears Prada), and a few characters from The Office, such as Michael Scott and Bill Lumbergh! 4. What we liked about it: This is a fun infographic about managing remote teams. As a major fan of 'The Office', I had to laugh at the verdict this infographic gave Steve Carrell's character, Michael Scott! 5. What could have been added: I hope to come across a part 2 of this infographic that features more bosses.Off the top of my head, I'm picturing characters from Horrible Bosses, like Chris Pine!
How do you manage a remote team?
At the end of the day, managing a remote team is a test of managerial fortitude. It's about learning to trust who you entrust work to, i.e. knowing them well enough to know that they will deliver, with or without your presence. It's about setting expectations from the start and communicating them uniformly to all remote employees. Workers, whether collocated or remote, are accountable for results and not for the in-seat hours, which requires a shift in the way you regard your workforce. This change in thinking helps you determine realistic schedules, deadlines and policies that center around making work more collaborative. My favorite infographics about managing a remote team from this list were the ones by Wrike and Formstack. Which ones did you like?