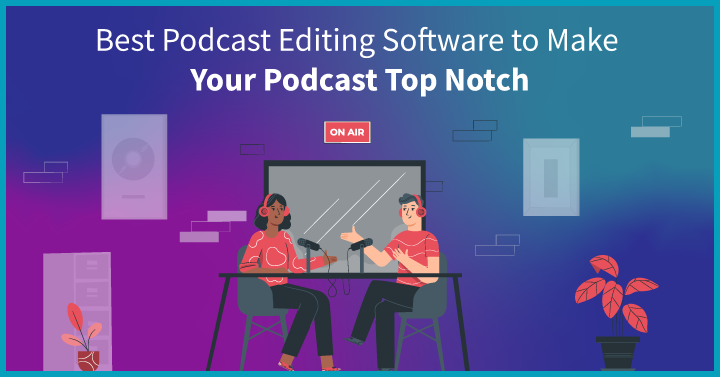 Podcasts have been around for long, but their popularity has soared in these last few years, and the craze is only increasing. Data from Edison Research shows that 37% (104 million) Americans listen to podcasts every month, up from 32% in 2019. Experts and newbies always opt for the best podcast editing software to stay in the game.
When it comes to production, the podcasts that are edited to perfection help generate higher revenue and gain you more fans. It even creates a better listening experience for everyone. 
We have compiled a list of the best podcast editing software that will help boost your channel. But before we proceed, you should understand what exactly you want from your podcast.
1.8 Best Podcast Recording Apps
1.1 Adobe Audition
'A professional audio workstation'

About
Adobe's Audition is one of the best products in the segment, known for providing pristine sounds. Customers can record, edit and integrate music clips into their podcasts with the software. What's more, it even allows seamless integration into the Adobe Premier Pro suit. The polished output is bound to make your content go viral. 
Features we liked best
We think that the Essential Sound Panel is tailor made for all your podcast needs. It will guide you through various steps before your podcast finally goes live, ensuring professional grade quality. Another feature we really liked was Adobe Sensei, which lets you automatically edit your audio to the required length.
OS compatibility
Adobe products are supported across all platforms and can be downloaded through your Adobe account.
Price
Adobe Audition pricing starts at $31.49 per user, per month. 
1.2 Audacity
'Free, open source, cross-platform audio software'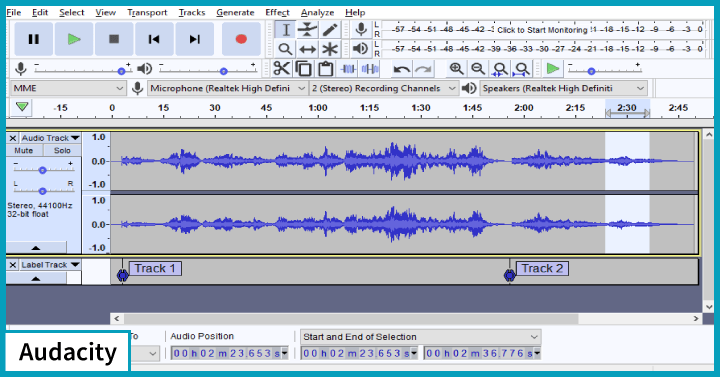 About
Audacity is an open source software released in the year 2000. Being open sourced, the program's code is openly accessible and can be modified by anyone. Built by a group of volunteers, its main aim is to make editing audio simpler for everyone. It has a massive fan base and is quite the favourite. 
Features we liked best
One of the coolest features that Audacity offers is that it can format any audio format or sample. We also really liked its batch processing trick, where you can make similar bulk changes to a number of tracks, without having to use the same command on the tracks repetitively. 
The tool only allows destructive editing, so if you delete something from the main audio clip, you can never get it back. This could be a significant disadvantage for professionals who prefer to go back and forth with their tracs multiple times before they can decide upon the perfect version. Still, if you're a beginner and do not want to invest much for your first podcast, Audacity will certainly do the trick.
OS compatibility
Audacity can be accessed on Windows, macOS and Linux systems.
Price
It is available for free.
1.3 Logic Pro X
'Ridiculously powerful. Seriously creative.'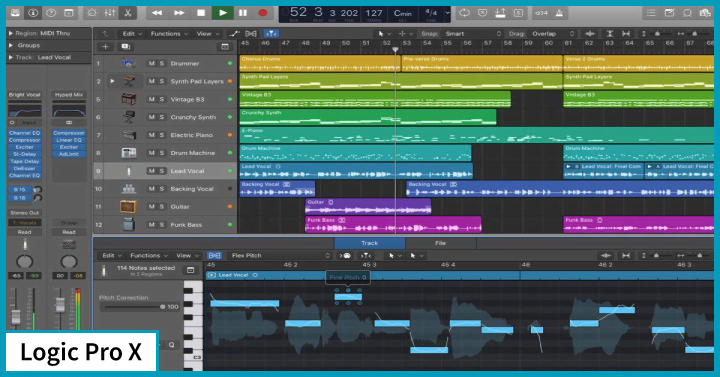 About
Logic Pro is a podcast editing software from Apple Inc. The app contains powerful creative tools that allow you to create professional quality podcasts. It comes equipped with Dolby Atmos integrated tools, which gives users the edge of a spatial audio experience. 
Features we liked best
If you're planning on editing podcasts on your Macbook, then the Logic Pro will simply blow your mind. It has an extensive range of features and gives you excellent value for your investment. The feature that really caught our eye was their library of audio effects and loops. It has 4300+ instruments and 10,500 loops comprising electro, hip-hop and other cool transitions, which takes the heavy lifting of editing off your hands.
OS compatibility
Logic Pro is only available on Apple's Mac PCs.
Price
It's available on the Apple App Store for a one time payment of $199.99.
1.4 Pro Tools
'Empowering inspired artists'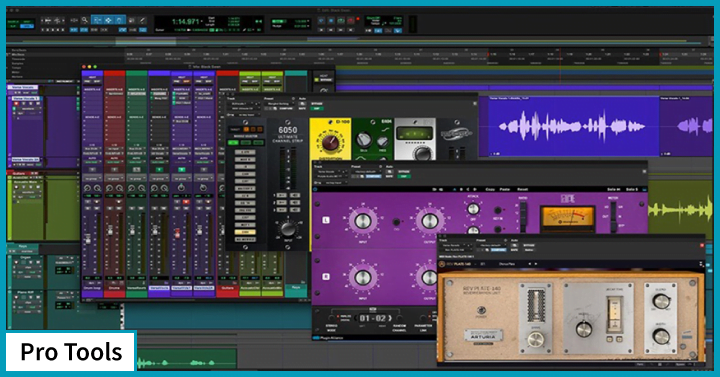 About
Pro Tools is a music editing software by Avid, and the software has improved in quality over the last few years. Its mixing and recording engines are quite fast, giving you optimum performance and enables you to create your best ever podcast. It comes with three different modes. On one hand, you get Pro Tools First, which is for young podcasters and students. Then you have Pro Tools, which is for industry specific professionals such as songwriters, musicians and producers. Finally, the Pro Tools Ultimate is for demanding professionals who want the most from their audio editing software. 
Features we liked best
Pro Tools is one of the best audio editing services out there. It's hugely popular across larger studios that need extensive hardware and network support. The smooth user interface is its best feature, undoubtedly. The simple, gimmick-free workflow made navigating the software extremely simple.
However, the software update policy didn't impress us. After a year's usage, users have to pay to get these updates. Nevertheless, it is still an amazing piece of equipment and we recommend you try it out before you select a tool. 
OS compatibility
Pro Tools is compatible across MacOS and Windows devices.
Price
Pro Tools First is available free of cost,  while the 1-year subscription for Pro Tools and Pro Tools Ultimate  costs $299.0 and $799.0 respectively.
1.5 Descript
'The power of professional tools. The simplicity of a doc.'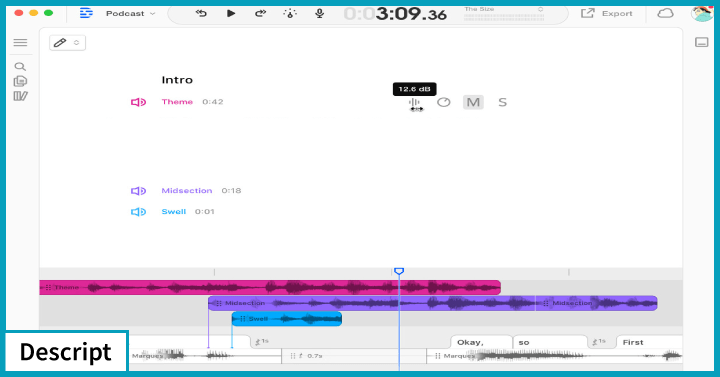 About
Descript is a unique collaborative audio editing tool. Other than the usual podcast editing software features such as mixing and multi-track editing, it offers a transcription service, and we think that's pretty cool. Descript works like a charm, and the interface is quite easy to understand.
Features we liked best
The transcription feature was definitely cool, but we thought screen recording to be the best. Screen recording was useful for us when it comes to transcribing audio. The collaborative feature was also great, since it allowed our friends and colleagues to comment or edit over the audio samples.
One issue that stood out was the transcription service. It wasn't always accurate, and only works for English speakers. So if your content is in some other language, you won't be able to use this feature.  
OS compatibility
Descript is currently only available as a Windows or Mac desktop application.
Price
There are four different plans – Free ($0), Creator ($12 per editor per month), Pro ($24 per editor per month) and Enterprise (price customisable). We recommend you try out the free plan first, and if it impresses you, then you can choose one of the subscriptions that suit your budget and needs. 
1.6 Reaper
'Do Anything.'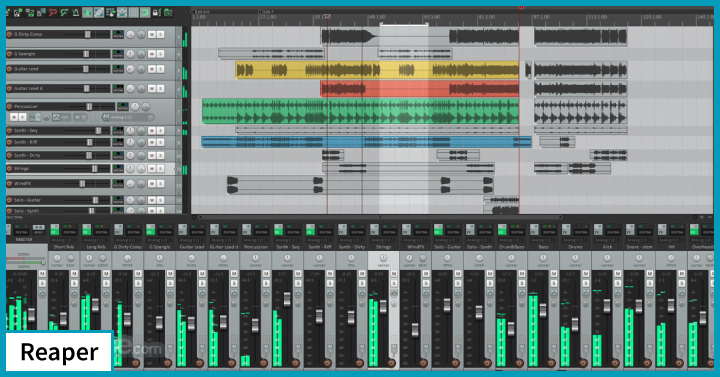 About
Reaper is a digital audio production set that offers full multitrack audio and MIDI recording. Editing, processing, mixing and mastering the toolset is a breeze. You can even build your own toolbars and modify the menus, but it can be a tough nut to break if you haven't learnt how to navigate it very well.
Features we liked best
Reaper is extremely customisable and we enjoyed incredibly fast speeds on the tool.  It even takes up minimal RAM on your system, which makes it lightweight on your PC. The software allows users to edit audio on multiple channels at incredibly low prices, if you avail the discount coupon. 
Regardless of its advantages, we didn't find the Reaper user interface very inviting and that might put some artists off. It also doesn't have any built-in instruments that you can use to make your podcasts more fun. If you're willing to let go of that, it really is a solid pick!
OS compatibility
Reaper is available across Windows, MacOS and Linux devices.
Price
The discounted license is priced at $60 and the commercial license is priced at $225. 
1.7 Auphonic
'Automatic audio post production web service for podcasts, broadcasters, radio shows, movies, screencasts and more'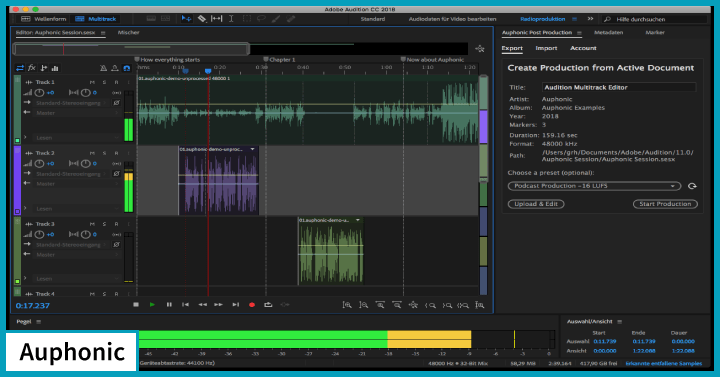 About
Auphonic uses AI based audio algorithms to give its users professional quality results. If you simply want to clean and level your podcasts, and do not spend more than 2 hours editing it, Auphonic is the software tailor made for you. 
Features we liked best
Auphonic has an incredible AI sound leveller.. If you are someone who has no sound production experience, you'll find Auphonic very useful.. Another advantage is that it works through a browser, so no matter which computer you are using, you can just log into your account and access your audio files from wherever you want. 
We noticed there can be instances when the algorithm has missed out on a few background noises. That's because Auphonic works over AI, and doesn't hand you full authority over the audio quality. 
OS compatibility
Auphonic works on a browser, so the OS of your PC shouldn't worry you.
Price
There are multiple subscription plans available for Auphonic. It's free for 2 hours of usage per month. For 9 hours, 21 hours, 45 hours and 100 hours of usage, you'll have to pay $11, $24, $49 and $99, respectively. If you require more than 100 hours, you can contact the company for customised plans. 
1.8 Podcastle
'The one-stop shop for broadcast storytelling'
About
Podcastle is a multifunctional web-based platform that provides exceptional quality audio and video recording as well as easy-to-use tools to polish your audio. The advantage of Podcastle is that you have the entire toolset at your disposal without having to download anything. But in case you want to, they also have a mobile app which allows you to record, but hasn't enabled editing yet.
Features we liked best
Thanks to its intuitive dashboard Podcastle is extremely easy to use. It has a range of AI-powered features such as Magic Dust for noise removal, silence removal and all the other tools to make your speech engaging and comprehensible. 
Podcastle also offers transcription and text-to-speech services with 19 voice skins. After transcribing your audio, their advanced algorithm can detect the unnecessary filler words for you to remove. This feature can operate in four additional languages – French, Spanish, German, and Italian. You can also get automatic transcription summaries. 
OS compatibility
No need to worry about OS – Podcastle works on Chrome browser and the mobile app is available on iPhone.
Price
There are four different plans – Free ($0), Creator ($11.99 per month), Pro ($23.99 per month) and Team (price customisable). 
2. FAQs
2.1 What software is used to edit podcasts?
Alitu
Wavve
Scribie
Hindenburg Journalist
Audio Lab
2.2 How do you create a podcast and edit it?
Import the recorded audio into the editing software
Listen to your material and note the errors
Remove background noise 
Move everything into order
Fix noise further, if needed
Maintain a consistent volume
Improve the audio quality, if possible
Add music or sound effects
The finished podcast is now ready for export
2.3 Is editing a podcast hard?
Editing the podcast largely depends on the kind of software you use. If you are a novice and use professional grade tools, it will be difficult for you. However, if you start with easy software for beginners and work your way up according to your needs, you will find editing podcasts very easy. 
2.4 How long should it take to edit a podcast?
The time taken to edit depends on the podcast's length. It also depends upon the number of edits you have to make and how many times you have re-listen to your program before you can finally publish it. Usually, it takes 2-3 times the podcast's length in editing it.
2.5 Where can I edit my podcast for free?
Here are our picks for free podcast editing software
GarageBand
Power Sound Editor
Music Maker
Studio One
WavePad