1. What Is an Employee Engagement Committee?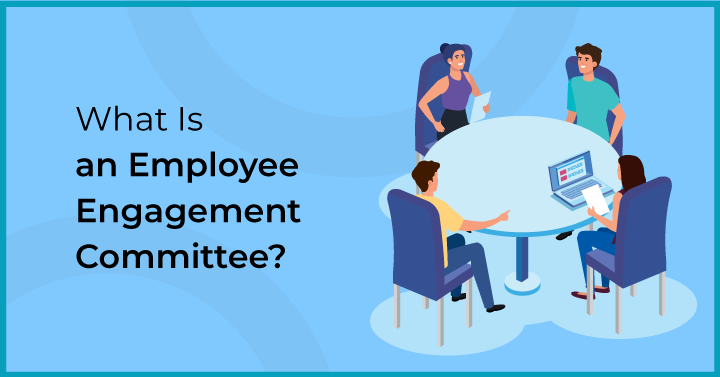 An employee engagement committee is a group of company employees who are responsible for the promotion and improvement of employee engagement within the organization. The committee comprises employees from varying departments and levels to ensure that there is a representation of everyone in the organization.
Employee engagement committee roles and responsibilities can vary but the end goal remains the same which is to increase employee engagement and create a positive work environment. The strategy created by the employee engagement committee is overseen by the HR as they are responsible for reinforcing it as well.
2. What Is The Significance of an Employee Engagement Committee?
An employee engagement committee is an essential part of any organization that is looking to promote a positive and productive work environment. The inclusion of employees themselves in the employee engagement committee is the driving force behind gaining a better understanding of employee needs, increased job satisfaction, and overall improved organizational performance.
Other key benefits of an employee engagement committee include increased employee participation as they themselves or their peers are part of the committee. There is better communication between the organization and the employees as the committee provides everyone with a channel to voice their concerns and ideas.
3. Why Is Employee Engagement Essential in Firms?
3.1 Higher Productivity
Engaged employees perform better, this is due to increased motivation that takes place only if they are engaged at the workplace. This happens as they are happier and want to put their best foot forward.
3.2 Improved Job Satisfaction
Employees who are engaged at work are more likely to be satisfied with their job since they will feel a sense of fulfillment and purpose at the workplace.
3.3 Lower Turnover
Engaged employees are less likely to leave. This is not only great for employee morale but also helps reduce costs associated with the disruption of the current workflow and the hiring of a new resource.
3.4 Better Customer Service
Employee engagement has a direct impact on the customer service experience. This leads to increased customer satisfaction and loyalty.
4. Who Should Be on the Employee Engagement Committee
4.1 Employees
Employees are an important part of an employee engagement committee. As an organization, the aim is to include employees from diverse backgrounds across all levels. What this implies is that if you have various departments like Finance and sales, it is important that you get a representative from each department. In these individual departments, there will be junior and senior members, you need one of both to be in the committee. This is how you will be able to have a diverse set of voices.
4.2 Management
The management should also be represented in the employee engagement committee. They will be able to ensure that the organization's larger goals and objectives are in alignment with the efforts being undertaken to improve employee engagement. The committee can work with the management to identify specific areas where employee engagement is particularly low. This is only possible via statistics that the management is privy to.
4.3 External Experts
External experts help provide a third-person perspective to the employee engagement committee. Including consultants like psychologists and auditors in your committee will help you gain valuable insights and recommendations both essential to help design a good employee engagement strategy.
5. How Can You Best Lead an Employee Engagement Committee
5.1 Encourage Employees to Apply to This Committee
A diverse committee is essential to be able to create true engagement within your workforce. Every employee will have a different perspective and experience and by creating an inclusive committee you will ensure that he/she feels valued and represented. Another reason why inclusivity is important is for the creation of a compressive engagement plan.
When employees feel represented, they feel important which increases their engagement. One way to ensure employees apply to the employee engagement committee is by creating a transparent application and selection process.
5.2 Set Goals and Objectives
It is important to set clear goals and objectives for the employee engagement committee. This way you will be able to track progress and measure the success of your organization. In the absence of goals and objectives, all the committee ends up doing is shop talk which is another reason for low engagement.
Set SMART goals for your organization. SMART stands for Specific, Measurable, achievable, relevant, and time-bound. For example, a good goal would sound something like- Increase the engagement by 10% in the upcoming six months whereas a bad goal would be just - "Increase Engagement."
5.3 Give Autonomy
Once you have created the committee, it is important that you provide them with the autonomy to make decisions, take initiatives, and lead the charge to increase employee engagement. There is a two-fold advantage to this. First, you give the committee an opportunity to come up with innovative ways to increase employee engagement as you remove the red tape that often plagues organizations. The second is that you show employees that you trust them to make decisions at their level and you are putting them first.
However, do remember that you need to provide the employee engagement committee with resources and support to be successful. Provide them with data, metrics, development, and training to do a good job.
5.4 Track and Measure Results
Keep track of the progress the committee is making. This is also where we would like to remind you about the goals you set. This is the precise moment they come into play. In order to track and measure your progress and results you need to have goals in place. This will help you understand what is working and what is not. You can then make the necessary adjustments to your strategy to make it more effective.
Some metrics that will help you track progress are employee engagement scores through surveys, turnover rate, participation in employee programs, initiatives by employees, and retention rate.
5.5 Celebrate Each Milestone of the Committee

It is important to recognize your employee engagement committee.This is how you will begin building a culture of recognition, one that is essential to increased employee engagement. Recognizing them for the work they are doing will motivate them to continue and do better. It also helps build a sense of pride for the work they are carrying out.
Recognition can be done through something as simple as a sponsored team lunch or something more elaborate like an awards ceremony. The only essential aspect is to recognize their milestones and celebrate them in a meaningful manner. 
If you're celebrating new promotions, the successful completion of a project, or a colleague's milestone anniversary, Hooray Teams have got you covered. Hooray Teams is a virtual teambuilding platform where you can book fun and engaging milestone celebration events for your hybrid team. 
6. How an Employee Engagement Committee Can Effectively Boost Engagement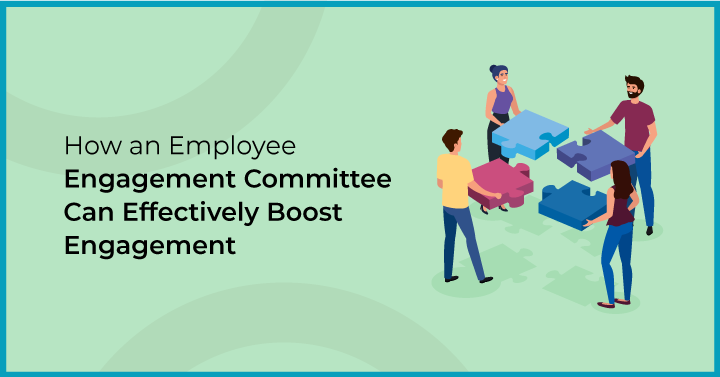 6.1 Ensure All Employees Are Valued
Making sure that all employees feel valued in the organization is one of the most important building blocks of an employee engagement strategy. There are plenty of ways an organization can do this. Starting from providing regular feedback (both formal and informal) to providing opportunities for them to have an open stage to bring their ideas forward.
Other ways to ensure that employees are valued are anonymous feedback surveys, transparency regarding the industry and organizational practices as well as recognition and rewards for their contributions.
6.2 Provide Flexible Working Hours
One of the biggest changes that have taken place after the pandemic is the reshuffling of priorities. The youngest generation is rejecting the hustle culture and the older generation wants more that to just work. Flexible working hours are one of the ways an organization can help reduce stress on their employees and increase job satisfaction.Flexible working hours can take many forms, such as flexible start and finish times, part-time work, job sharing, telecommuting, and compressed work weeks. It is important for employers to be open to different approaches and to work with employees to find the best solution for their needs.
Some other ways a company can help employees is by providing telecommuting options, flexible schedules, and the ability to take time off as and when required.
6.3 Give Rewards and Recognition
It is important to have a recognition system in place that rewards employees for their hard work. This also is a great way to boost employee engagement. Recognition includes perks like bonuses, promotions, paid time off, and even shout-outs during team meetings.
When it comes to recognition, it is important to remember that in order for it to be effective it needs to be meaningful. You need to tailor it to the individual in question. Your reward for someone who has just completed 20 years in your organization and someone who has just been around for one year cannot be the same.
6.4 Encourage Collaboration and Teamwork
Collaboration and teamwork are important parts of creating a good employee experience. No work in an organization can be done effectively in a vacuum. So, in order to be able to work together, it is important to encourage teamwork and collaboration. This also provides employees with a sense of belonging as they become a part of a community.
You can do that with the help of team-building activities, cross-functional projects, and by providing opportunities for different employees to work together on initiatives beyond normal work.
6.5 Foster Open Communication
It is important to create an environment that values transparency and open communication. This helps improve employee communication. Employees should feel empowered to come to the forefront to voice their thoughts and opinions. True innovation is not driven by one individual, it is a team effort which is only possible if employees feel like they have a voice.
To foster open communication amongst employees, you should have regular town hall meetings, open forums, and regular check-ins with senior management.
6.6 Implementing Training and Development Programs
Stagnation is a big hindrance to employee engagement. To counter this it is important that you provide employees with opportunities for training and development in their field. It also shows that you as a company are invested in their growth.
This can be done through on-the-job training, workshops, conferences, events, and courses. To identify what will be best for your company conduct surveys, focus groups, or have one-on-one conversations with employees. Then depending on the data you collect, create specific, measurable learning objectives for the program. Once you begin the process of implementing these programs encourage and reward employees who participate.This will help increase engagement and motivation among employees and show that the company values their professional development.
6.7 Empower Them to Work on Projects of Interest Periodically
As an organization, it is important to understand that employees have a life beyond the work that they do for you. So, if you can, you should encourage them to work on their passion projects during working hours. This can consist of volunteering for a cause they feel strongly about or donating their time to do some pro bono work. Allowing them to do so will help increase employee engagement.
Dedicating time to their passion projects allows them to take ownership of their work and expand their skill set. It also allows them to create something that is meaningful and impactful for them. Some ways you can aid in this is through innovation projects, community outreach programs, and volunteer opportunities.
6.8 Promote Work-Life Balance
Go against the grain and convey to your employees that you want them to maintain a healthy work-life balance. Once again, an initiative like this shows that you care about them and you want them to lead holistic lives. An employee with a good work-life balance will also be happier, more productive, and of course, more engaged.
You must be wondering how you can help them? Offer flexible schedules, remote work options, and part-time arrangements to allow employees to balance their work and personal lives. You can also encourage employees to integrate their work and personal lives by offering family-friendly policies and resources. This can include things like on-site childcare or backup care programs.
7. FAQs
7.1 What is the formation of an employee engagement committee?
The formation of an employee engagement committee consists of bringing together employees, managers, and potentially external industry experts. Their main goal is to create an employee engagement strategy by identifying the areas where the q`1 is currently lacking.
7.2 What is another name for an employee engagement committee?
Other names for an employee engagement committee are Employee Engagement Task Force, Employee Engagement Team, or Employee Engagement Working Group.
7.3What is the role of the employee engagement committee?
The role of an employee engagement committee is to identify and address the concerns of employees and establish an action plan to increase employee engagement.
8. Resources You'll Love