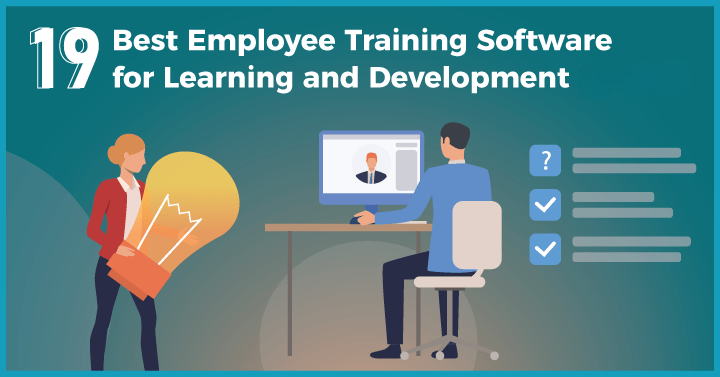 Employee training software (ETS) has made it easier than ever before to onboard, educate and upskill staff. From basic health and safety compliance to tips on the best way to create presentations, these solutions can pass on a wealth of useful knowledge via interactive, intuitive interfaces. 
Whether your employees are based in an office or work remotely around the world, employee training software is a quick and convenient way to provide them with the instruction and learning they need to develop as a member of the team. 
1. What Is Employee Training Software and What Are Its Benefits? 
Employee training software platforms empower staff to do their jobs. Some companies use them principally at the onboarding stage, for instance, to notify staff about the diversity and inclusion policy. This can save valuable time for the HR department, which doesn't need to devote as many personnel hours to initiating new hires. Other organizations use them to improve the skills of existing staff. For instance, if an individual is looking to obtain a senior role, they might be assigned some courses in managerial technique to put them in a more advantageous position to achieve that goal.
Employee training software typically allows team leaders and HR to track the success and progress of any courses undertaken, so they can assess what further learning may be needed as a follow-up.
Training a new employee using software can reduce the burden on existing staff, leaving the majority of the onboarding process and core training to a pre-designed learning pathway. Once the new hire has been enrolled on an ETS platform, they can be instructed on all the essential company policies, including health and safety protocols, HR policies and diversity and inclusion initiatives.
There's also the option to provide training on some basic admin functions, such as how to access and utilize the company server, content management systems or customer relationship management programs. All this can, of course, be customized for individual roles or departments, so that there are already set courses in place depending on the new employee's job description and seniority. While this automates new employee training to a certain degree, managers and HR teams will still be able to monitor progress at all times to see how each individual is progressing.
3. Overview of the 20 Best Employee Training Software 
Aside from the actual courses themselves, there are several other criteria that can be used to assess the efficacy of training management software.
| | |
| --- | --- |
| Kallidus  | Best for learning from anywhere |
| Spring | Best for authoring content |
| Groundwork | Best for simple employee training delivered via email |
| Lessonly | Best for sales reps training  |
| Whatfix | Best for businesses focusing on technology adoption |
| Thinkific | Best for entrepreneurs to build your initial team |
| Trainual | Best for onboarding new staff |
| Leapsome | Best for overall employee development |
| SkyPrep  | Best for integrations with other software |
| Eduflow | Best for collaborative learning in teams |
| Skilljar | Best for education on how to use software |
| ProProfs | Best for tests to assess knowledge retention |
| Digital Chalk | Best for scaling your headcount |
| Trakstar Learn | Best for all-round training |
| Litmos | Best for off-the-shelf courses |
| Docebo | Best for integrations with popular programs |
| WizIQ  | Best for classroom-style learning |
| TalentLMS | Best for a comprehensive free trial of the functionality |
| Apty | Best for reducing support costs |
| Learn Amp | Best for employee retention |
4. Rewrite this Comparison criteria with the angle Employee Training Software for Learning and Development :
The user interface/UI of employee training software is crucial because it determines how employees will interact with the program. A well-designed UI should be sleek, intuitive, and easy to navigate. This ensures that employees can focus on the content and learning experience, rather than struggling with the software itself. When evaluating employee training software, it's important to consider the user interface and whether it aligns with your organization's learning and development goals.
Employee training software must have high usability to be effective. If the software is difficult to use, it may end up consuming more resources than it saves. Usability is essential because it affects the overall experience of the user. The software should be designed to be user-friendly, with features that are easy to access and understand. It should also be customizable to meet the unique needs of your organization.
The ability to integrate employee training software with other systems is important for modern digital organizations. Integrations can increase efficiency, streamline workflows, and enhance productivity. For example, integrating your employee training software with your HR system can help you track employee progress, create customized learning paths, and monitor results. When selecting employee training software, consider the integrations available and whether they meet the needs of your organization.
Employee training software needs to be within your company's budget, but it should also provide the features you require. It's important to consider the overall value of the software, taking into account the cost and the benefits it provides. Some employee training software may be expensive, but if it provides the right features and functionality, it may be worth the investment. On the other hand, some software may be more affordable but may lack the features you need. When evaluating employee training software, consider the value it provides to your organization, as well as the cost.
4.1 ETS key features 
Provides analytics and reports on training progress 
The ability to assess and track individual and team progress and success using an ETS is a very useful feature for any group leader.
Personalized learning for individuals
Not everyone will have the same learning needs or learning style, so an ETS with broad scope for personalization is preferable.
It helps to know in advance if the ETS you've purchased can scale in line with the company's growth objectives.
Some businesses might want a white-label ETS solution, so that it can be kept consistent with the wider company branding.
There will inevitably be some features that require a little bit of explanation, but successful in-app user guidance means employees will be able to solve common issues themselves.
5. 20 Best Employee Training Software List 
5.1 Kallidus – Best for learning from anywhere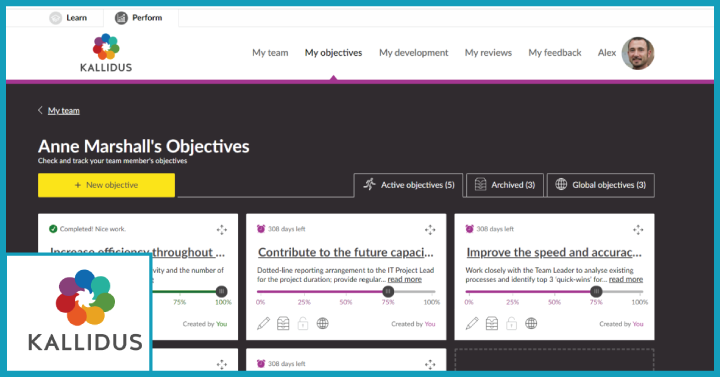 With over 2 million users worldwide, Kallidus as an employee training software has been in operation for more than 20 years in the recruiting and online learning industry. Their learning management system (LMS) allows for customized company branding and content, which can be integrated with Microsoft Outlook and existing HR systems. Their off-the-shelf courses are designed to work on mobile devices and desktop computers, as well as in classroom settings. Metrics cover engagement time and numbers of courses completed, with team/department/company leaderboards to add a gamification element to the process if desired. 
Prices start from $10,000 per year.
5.2 iSpring Learn – Best for authoring content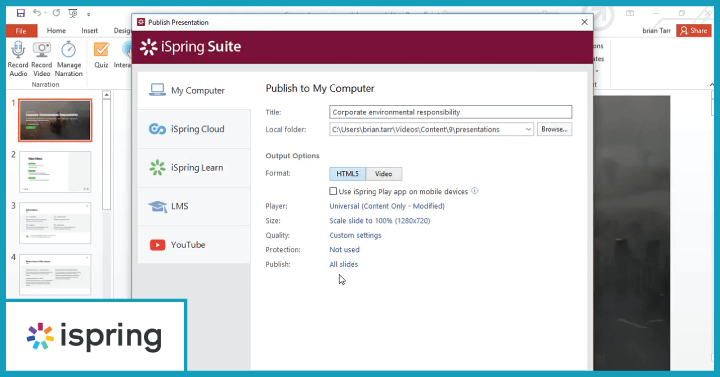 Founded in 2001, iSpring has two main products: iSpring Suite helps companies develop their own eLearning courses, while iSpring Learn is the LMS. iSpring works across all types of training, whether related to onboarding, sales, compliance or product usage. The employee training software allows you to upload slides, video and audio as part of your content, as well as build learning tracks that divide curricula into bite-size steps. Reports tell managers which content is most useful as well as which individuals are the most frequent software users.
iSpring has a free employee training software offering that allows an admin to author simple eLearning materials.
The LMS cost starts from £3.25 per user per month for up to 100 users.
5.3 Groundwork1 – Best for simple employee training delivered via email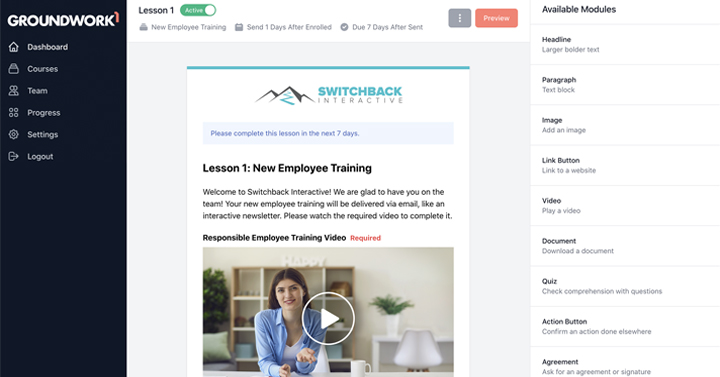 Groundwork1 is a simple employee training tool that sends out training materials directly via email, like a newsletter. Employees can click on interactive links to view and complete their training materials (like videos and quizzes) without needing to log in. It's pretty easy to set up a sequence of emails using their drag and drop lesson editor and control which modules are required. Employee progress and completion is tracked and the system sends out automatic email reminders to employees who haven't completed their lessons. It doesn't have a lot of bells and whistles, but it does what it promises and removes a lot of the complexity from employee training.
Prices start at $30 a month for 20 employees and scale up from there depending on how many people you need to train with the system.
5.4 Lessonly – Best for sales reps training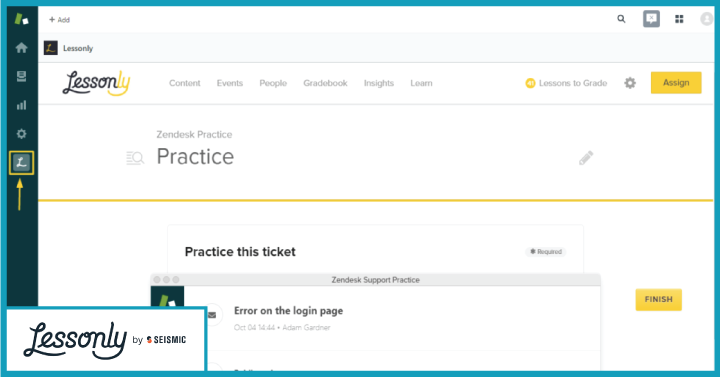 Purchased by sales-enablement service Seismic last year, Lessonly's employee training software has since been refocused around how it can train up sales representatives. The service offers simulated scenarios, on-demand practice exercises and personalized virtual coaching for both small teams and large enterprises. It has also been designed to integrate with software from Microsoft, Google and Salesforce.
Pricing for Lessonly by Seismic is available on request.
5.5 Whatfix – Best for businesses focusing on technology adoption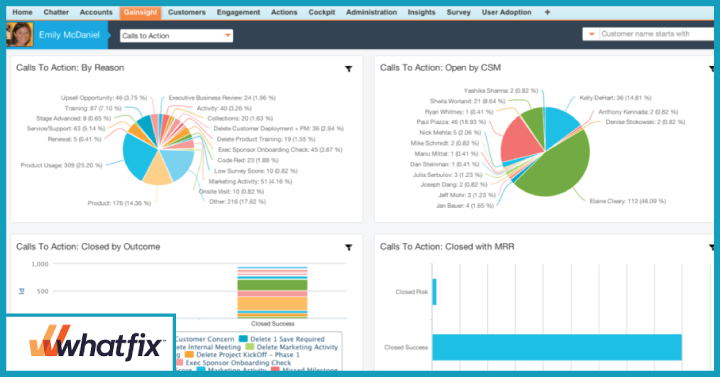 Whatfix's digital adoption platform helps businesses build and deploy training with greater automated content creation features. The solution has specific courses to develop adoption and more complete uptake of Salesforce, SAP, Oracle, Microsoft and Workday, as well as features targeting customer relationship management, human capital management and digital banking systems.  Whatfix's analytics features encompass the ability to assess the most and least engaging aspects of any particular training, in order to help optimize uptake at your business.
Pricing for Whatfix is available on request.
5.6 Thinkific – Best for entrepreneurs to build your initial team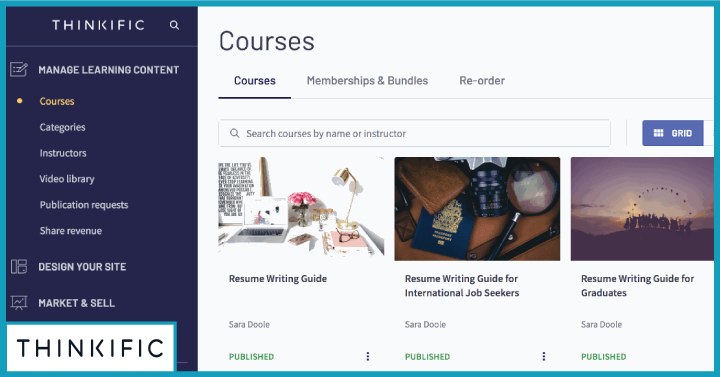 Thinkific as an employee training software principally aims at individual business people rather than companies. It was designed to enable the creation and sale of courses created by professionals and educators in various fields, from nursing to ice hockey. The platform allows for the development of live lessons, assignments and quizzes, accompanied by features like drip schedules, progress certificates and interactive communities. You can pick a ready-to-use template, then drag and drop your company materials in to create your own course with ease.
Thinkific has training software free if you only require the simplest features and limited courses. The Basic package costs $39 a month if you purchase an annual license upfront, with users able to access more features at Pro ($79, includes live lessons and advanced course building) and Premier ($399, includes onboarding package and white labeling).
5.7 Trainual – Best for onboarding new staff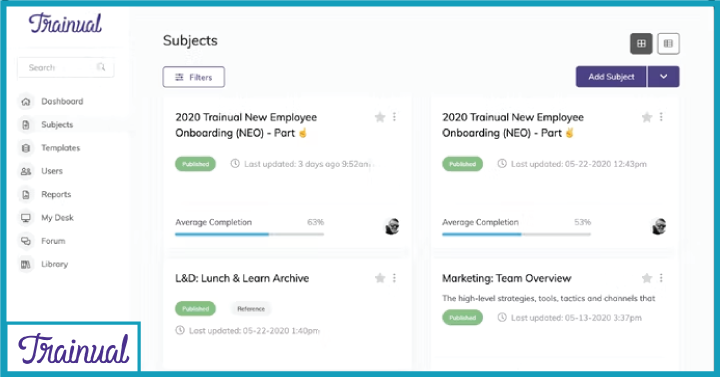 Based around the concept of creating a company playbook, Trainual was officially launched in 2018 but has already worked with 7,500 small businesses in more than 180 countries. The business helps companies build digital employee handbooks, complete with standard operating procedures and office policies to inform and train new hires. Information can be organized around content 'collections,' with the ability to embed PDFs and employee video training software alongside text. Trainual also offers the handy ability to tag courses with the estimated time they will take, so that employees can plan their schedule accordingly, while managers can track the training progress using a simple dashboard.
Pricing starts at $49 per month for the basic 2-seat package, including customizable templates, a roles and responsibilities builder, and unlimited documentation. The $99 option includes 10 seats with custom branding, user reports and unlimited tests, while the most advanced option at $199 encompasses 20 seats (additional seats $4 per month) and includes HR integrations and unlimited support functions.
5.8 Leapsome – Best for overall employee development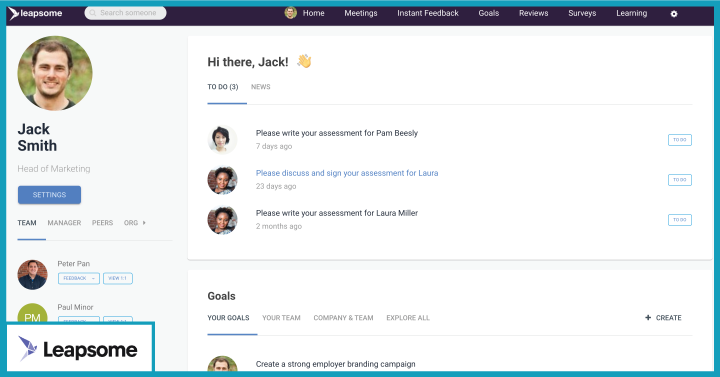 Leapsome's tools cover performance management, employee engagement and learning, all in one place for exceptional ease of use and ease of deployment. The learning tool embraces both onboarding and training. Companies can develop custom curricula, such as a pathway for leveling up leadership skills, as well as automate timelines for policy reviews and knowledge testing.  An in-built dashboard displays individual and aggregate rates for enrollment, progress and completion, while learning partner GoodHabitz supplies the platform with free courses on essential skills like giving feedback, managing meetings and setting goals.
Modular pricing starts from $8 per user per month (based on an annual license).
5.9 SkyPrep – Best for integrations with other software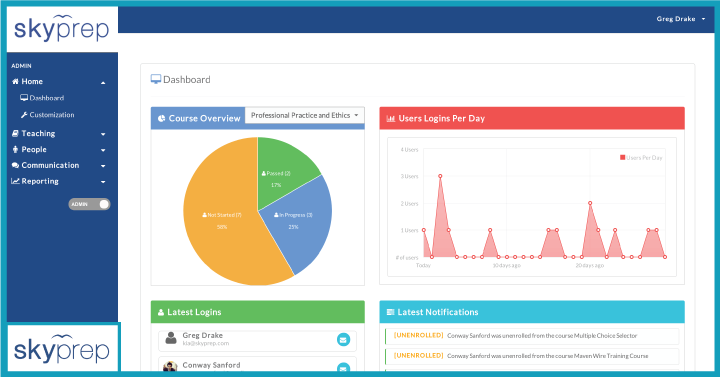 Working with more than 1,000,000 at 850 different companies, SkyPrep offers both an LMS and an authoring program. All kinds of multimedia and rich text can be incorporated into the courses you upload to SkyPrep's platform, with the option to create tests, quizzes and surveys to accompany each lesson. The reporting capabilities are equally flexible, with automated grading and feedback, visual analyses and course performance profiles. The solution can be customized with your branding and has an open API for easier integration with common CRM and HCM tools.
This employee training software does not publicly publish prices on its three levels of subscription, which offer different degrees of performance tracking and security features.
5.10 Eduflow – Best for collaborative learning in teams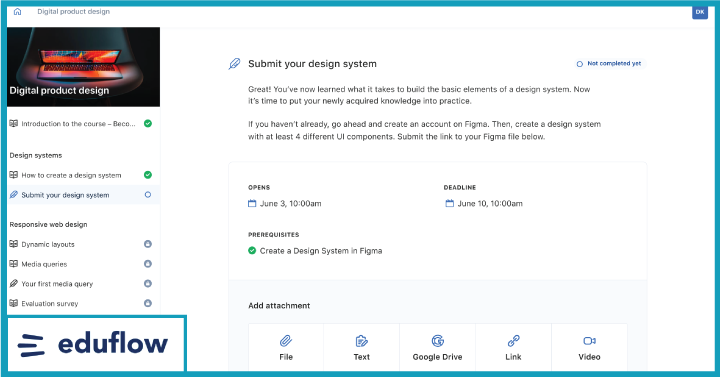 Eduflow is designed for both higher education and corporate environments. Its USP is what it describes as "peer learning": receiving training feedback from colleagues. The employee training software allows organizations to set up training programs that include elements such as peer reviews and group discussions to help employees learn more effectively. Learning pathways can be standardized or customized, with the option to set up deadlines and milestones. Eduflow can be used for everything from sales training to harassment prevention.
The free version can accommodate up to 15 active learners but has limited security options and just 3GB of storage. Lite costs $20 per admin user per month and includes 100 active learners and 30GB of storage (plus white labelling and a course library). Pro costs $120 for three admin users per month and includes 250 active learners and 300GB of storage (plus LMS integration and your own domain name).
5.11 Skilljar – Best for education on how to use software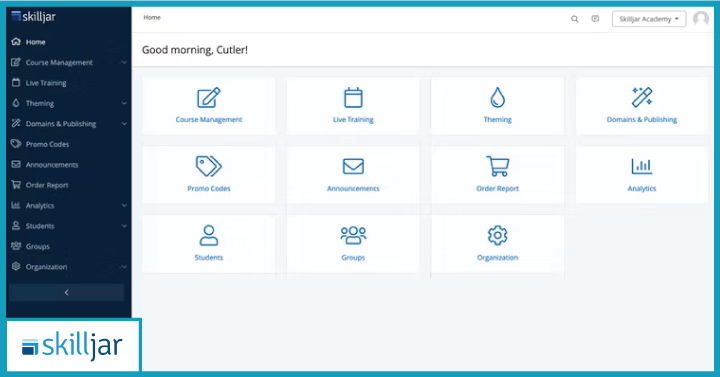 Tableau, Verizon and Zenefits are among the businesses that utilize Skilljar to improve their customer experience. This is done through courses that enable customers to educate themselves on how to use a company's products. Learning pathways can be built based on use case, skillset and user role, featuring high-quality video and audio as well as a native quizzing function to aid retention and showcase achievement. Skilljar's employee training software can be customized to align with an organization's branding and has pre-built models if a business wants to monetize their lessons.
Pricing varies, contact Skilljar for a quote.
5.12 ProProfs – Best for tests to assess knowledge retention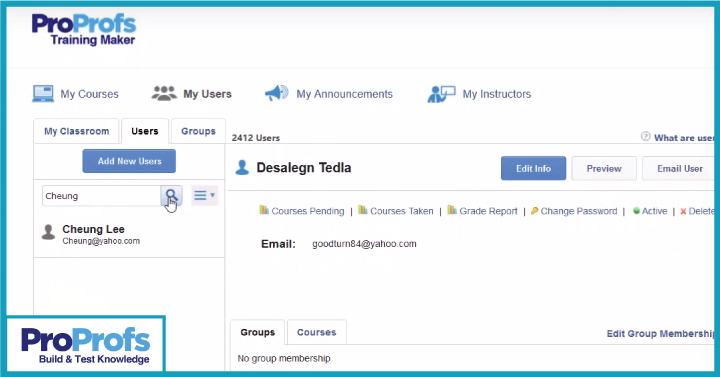 ProProfs has built up a business centered on offering surveys and quizzes, though it has also developed CRM and customer help products, too. Its Training Maker comes with a library of more than 100 customizable course templates, accompanied by tests to assess retention and performance tracking functionality that can be turned into easily digestible reports. Companies can also resale their creations on the ProProfs' shop for a $300 additional fee, allowing them to make money on training materials they've designed for themselves.
Monthly prices start from $25 per license plus $1 per learner for smaller businesses, rising to $49 per license plus $1.97 per learner for the largest companies.
5.13 Digital Chalk – Best for scaling your headcount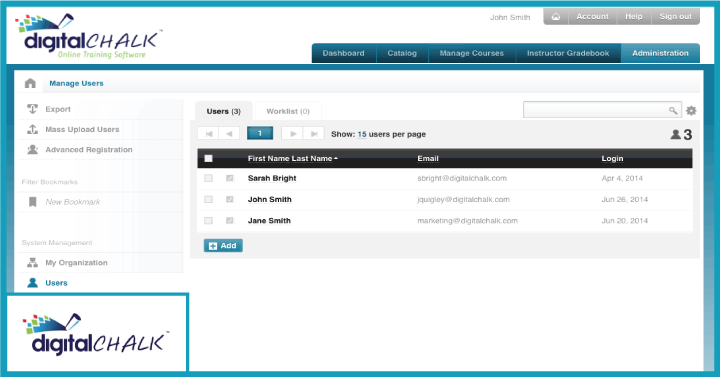 Digital Chalk helps companies to retain top talent through continuous training while simultaneously reducing compliance risk through their employee training software. In addition to standard content creation features, the platform has automated processes for course notifications, learning paths and user reports. Custom badges, points, leaderboards and certificates can be used to incentivize staff on their educational journey. The employee training software integrates with Salesforce, LinkedIn Learning and Webex. Unlimited storage and bandwidth lends itself to easy scaling as your company grows.
Prices start for $99 per month for 20 active users.
5.14 Trakstar Learn  – Best for all-round training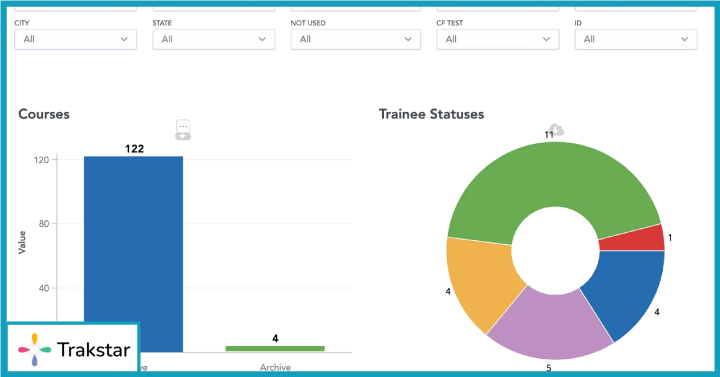 Formerly known as Mindflash, Trakstar Learn is an employee training software that offers fully virtual onboarding and training for industries such as hospitality, healthcare, manufacturing and retail, among others. The employee training software includes course creation, online learning management, quizzes, and reports and dashboards, all of which can be white labelled. Trakstar Learn's system allows administrators to define training groups, assign specific permission levels to users and set automatic reminder emails for employees. All course completions are securely archived, so the records can be accessed at any time.
Pricing is based on the number of trainees and includes all features and unlimited courses as standard.
5.15 Litmos – Best for off-the-shelf courses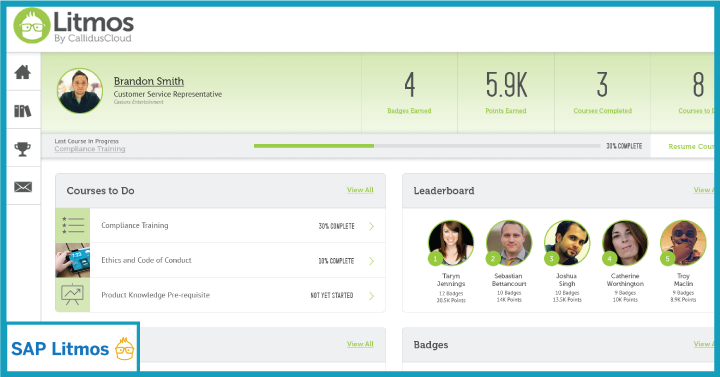 Now owned by SAP, Litmos has been working in the employee training software field for 15 years. The LMS can be used not just for staff education and compliance purposes, but also for customer training, in order to increase engagement and loyalty, as well as partner training to make sure that, for example, each franchisee is adhering to the same quality of service as the rest of the company. Litmos comes with one of the best catalogs of courses out there, with more than 2,000 off-the-shelf modules available, showcasing everything from cybersecurity essentials to cross-cultural communication tips.
Pricing varies, contact Litmos for a quote.
5.16 Docebo – Best for integrations with popular programs
Docebo has deployed its LMS with such giants as Walmart, Coca-Cola, Thomson Reuters and Heineken. The company uses AI to support virtual coaching, auto-tagging and content suggestions, so that learning pathways are more personalized and new educational opportunities are suggested as part of the general flow of the workday. Docebo boasts more than 400 integrations, including with Zoom, Slack and LinkedIn.
The employee training software doesn't publicly release its prices, but its costs are high enough that the platform is only worthwhile for companies that expect to have at least 300 users monthly.
5.17 WizIQ – Best for classroom-style learning
WizIQ was founded as a means for educators and tutors to create and sell courses digitally. This employee training software has since expanded into the corporate sphere as well. Live learning via virtual classrooms is a core feature of WizIQ's offering, allowing instructors to deliver lessons to multiple employees in one session, no matter where everyone is based. This is offered alongside an eLearning portal where you can upload course content in a variety of formats, so that staff can tackle material at their own pace. The platform's online quiz builder as well as its analytics feature allow managers to stay on top of their team's achievements.
WizIQ pricing starts from $25 a month.
5.18 TalentLMS – Best for a comprehensive free trial of the functionality 
Aiming to be a bit of a one-stop shop for learning and development, TalentLMS allows companies to set up their own home page and domain name for a complete white-label experience. Users can upload their custom content, host live sessions and set up assignments as part of the educational journey, with lots of interface customization available to make everything easily navigable for learners. As an addendum, the software's TalentLibrary offers 550 unique ready-made courses, including options for sales, HR, project management, market and leadership upskilling.
TalentLMS is a great employee training software for small business because it's free for up to 5 users and 10 courses. Beyond that level, prices start at $69 per month for 40 users with unlimited courses (not including the TalentLibrary).
5.19 Apty – Best for reducing support costs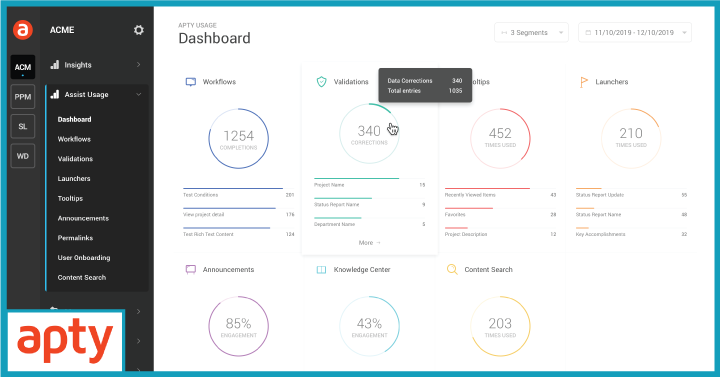 Similar to Whatfix, Apty is a digital adoption platform. Its objective is to help companies increase customer engagement with their software without the need for cumbersome amounts of IT support. Apty's analytics tracks the way users interact with an organization's software, before supplying insights into what aspects most require training pathways. This way, Apty users can implement highly focused guides and walkthroughs that target the most issue-prone areas, in order to more rapidly boost efficiency. The employee training software is designed to work with CRMs, HCMs, ERPs and other types of common business solutions.
A free trial offers 45 days of evaluation access with basic features. Contact Apty for a detailed price plan.
5.20 Learn Amp – Best for employee retention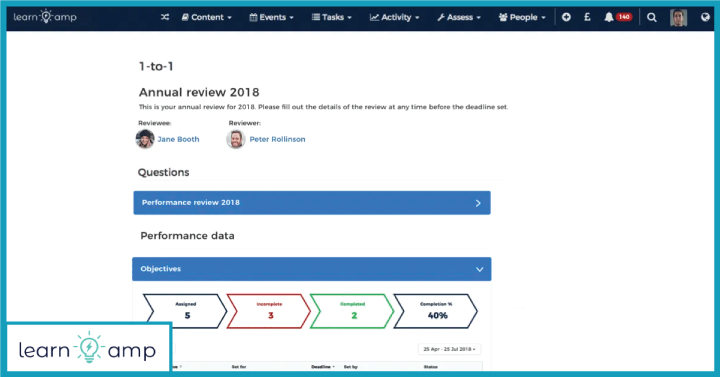 Combining learning and development with employee engagement, Learn Amp as an employee training software was developed 15 years ago to help increase staff retention. Starting with induction and onboarding, through basic compliance, all the way to self-driven education, Learn Amp empowers individuals through custom content, webinars and assessments. The employee training software also allows users to upload, share and discuss their own content as a means to prompt peer engagement. Objectives and key results can be set up to apply to individual achievements or team progression.
Pricing depends on desired features, though all licenses come with unlimited admins, free integrations with the most popular programs and complimentary company branding.
6. FAQs
What software is used for training?
Learning management systems are commonly used for training, providing a framework platform where businesses can upload their custom materials for teaching purposes.
Which is the best training software?
Which ETS is best for your company will depend on what your use cases are. Some employee training software are better developed for informing new hires about onboarding processes, while others specialize in imparting technological upskilling.