The best Gantt chart software can be an invaluable weapon in a project manager's arsenal. Providing a macro view of any project, it can help simplify even complex projects into a series of clearly defined objectives.
If you want to transform your project management game, explore our comprehensive article on Gantt chart software and gain deep insights.
Here, we're going to take a look at the various options on the market, from the best Gantt chart software free to download, to the easiest Gantt chart software to use.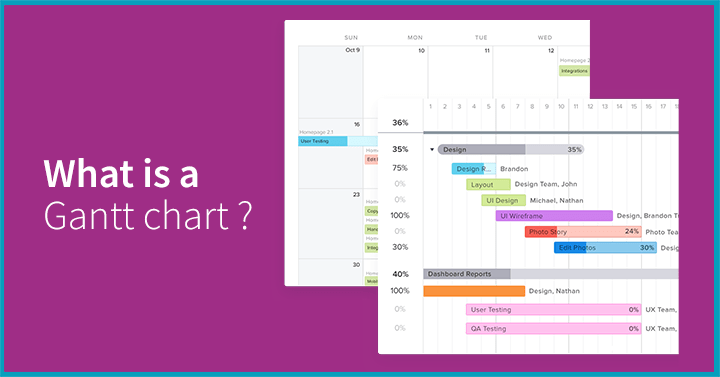 Put simply, a Gantt chart helps a project manager keep track of a project's tasks, timelines and resources. Through a neat utilization of the bar chart, it provides an overarching visualization of what needs to be done to finish a project, with clear depictions of what has already been completed and what is still in progress.
Today, Gantt charts are widely used across a range of sectors, including software development, manufacturing, marketing and event planning.
2. Benefits of using a Gantt chart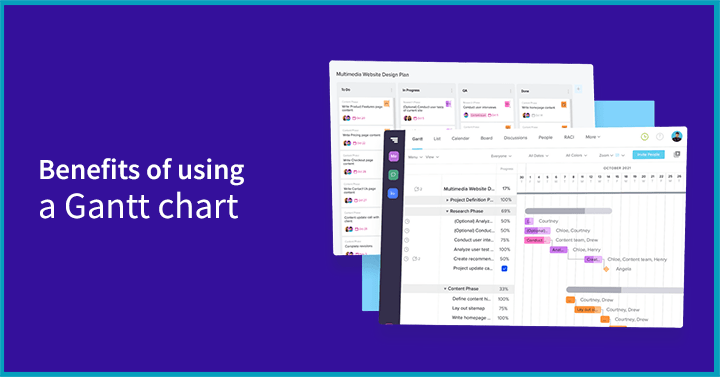 There are a whole host of benefits to using some of these best Gantt chart software. First, it can be useful in the planning stage of a project, when you need to predict the number of activities necessary, the overall duration and the various costs involved. Once the project is underway, all these aspects can be tracked with clarity, allowing a user to update the schedule as they go along. 
Gantt charts can also be organized to highlight deadlines and show which activities are interdependent of one another, enabling a project manager to identify potential bottlenecks. 
3. 16 best Gantt charts software that project managers can use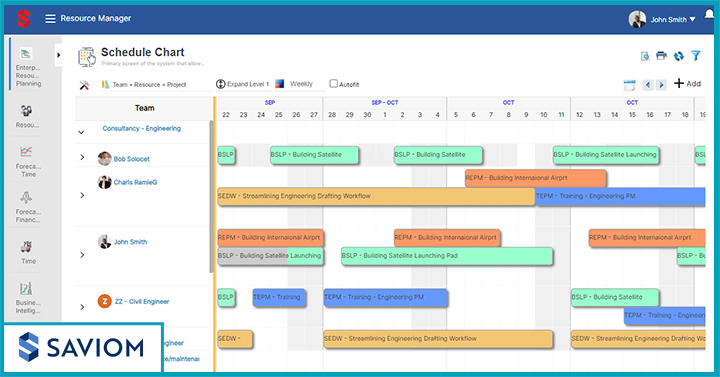 Saviom offers several products related to resource and workforce management for enterprise-level businesses. Gantt charts form an integral part of its Enterprise Resource Management solution, which also incorporates the ability to monitor KPIs, numerous integrations with other software and a high degree of customizability. 
Pricing varies greatly depending on which Saviom solutions you want to combine and how many Power (complete access) and Lite (view only) users you want.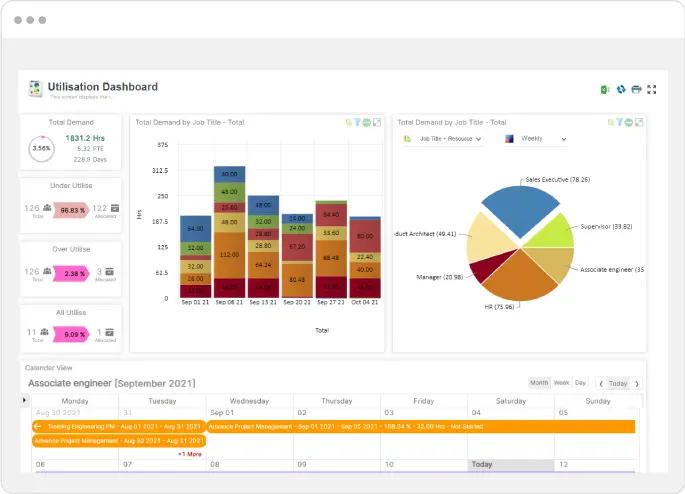 PMEntire is a project management software that helps businesses and organizations manage their projects more efficiently. This platform features an array of powerful tools designed to streamline processes, increase accountability and improve efficiency while working on all kinds of projects. The Gantt chart feature in the software helps project managers visualize the progress of a project, identify potential delays or issues, and allocate resources effectively.
Pricing is available on request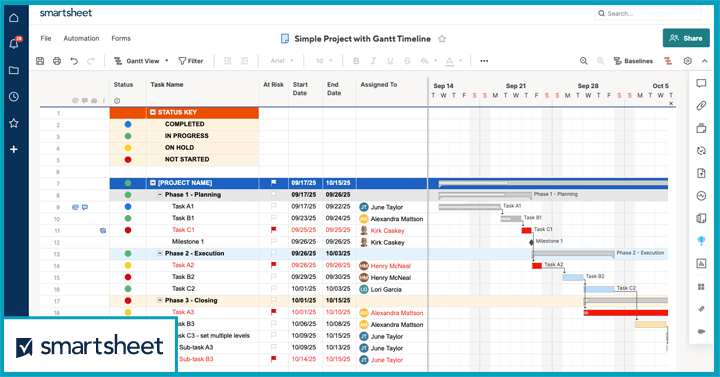 A web-based program that is modeled on spreadsheets. There are a number of video tutorials and templates to help you hit the ground running with this software, while more advanced users can also take advantage of extensive customization options. Though it does support automated workflows, Smartsheet isn't the most tech-forward option out there, despite being used by companies like Pfizer and P&G.
Pricing starts at £5 per user per month for the basic Pro package, rising to £19 per user per month for the Business package, which allows for unlimited collaborators and custom branding.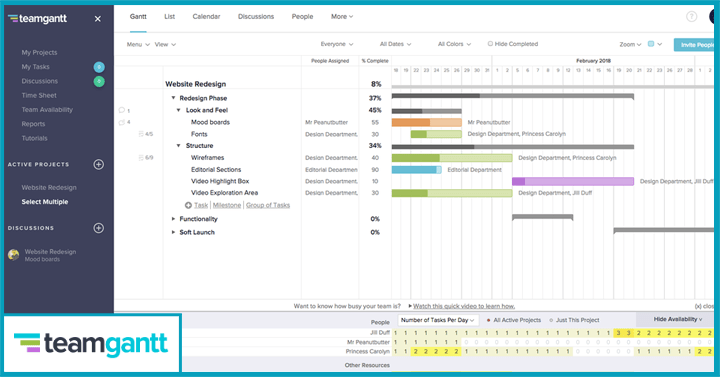 A more streamlined approach means this is an easy-to-use introduction to one of the best Gantt chart software. Boasting logos like Amazon and Netflix, TeamGantt zeroes in on the essence of Gantt charts for a slick collaborative experience.
Plus, it's arguably the best Gantt chart software free on the market. TeamGantt is completely complimentary for teams of three or less (one project, 60 task limit), though it's also competitively priced at $19.90 per user per month for the Standard plan (unlimited projects and tasks) and $24.45 per user per month for the Advanced plan, which throws in advanced reporting and the ability to track workloads by hours.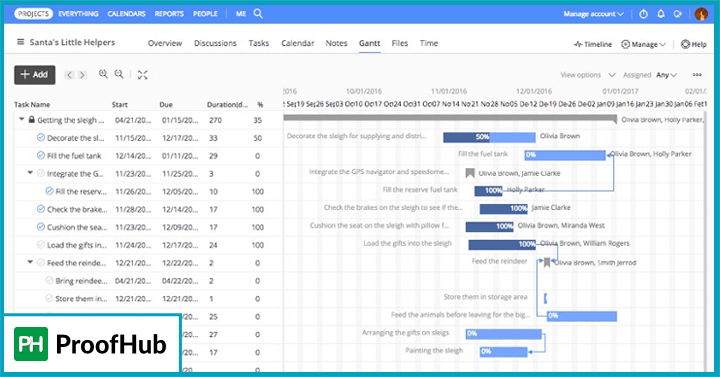 Proofhub uses a single platform to manage projects and teams. Users can drag and drop tasks to easily adjust schedules on ProofHub, which gives clear visualization of who oversees each task, integrates team discussion features, tracks progress as a percentage and provides real-time updates. 
The standard package is sold for a flat price of $45 per month for up to five users, while the premium offering goes up to 100 users, costs $248 and includes white labelling as well as API assistance.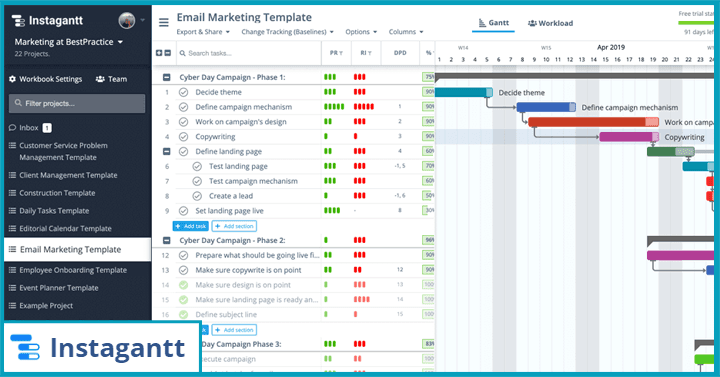 Complete with dashboard overview, workload management and Kanban board, Instagantt can be used as stand-alone Gantt software or as an integration with the broader Asana project management platform. 
Priced for accessibility for SMEs, Instagantt starts at $7 per month for a single subscription, with a team subscription coming in at $5 per user per month.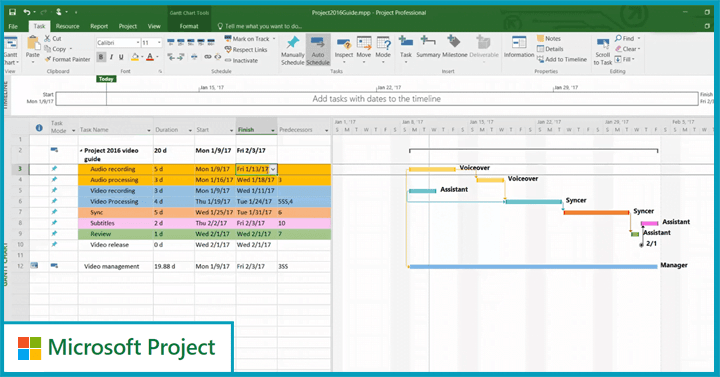 The reputable, reliable option on the market, Microsoft Project has all manner of features, including the best Gantt chart software, Kanban boards and calendars. Its customizability means large corporates can adapt the product to their precise needs, with options for different visualizations, as well as a built-in collaboration and communication designed to work with the breadth of Microsoft Office's offerings.
Microsoft Project can be purchased as an on-premise software accessible via desktop and mobile apps, or as a cloud solution, with per month prices ranging from £7.50 to £41.50. Needless to say, it includes one of the best Gantt chart software for Microsoft computers.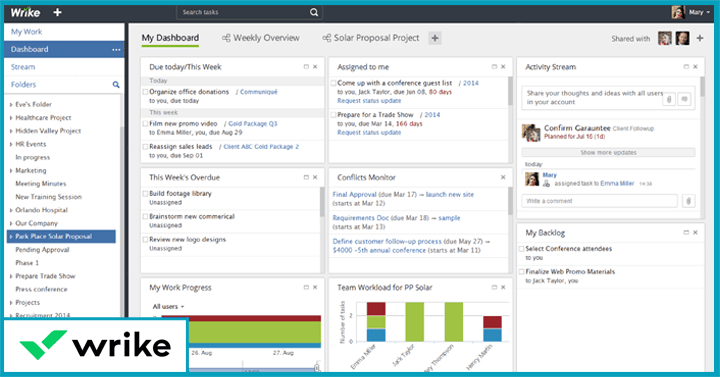 Used by the likes of Siemens and Ogilvy, Wrike incorporates Gantt charts as part of a complete package that also features a drag-and-drop task dashboard, a time log, a document sharing system and a workload tracker. As of the best Gantt chart software, it allows managers to build reports that analyze project performance, be it via department or specific employees.
Wrike offers a free service for companies that want to give basic task management a try, while the more complete package is listed at $9.80 per user per month. If you want a platform that is customized for your company needs, prices start at $24.80 per user per month.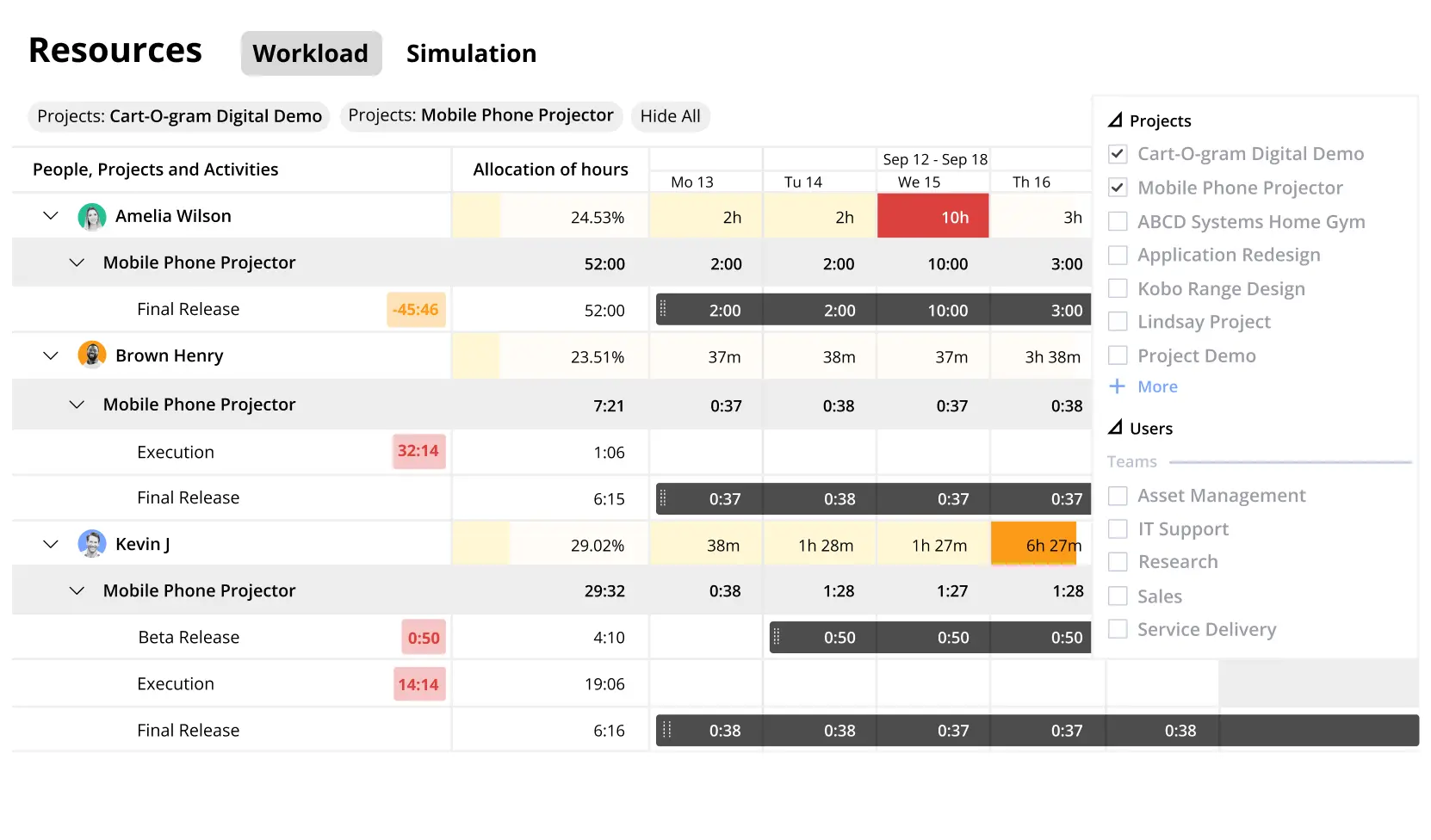 Combining Gantt charts with work breakdown structure (WBS), Scrum and Kanban, this project management tool provides modules to track resources, finance and customer relationships. As an added bonus, Birdview PSA also keenly advertises its tech support for those new to PM software, in addition to regular webinars and e-learning.
Pricing for the platform depends on the kind of user you are. The Lite plan starts at $13.50, the Team plan at $20.50 and price is available on request for the Enterprise plan.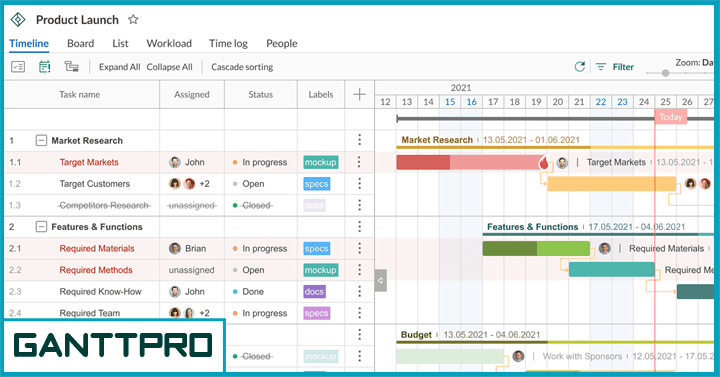 One of the best Gantt chart software for managers who like to keep an eye on their team, GanttPRO clearly illustrates the activity of each member and how many tasks they've completed. As the name suggests, it focuses on Gantt charts more than some of the other services discussed on this list.
If you want to use GanttPRO for personal productivity, it will cost you $15 per month, but the more popular option is the $8.90 per user team subscription.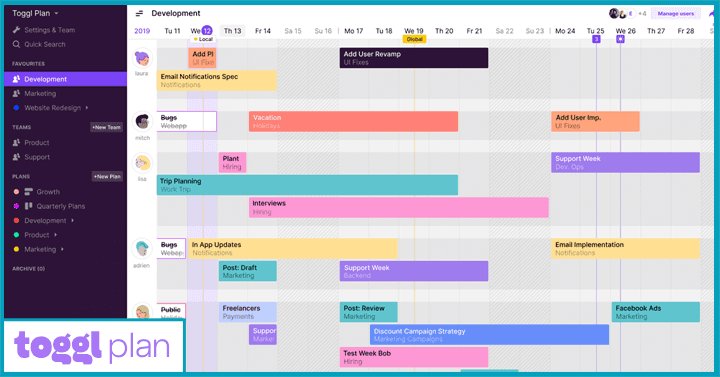 For companies looking to move their project management from Excel sheets to a more sophisticated tool, Toggl Plan is a nice, easy-to-use option. It doesn't have as many additional features as some of the other software on this list, but as an introduction to the benefits of Gantt charts it's earned a fair few fans, including Buzzfeed.
$8 per user per month is the cost for small teams, while larger teams will pay $13.35 and have the option to open up the program to external stakeholders.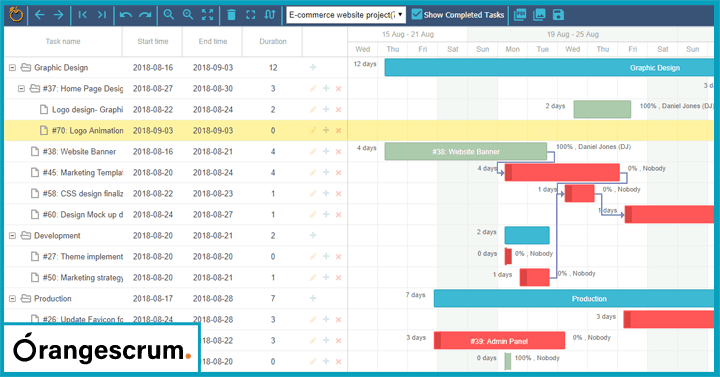 Another software that advertises a whole range of features, Orangescrum's Gantt offering forms part of a wider suite that includes invoicing, Slack integration for project discussions and budgeting. The site also provides templates and tutorials for those looking to take their PM to a new level.
Orangescrum can cater for on-prem, but its principal focus is cloud. Like TeamGantt, it's free for teams of three or fewer (unlimited tasks and projects), which means it's one of the best Gantt chart software for small operations. Teams of up to 10 users pay $8 per month, while larger teams can expect to fork out upwards from $40.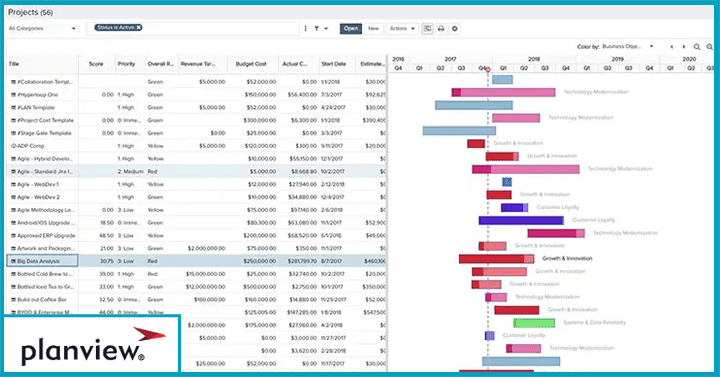 Based around the twin functionalities of Gantt charts and Kanban boards, Projectplace is a project-planning solution with clear workstreams, real-time notifications and custom APIs. Additional features include file sharing, reporting templates and a dashboard overview.
Projectplace offers a 30-day trial that includes full access to all features. Pricing varies based on factors like team size and desired APIs.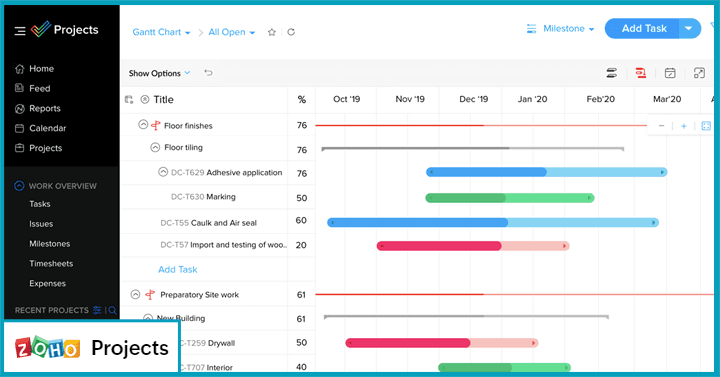 Able to handle complex deliveries, Zoho boasts end-to-end automation, detailed time-tracking tools, and integrations with other Zoho apps, Microsoft apps and Google apps, among others. Its Gantt chart specifically has real-time progress and metrics tracking, performance measurement and easily adjustable work allocation.
The Gantt chart functionality is available for free for teams of up to three working across two projects. For unlimited projects and up to 50 users, the price is £4 per user per month, while larger teams will pay £8 per user per month and have access to 30 project templates.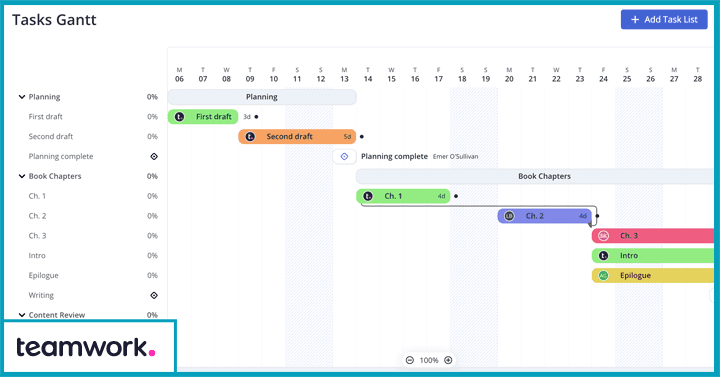 With a selection of different project views available, Teamwork allows project managers to have as streamlined or as complex a perspective as they need, depending on the situation. There are templates to get you started, as well as automated workflows for greater efficiencies.
One of the most generous when it comes to its offer for small teams, up to five persons can employ the basic project management interfaces, including milestones and messaging, for free. Paid versions start at £10 per user per month.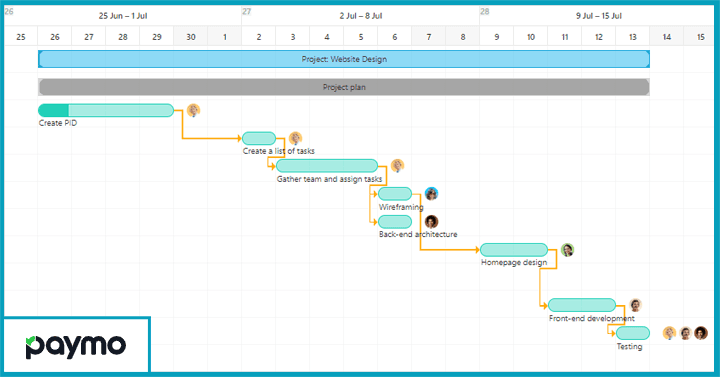 Used by everyone from Adidas to Accenture, Paymo combines Gantt charts with a focus on financial features like timesheets and project billing. As with several other software on this list, Paymo has brought together Gantt charts with Kanban boards for more convenient project oversight.
There are unlimited projects and clients for free for up to 10 users, with the Small Office package costs $9.95 per user per month. However, if you want the full Gantt chart functionality, you'll have to purchase the Business package, costing $15.70 per user per month.
4. FAQs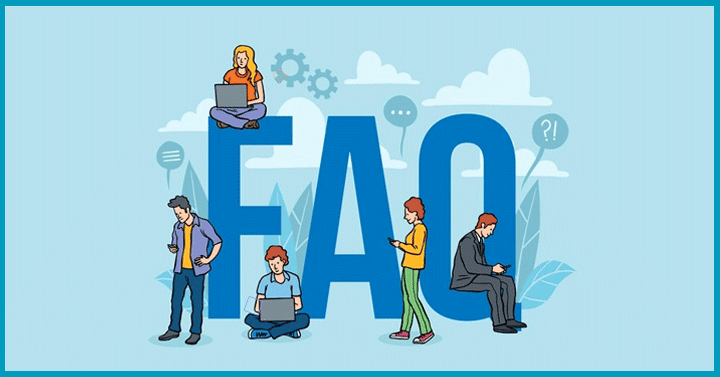 1. What are the best Gantt chart software in project management?
Many companies want to know what the best Gantt chart software for Mac or the best Gantt chart software for Microsoft are. The reality is most project management software can be integrated into either operating system, the biggest question to ask yourself when selecting the best Gantt chart software for you is how complex are your needs? Systems like Saviom's Enterprise Resource Management tool are more comprehensive but can also become confusing if all you need is the functionality of a barebones Gantt chart, such as that offered by TeamGantt and Instagantt.
2. Why should I use the Gantt chart as a project manager?
The best Gantt chart software just makes your life so much easier. Rather than a confusing tangle of spreadsheets, they provide clear visualization of an entire project, from task management to resource tracking.